Recent criticism generated towards New York Giants receiver Odell Beckham Jr. is becoming outlandish.
O
dell Beckham Jr. has become the face of the New York Giants and arguably New York sports in general. He's an icon in the Big Apple.
Ranging from his one-handed catches to his high motor, to even his stellar quickness, Beckham has become a star in the NFL just three years into his career. Of course, being a star in the media capital of the world will put an immense target on your back; Beckham is the poster boy for that notion.
Throughout the duration of his career, Beckham has garnered heat for his high temper and has been classified as being overrated by some. But recently, criticism generated towards Beckham has become outlandish and just absurd.
Two prime examples of these outlandish takes are Fox Sports' Skip Bayless and Jason Whitlock.
On his weekly debate show, Undisputed, Bayless gave his take on Beckham: "Odell is better known for his hair than his playoff record". Bayless continued: "So far he's better known for being a thin-skinned, tantrum-throwing emotional basket case than for his production as a wide receiver".
This hot take has two big holes.
First off, when it comes to playoff success, you can't get on Beckham based on the fact that the Giants never had an established defense present until last year. Second of all, while Beckham does endure his fair share of undesirable moments from time to time, his passion and frustration come from the right place — his passion for the game.
Beckham wants to win and when he lets himself down or things don't go well, he holds himself accountable and as a result is unsatisfied. Isn't that the mentality you want your players to possess?
You want your players to care and not accept defeat, which is exactly what Beckham does. Has he been out of line at times? Of course. But more often than not, Beckham's frustration comes from his passion and unwillingness to accept defeat — which should be admired.
On the other hand, you have Whitlock, who comes from the point of view that portrays Beckham as overrated.
On Fox Sports' "Speak For Yourself", Whitlock said: "You've fallen for the okeydoke. Odell Beckham Jr. is the most overhyped, overrated — and he is a great player but he is overrated. You put him and Carmelo Anthony in the same room and watch what happens. It isn't even close. If Odell, not for the blonde hair, people wouldn't even know who the hell Odell Beckham Jr. is."
Think about that. Whitlock said on national television that if it wasn't for his hair, Beckham would be an unknown. Are you serious?
So if Beckham still recorded an NFL record for total receiving yards in his first two years in the league, but didn't have his standout blonde hair, no one would know who he is?
For someone who has the platform, which Whitlock possesses, to make an absurd and illogical statement like that appears to be a cry for attention — which is sad.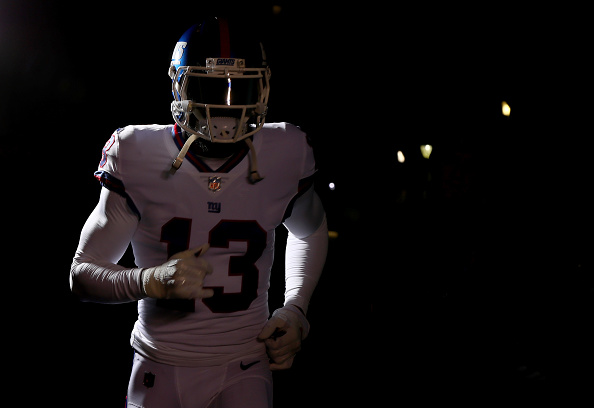 Bayless and Whitlock are just the latest and most relevant examples of how the criticism towards Beckham is getting out of hand.
Has Beckham put a target on himself with his, at times, high temper? Absolutely, but when it comes to dissecting his play and/or character, a line needs to be drawn.
It's fine to claim that he's overrated, or even that he's been out of line at times, but you have to draw the line between reality and insanity.
To actually claim that his hair is the reason for his fame is absurd. If you want to compare him to other top-flight receivers, look at Antonio Brown and Julio Jones. Both star wideouts don't have crazy hair, but aren't they the best at their respective positions?
Another thing to keep in mind with Beckham is how the Giants fare as a whole. To get on Beckham solely for the Giants' postseason failures is foolish. At the end of the day, he can only do so much for them without Eli Manning not playing at a high level under center.
Visual appearances don't make up a player's skill set, nor does it prove that they're overrated. When it comes to assessing talent, leave it with the production on the field, as opposed to how a player's hair looks; it's ludicrous to have the audacity to say that Beckham's hair is the reason for his fame.
This is a player, in Beckham, who has recorded a total 4,122 receiving yards, to go along with 35 touchdowns in just 43 games played in his first three years on the scene.
You can take Beckham's numbers and character for what it's worth, but the recent negative notions attempting to take down Beckham are outlandish and, quite frankly, embarrassing.