This summer, the Brooklyn Nets made the addition of young guard D'Angelo Russell. Can he play alongside Jeremy Lin in a starting five?
B
rooklyn has formed quite the starting back court after acquiring D'Angelo Russell in exchange for former franchise player
Brook Lopez
.
Though undoubtedly talented, one question has circled the new Nets' starting guards.
Can Lin and Russell combine their talents in this fast paced and young offense?
Comparison
Last season both guards served as the starting point, on the Lakers and Nets respectively.
Russell lead a young Lakers squad to a lowly 26-56 record.
Lin fell to injury, and the Nets fell to 20-62, the NBA's worst record.
It seems like a match made in lottery land, no?
Means of Offense
In comparison, both guards are capable of significant scoring provided the right opportunity presents itself.
Jeremy Lin tends to rely on his speed and momentum to carry himself through the lane, where he excels in scoring off the glass.
D'Angelo Russell is as true a shooter as they come, the kid gets buckets from all over the floor.
---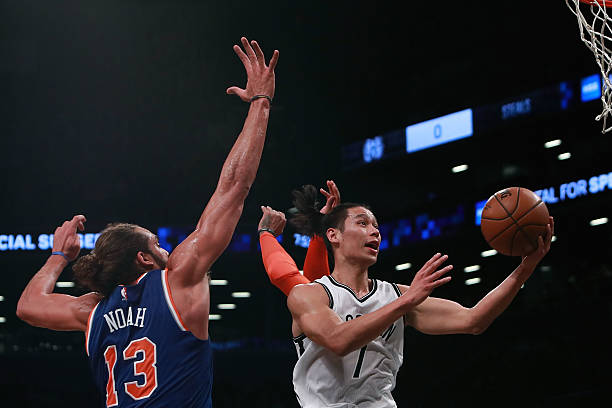 ---
You'll see both guards drive straight to the basket and score, though Russell is more comfortable on the three-point line.
Last season, he shot 35 percent from deep with the Lakers, on an average of 6.1 attempts per game.
Lin is no marksman himself, but through his 32 games with Brooklyn last season, he shot well. He averaged 37 percent on a lesser 4.3 attempts per game.
Score First, Pass First
As the main facilitator for the Nets, Lin posted his best assist numbers since 2013 with the Rockets. He averaged 5.1 per contest last year, including a season-high 11 on two separate occasions.
Last season with the Lakers, Russell averaged 4.8 assists. He recorded a season-high 11 as well against the Washington Wizards.
Both guards are very capable of playing off the ball, and making plays for their teammates. We saw plenty of it from Lin when he played alongside Kemba Walker in Charlotte. Russell took strides as a play maker last season with Los Angeles.
Furthermore, this back court relationship will be mutually beneficial, as tension will be taken off both in regards to facilitating the ball. Last season, both Lin and Russell posted usage rates of 26.6 percent.
They're both capable of playing on ball. The trick in Brooklyn will be adapting to the off-ball, and finding that rhythm of trading responsibility throughout games.
A New Opportunity
Only time can tell if these two guards will be compatible. So far, they both seem very confident in their abilities to adapt.
D'Angelo spoke with Sean Deveny of Sporting News, and only had positive things to say about this new opportunity.
"We just go. Whoever gets the ball, let's run. I complement his game, he complements my game."
Russell made sure to point out that neither Lin or himself look at each other as point guards, or even shooting guards for that matter.
"He's not a point guard, he's not a shooting guard. I'm not a point guard, I'm not a shooting guard. I think we're just basketball players trying to make the best of it."
A couple weeks prior, Lin spoke with NBA TV while watching some Summer League action in Las Vegas. He too, had only the best to say about his new partner in the back court.
"He's so talented. He can shoot, he can create off the dribble, he's versatile."
More significant: Lin is looking forward to only part-time responsibility.
"Being able to mix myself off the ball and be more creative will be really interesting and really fun."
---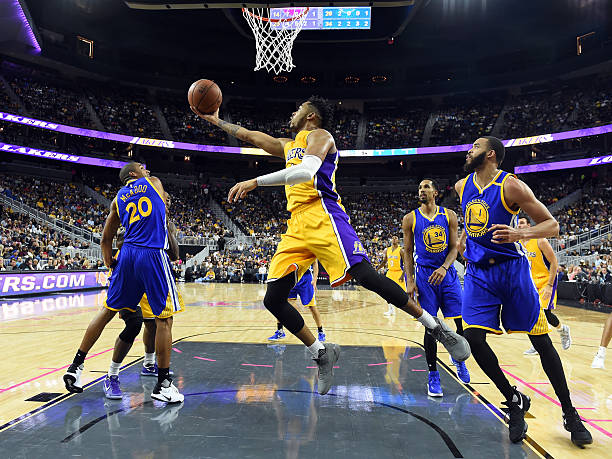 ---
Team Player(s)
Sure, this guard combination may prove beneficial for the guard's themselves. But more importantly? This opens up the Nets' offense entirely.
With the basketball alternating between the hands of Lin and Russell, defenders won't have any inclination as to who's running the ball and who's scoring it. Both guards have displayed the ability to convert down the lane, as well as kick passes out to the perimeter on their way to the rack.
---
---
For only 21, Russell's basketball IQ is superb. He sees things before they happen, more often than not. His quick decision making in transition is enough promise for Nets fans to believe in not only him, but this back court altogether.
At 28, Jeremy Lin has been around the block. His IQ and court awareness is certainly up there, but that comes with the experience. Regardless, it's his speed that makes him an even more dangerous facilitator, than scorer down the lane.
With two distributors on the court at the same time, Brooklyn will benefit from the other gaining off ball momentum. There's a certain preciseness to a point guard moving quick and finishing on moves they didn't initiate.
With two facilitators sharing the floor, Brooklyn's offense may see a dramatic increase in fluidity and pace. Scoring options will open up, and ball movement will maintain it's rhythm.