The New York Giants are blessed with an abundance of leaders, all of which have a key role to play in 2017 in they plan on doing serious NFC damage. 
T
he value of leadership in an increasingly grueling league remains undisputed and promises to be a trait Ben McAdoo will strive to consolidate in his second year in charge of the New York Giants.
Annual roster adjustments and the see-saw nature of the NFL demands not only the expertise of each team's technically gifted assets, but also that of the role models and the vocal frontrunners.
Leaders are at hand to drive continuity and growth after a playoff appearance, inspire rejuvenation and restore belief following an underwhelming season or play an integral role in aiding rookies in their transition from college football to the big stage.
As far as the Giants are concerned, their leaders must tend to all three purposes in 2017/2018.
Coach McAdoo's men enter the new season looking to build on an impressive and statement-making campaign, go beyond their disappointing Wild Card round defeat to the Green Bay Packers and subsequently fulfill a growing expectation that the organization is close to mounting a serious Super Bowl challenge.
The task is bolstering a hunger and unity that saw the Giants mold their 2016 as a warning sign to their rivals but, at the same time, working hard to make amends for a notably lackluster offensive showing.
It is the glaring need to somewhat balance an outstanding defensive unit with an equally as effective offense that sets the Giants in good stead to make further strides come September, not to mention the exciting batch of first-year prospects McAdoo will have at his disposal.
The Giants are crucially blessed with not just current leaders, but also leaders in waiting- all of which have a part to play.
The Known
Experience often dictates who is perceived as a team's main leaders and the Giants are no different in this respect. Possession of two Super Bowl rings means quarterback Eli Manning fits the bill as one of the more obvious influences in New York. He knows what it takes to triumph, rebuild and then relaunch a Championship pursuit, he is familiar with adapting to new personnel, he knows what is required to succeed at the highest level. Question marks over his contributions at the age of 36 and his relatively unproductive season could prove to be a blessing in disguise that triggers a significant personal response and, in turn, fuels the Giants' upward trajectory.
The onus is on the veteran to lead an offensive revival and help oversee the integration of new weapons in rookie tight end Evan Engram and wide receiver Brandon Marshall. It is predominantly up to him to implement a more dynamic approach and prove he still has a Championship-winning season left in him. Fans could be set to see Manning at his most determined yet.
Jason Pierre-Paul will similarly maintain his place as a leader in Steve Spagnuolo's defensive cohort, exhibiting the respect for his privileged position and the motivation that has seen him re-establish himself as key contributor since recovering from his hand injury. It is up to the 28-year-old to spearhead another powerful year on defense and strike up an understanding with whoever is set to replace Jonathan Hankins on the interior, especially if it turns out to be rookie Dalvin Tomlinson. Aside from his on-field performances, his visible work ethic behind the scenes has again set the tone for the commitment expected from those around him.
Defensive captain and linebacker Jonathan Casillas, like his quarterback, boasts two Super Bowl wins and both the knowledge and experience required to achieve such a feat. Much like Pierre-Paul, he promises to be vital in ensuring the Giants carry forward the performances that saw them allow a league-low 25 offensive touchdowns in 2016. His role as an accomplished veteran assisting second-year linebacker, and likely starter, B.J. Goodson marks a fresh personal challenge capable of revitalizing a motivation to continue fighting for his team's progression. He is the man McAdoo can rely on to demand that his teammates learn, revise and grow on a weekly basis.
The Underestimated
An inevitable fixation on the advancement of the Giants' offensive line means Justin Pugh's leadership qualities will be called into action. Individual errors were regularly visible last season, yet Pugh's insistence that they translate into a failure on the entire offensive line's part highlights what a central figure he could be to inspiring much-needed improvement from those beside him. His adamance that it remains a shared responsibility can only do good in terms of forcing his teammates to up their own games in aid of helping each other. It's Pugh's approach that suggests he will also be key in helping left tackle Ereck Flowers make the kind of leap many are expecting him to follow a difficult first two seasons with the Giants.
A significant collapse following Dominique Rodgers-Cromartie's exit during last season's playoff defeat to the Packers served as further evidence of the 31-year-old's value to the Giants secondary. The cornerback surprised many in 2016 with just how instrumental he was in a relatively unfamiliar slot role. Matching his career-high six interceptions produced a foundation for not only the veteran to build on but also for the likes of Janoris Jenkins and second-year corner Eli Apple to try and replicate. He will be key in challenging a young defensive backfield to maintain the same concentration, organization and dominance.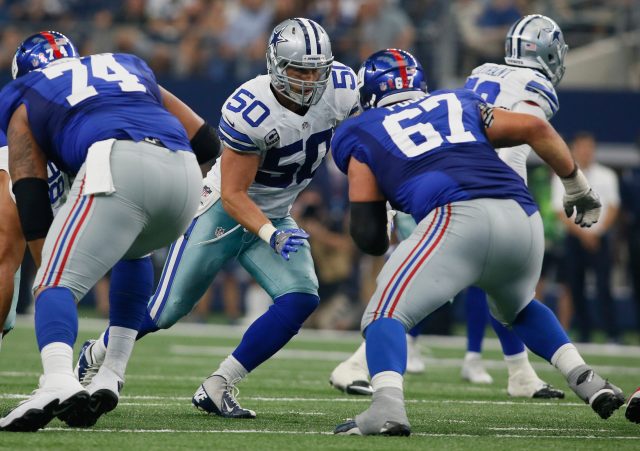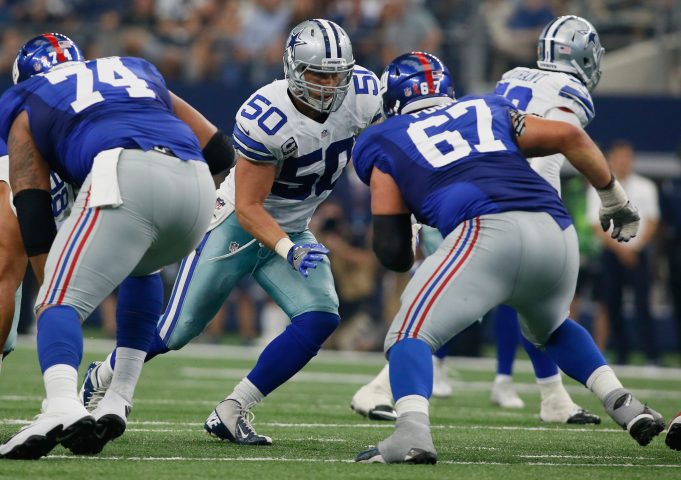 The Imminent:
2017 is the next step for Odell Beckham Jr on his route towards taking on the responsibility as a Giants leader. As Manning's clear No.1 weapon and a man happy to be deemed his team's talisman and the central figure in the Giants' receiving group, he is very nearly there.
Now that Beckham has finally had a taste of post-season football, the stage is set for him to make it a regular occurrence and take his undeniable elite talent to a new level. He doesn't just produce the big plays for his team, but he gets his hands dirty in the blocking side of the game and very rarely refrains from voicing his passion and encouragement from the sidelines. A natural leader with and without the football, who should by no means succumb to cruel criticism or shift from being the explosive character he is.
The Giants also find themselves in a strong position at safety with regards to having leaders in the team. Five interceptions, four sacks, and 100 tackles in 2016 and still Big Blue supporters can expect to see more from Landon Collins. The Alabama product enters only his third season in the NFL eager to better what was a remarkable breakthrough year — immediately setting the bar high as far as the rest of the Giants secondary is concerned.
There will also be an expectation for him to help Andrew Adams continue his development as well as giving second-year free safety and possible starter Darian Thompson, who missed much of last season through injury, a smooth introduction to the setup. Thompson himself is also expected to be a voice to be listened to in the backfield as he finally gets the chance to showcase the leadership that saw him impress in offseason training camp last year.
McAdoo can look forward to working with a healthy blend of youth and experience.