As the New York Giants open camp, head coach Ben McAdoo did his best to make the occasion as head-scratching as possible. 
EAST RUTHERFORD-Those gathered at the Quest Diagnostics Training Center on Thursday morning into afternoon expected to discuss tackling, passing, conditioning, and other football training camp topics as they descended upon the facility for the first day of the New York Giants' summer preparation.
What they got instead was a dose of Rudyard Kipling and a story of a lion that Time-Life called "the country's reigning sex simba."
Both were referenced by Giants head coach Ben McAdoo during his first remarks of camp, as players aged 25 and younger were presented the poem "If-" by Kipling, while all others were told the story of Frasier the Lion. The latter, a true story meant to inspire veterans to not let age be a factor, focuses on an elderly lion that was rescued by a Los Angeles zoo in 1972. Thought to be in his declining years, Frasier instead went on to father 33 cubs in 16 months.
It was part of a lively media session for McAdoo, who began his press conference by thanking the reporters gathered for their coverage of the team and the league. While McAdoo did not expand on Frasier's story, elaboration of which will surely be asked for during tomorrow's availability, he did explain why he bestowed "If-", a renowned poem published by Kipling in 1895 as paternal advice to his son, to his younger players.
"We have a youth group and an experienced group. We have players ranging from 21 years old to 36 years old. That's a big age difference," McAdoo explained. "The good teams merge well and gel well and we need to do that. We need to understand what the other person's going through. Empathy is a big part of that and it really carries over as one of our values."
The poem has been used in sports settings before, recently by the Boston Red Sox in a video tribute to retiring slugger David Ortiz.
Some of those younger players spoke in the morning, including last season's first two draft selections, Eli Apple and Sterling Shepard. Apple, sporting a new haircut, stated he was feeling "100 percent" despite dealing with an illness during minicamp and expressed confidence heading into his sophomore season.
"I think just with the group of guys that we got and the new guys coming in too, we've got something real special," Apple said. "It's just about putting the work in now."
Shepard addressed the high expectations the Giants have garnered this season.
"I guess you can feel (the high expectations)," Shepard said. "But we are just going to take it little by little. We just started camp so we are going to come out and fine tune everything and not look too far ahead or anything and not listen to all of the outside stuff and keep it in house and do what we got to do."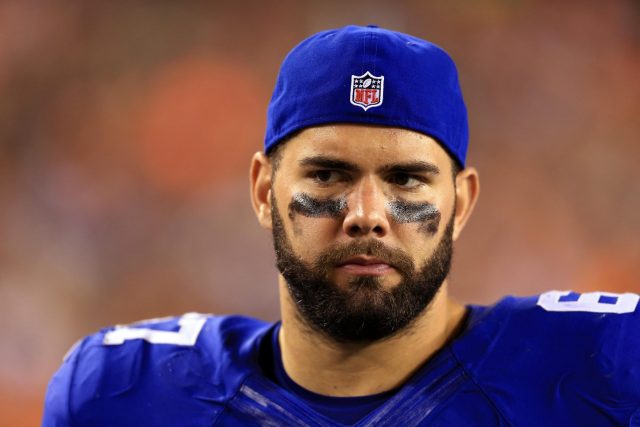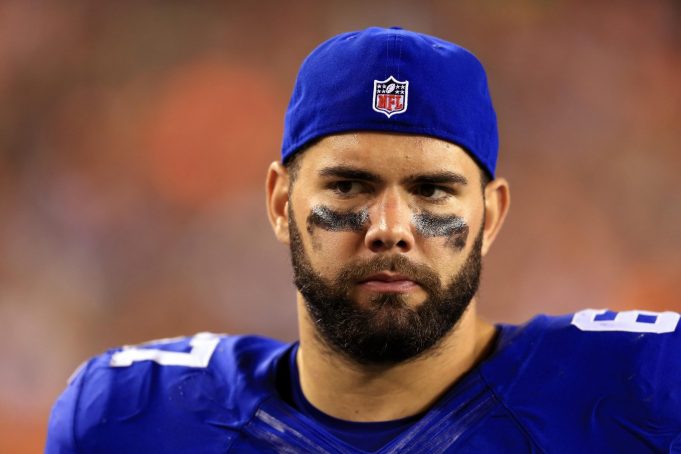 Justin Pugh and Weston Richburg also spoke, each expressing a desire to change the narrative behind the Giants' offensive line.
"There's a lot of optimism. There's a lot of excitement," reported Pugh. "I remember driving over here this morning just like a kid on Christmas. I mean we got a lot of things to look forward to this year."
"We've gotten a lot of good work and we've got a lot of good guys in the room right now that complement the guys that we had there before," Richburg concurred. "It'll be fun having them this training camp. We'll push them, they'll push us to be better and I think we'll be a good unit."
Even the day's other defensive representative, Damon Harrison, expressed optimism for the offense.
"Well, I'm going to kick their (butt), number one," Harrison began with a laugh before adding "when you add Brandon Marshall that changes everything. You can't really double-team Odell anymore and just zone the other side of the field. Brandon's just too big for that. You got Sterling Shepard, the rookie (Evan) Engram, Roger Lewis, Tavarres King. It's a lot of talent there on the offensive side of the ball."
On a more personal level, Richburg also detailed the story of 9-year old cancer patient Jayro Ponce, a Giants super fan who recently met with his favorite player, Odell Beckham Jr. Jayro is Follett, TX, the same state where Richburg played his high school and college football. Richburg visited Jayro back in April.
"Just the fact that a kid who's gone through more than I've ever gone through in my 26 years–he's not even 10 years old–that just really touches me that somebody wants me to be a part of their of their life," he said. "So, you know, times like training camp you (when) think it's tough, you can really reflect on Jayro and what he goes through and get motivation from him."
Jerry Reese ended the day's conversations, expressing his optimism immediately.
"I think the division is stronger than it has been in a few years. So, obviously, we have our work cut out in a tough division," Reese said. "But our players just went through some conditioning stuff and they all look great out there. They're in shorts, but everybody looks excited. I know Coach McAdoo is very excited and I'm excited about our team and we're looking forward to all the challenges we have this season moving forward."
The Giants' first practice will be tomorrow at 11:40 AM. The practice will be open to the public, weather permitting.
Geoff Magliocchetti is on Twitter @GeoffMags5490