The New York Giants tight end combo of Evan Engram and Rhett Ellison will balance itself out in 2017.
W
ith training camp now open to the public, many are eager to see the Giants' retooled offense go to work. With the addition of veteran wideout Brandon Marshall, to a wide receiver core that already consists of Odell Beckham Jr. and Sterling Shepard, the Giants' offense is projected to be one of the better units in the NFL. Another intriguing addition to their offense is Ole Miss tight end,
Evan Engram
, as well as former Vikings tight end,
Rhett Ellison
.
Selected by the Giants with the 23rd pick in the NFL draft, there is increasing anticipation to see how Engram will fare with Big Blue given his high-octane play.
While a tight end, Engram tends to line up as a slot receiver more often than not.
Given his stellar quickness and good hands, Engram is an asset in the slot. In his senior year at Ole Miss, he finished with 926 receiving yards to go along with eight touchdowns in 11 games played.
His ability to be utilized as a target on the outside as a tight end makes Engram a unique option for the Giants, but those plays come with their flaws.
While his play on the outside is a big plus for the Giants' offense, Engram does have a gaping hole in his game — his blocking presence.
While he stands at 6 foot 3, Engram weighs in at just 236 pounds, which is a key reason for him gravitating towards the outside. While he may very well pan out to be a solid run-blocking force down the line, Engram is simply not that kind of presence — not yet, at least. But despite not being that much-desired run blocking presence, Engram can "fit out" with the Giants as Ellison can make up for his flaws and vise versa — essentially balancing one another out.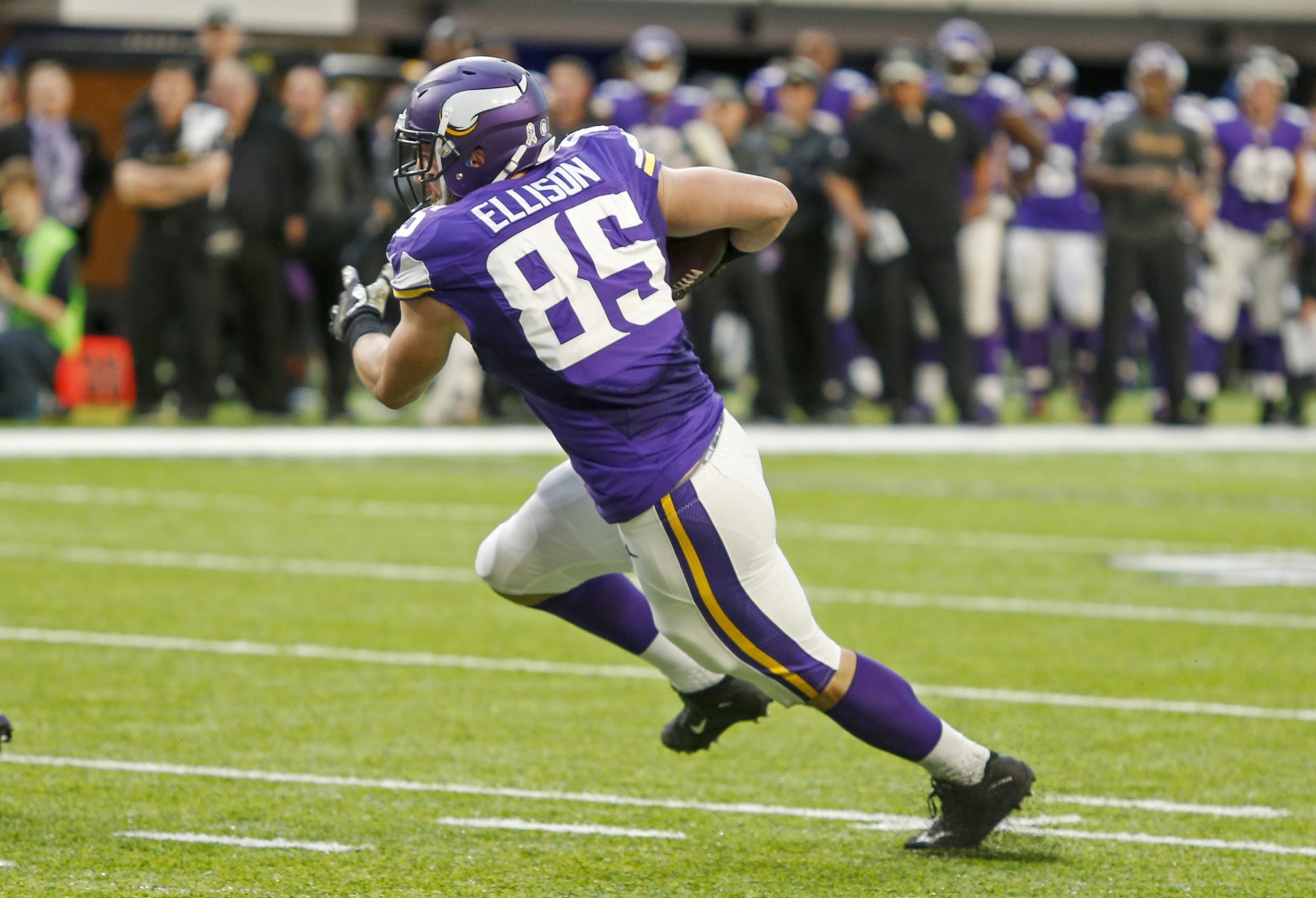 The Giants inked Ellison to a four-year, $18 million dollar deal to come in and be a run-blocking presence for them.
Unlike Engram, Ellison is widely classified as a blocking presence at tight end.
Given that they don't have a fullback or another tight end set in stone, Ellison could find himself playing in and out of both fullback and tight end — making him a versatile option.
Having a blocking tight end such as Ellison will only help an offensive line that was unable to always grant Eli Manning and the Giants' run game the appropriate amount of time to operate.
The knock on Ellison's game is that he's not much of a receiving threat — the opposite of Engram.
Last year, Ellison totaled just nine receptions for a total 57 yards and in his five year career has totaled just 515 yards and three touchdowns.
When you look at both Ellison and Engram's strengths and weaknesses, they're essentially polar opposites of one another.
On one hand, you have a tight end in Engram who lines up as a slot receiver more often than not. In doing so, he is an asset for the Giants' passing game, but he simultaneously isn't much of a blocking presence.
On the other hand, Ellison is the utter opposite — he's a run-blocking presence at tight end who may also take some reps at fullback.
While they're two completely different tight ends, Engram and Ellison will balance each other out in the Giants' offense.
They'll balance each others' weaknesses, whether that be lining up as an option on the outside for Manning and the Giants passing game, or as a blocking presence on the inside.