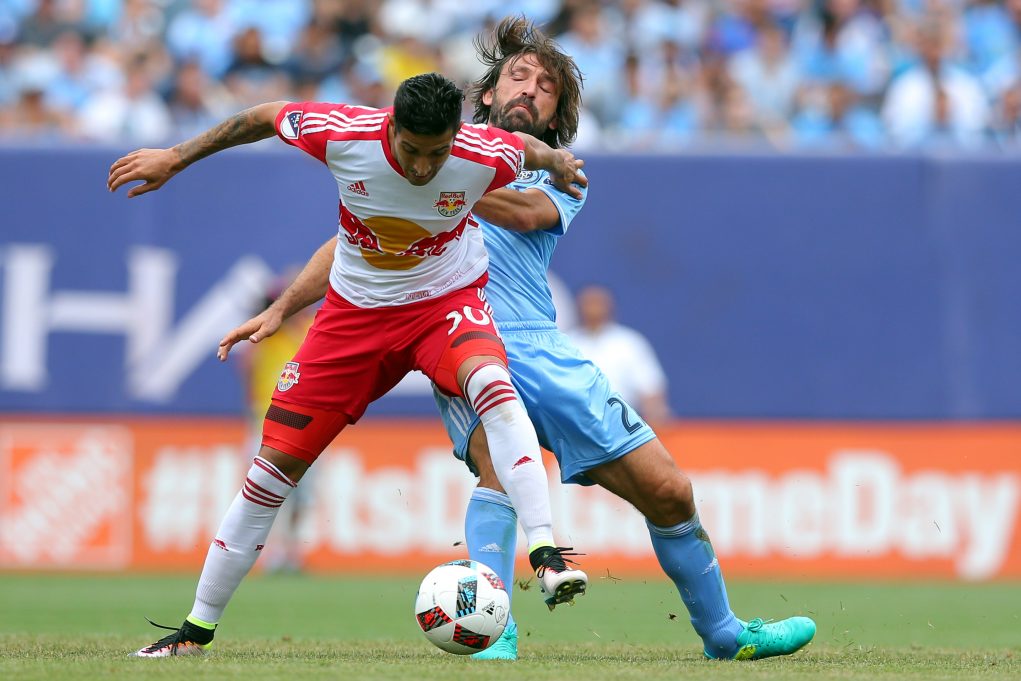 The New York Red Bulls failed to put a member of their roster into the MLS All-Star game in 2017. The first time since 2009.
The New York Red Bulls have been notorious for big signings and work-class players. Both designated and domestic players have made the All-Star game roster from RBNY in the past. 2017 is the first year since 2009 that RBNY has failed to see one of their players honored in the yearly match.
It is no surprise to many fans that RBNY does not have anyone on the roster for the exhibition. The team has been playing fair, but compared to previous seasons, the caliber of play is much lower.
Here are some of the previous All-Stars that were honored in the past.
Juan Pablo Angel – 2010
Ream, Henry – 2011
Henry – 2012
Henry – 2013
Henry, BWP, Cahill – 2014
McCarty – 2015
Kljestan – 2016
McCarty will be on the roster this year. However, it will be as a member of the red-hot Chicago Fire. No doubt he was All-Star material while with RBNY abd he continues to impress for Chicago.
Henry, Cahill, BWP, Kljestan, Ream, Angel are obvious names on the list. These names are legendary to the club. For current players, however, BWP and Kljestan as snubs from the 2017 roster must sting.
On the other hand, BWP and Kljestan seem to be hunting a more glorious prize. One that is not an individual honor, but collective.
RBNY are in the hunt for a US Open Cup and MLS Cup. Make no mistake about it, the determination for these prizes outmatch all other individual honors.
Good news for RBNY fans: Do not worry about individual stardom, focus on the big prize. 2017 may be the year where two pieces of new hardware will come home to Harrison.
Luis Robles is now the club leader in minutes played.

Congrats, ironman!#RBNY pic.twitter.com/LUh1UUx7TU

— New York Red Bulls (@NewYorkRedBulls) July 23, 2017
One RBNY player who surely deserves a spot on the roster, however, is Luis Robles. Never included on the roster before, Robles is arguably the best keeper in MLS. Robles time and time again has shown his talents in being selected for countless "Saves of the Week" honors.
This year, Tim Howard is obviously on the roster. Stephen Frei of Seattle is the other. Luis Robles could be argued to have better stats than Frei. With more saves per game, fewer goals against, and equal shutouts, Robles should have been honored.
Regardless of the 2017 All-Star game roster, RBNY is dialed in on the ultimate prize: The MLS Cup. While on this campaign, they also hope to win the other domestic, US Open Cup.
Here is the 2017 MLS All-Star roster:
GK- Stephen Frei, Tim Howard
D- Beasley, Garza, Grana, Hedges, Kappelhof, Parkhurst, Van Damme, Zusi
M- Acosta, Almiron, Bradley, dos Santos, Kaka, McCarty, Piatti, Schweinsteiger, Valeri
F- Altidore, Dwyer, Giovinco, Nikolic, Villa
Take a closer look at the 2017 #MLSAllStar roster: https://t.co/PY87bmnm3P

— Major League Soccer (@MLS) July 18, 2017
Who do you think should have been voted in from RBNY to the MLS All-Star Game? And do you think that individual honors are being put behind for a collective front toward the ultimate MLS prize?