Paul Perkins has the chance to break out for the New York Giants — but fans must temper their expectations. 
W
ith training camp now just two days away, second-year head coach Ben McAdoo and the New York Giants will have their eye on a number of different positions — one being running back.
Last year, rookie Paul Perkins emerged midseason to ultimately take the starting job away from the veteran Rashad Jennings. In doing so, Perkins impressed.
Finishing the regular season with 456 rushing and 162 receiving yards, Perkins produced well based on the fact that he was thrown into the mix midseason. He also rushed for 102 yards in the Giants' Week 17 matchup with Washington — which while not astonishing, was the highest run total in a single game for a Giants' back in 2016.
Working off his encouraging second half, there is optimism surrounding Perkins with training camp on the horizon — but there's always the possibility that he could underwhelm the Giants faithful.
Here are the best, worst and realistic scenarios for Perkins in 2017.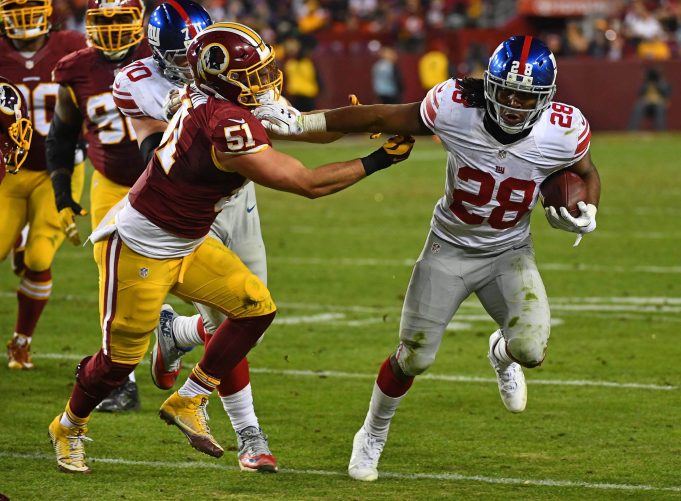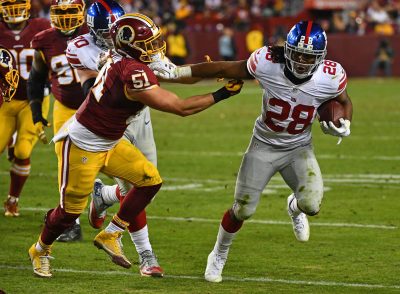 Best-Case Scenario 
The ideal outcome in Perkins' sophomore campaign would be for him to rush for 1000+ yards. In order to do so, he'll need his offensive line to be a reliable product — which they struggled to be in 2016.
With tackles Ereck Flowers and Bobby Hart both struggling to stand their ground and guard Justin Pugh dealing with a midseason knee injury, the Giants' offensive line was simply lackluster in 2016.
While not drastically improved, they have upgraded their line. Signing former Chargers first rounder D.J. Fluker and snatching tackle Adam Bisnowaty in the sixth round of the NFL Draft has added some much needed depth to their offensive line.
The Giants have also added blocking tight end, Rhett Ellison on a four-year deal, who is also expected to be an aid in the running game.
In a best-case scenario for Perkins, the Giants O-Line gets its act together, allowing Perkins to break out in his sophomore season.
If Flowers can learn to stay low and not get blown, and the additions of Fluker and Ellison can assist the Giants' run game, Perkins will be able to rush for 1,000 yards.
Best Case Scenario: 1,100 yards, 5 touchdowns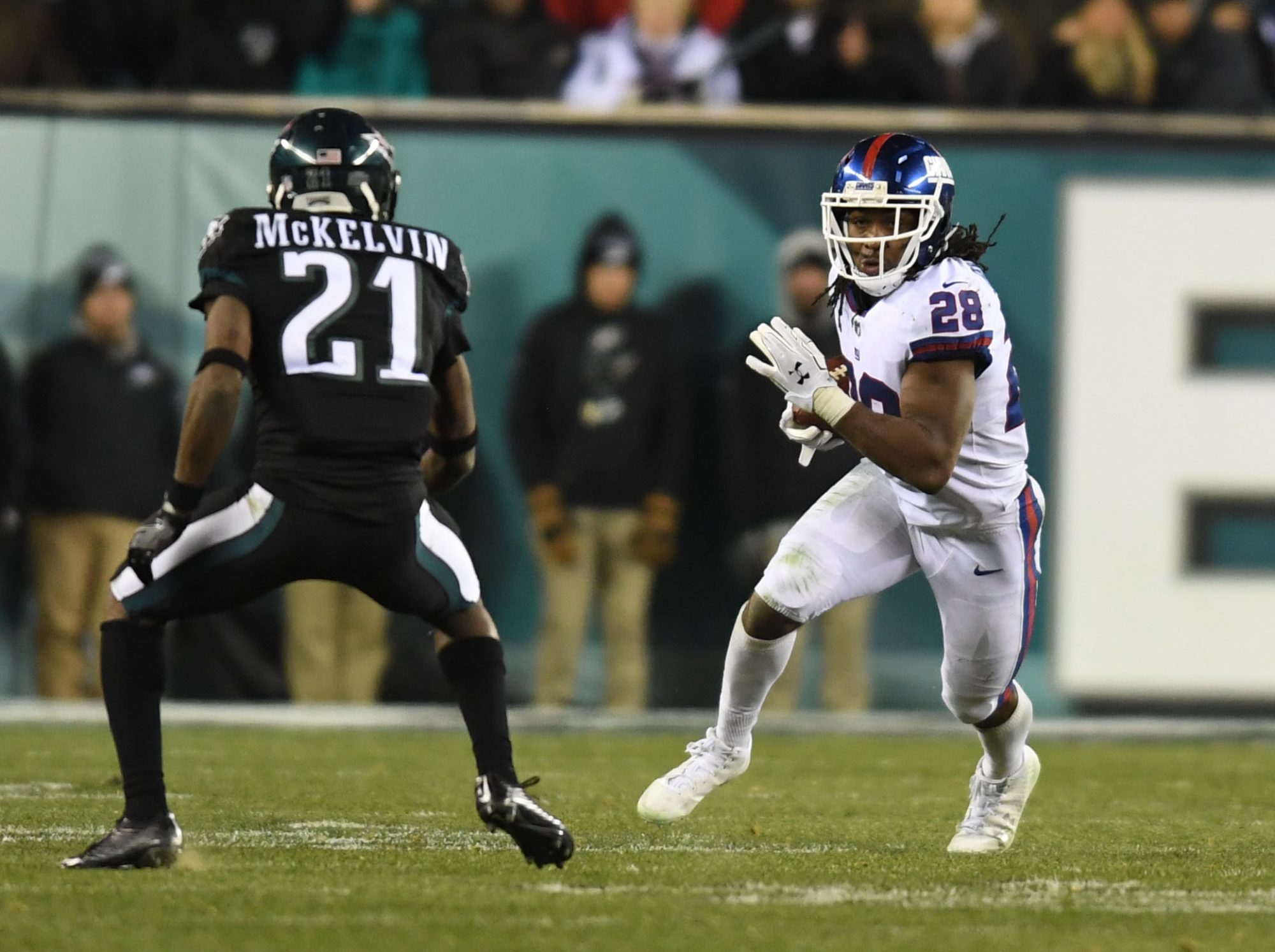 Worst-Case Scenario
While the potential for Perkins to progress in 2017 exists, there's always the possibility that he doesn't make the jump the Giants envision.
One noticeable takeaway from Perkins' 2016 stats is that he had zero rushing touchdowns. While the 5-foot-10 Perkins is certainly not a Marshawn Lynch-esque power back — not yet, at least —  he should've easily been able to trip his way into the end zone once, if not twice. The fact that he wasn't able to so is a bit alarming.
If Perkins doesn't work on powering through the pile at the goal line and/or breaking free, he may not be able to produce at a higher level.
The other factor is, of course, the aforementioned offensive line. If Flowers, Pugh and company cannot hold their ground or remain healthy, then chances are the Giants' run game won't be much better than it was in 2016.
Worst-Case Scenario: 650 yards, 2 touchdowns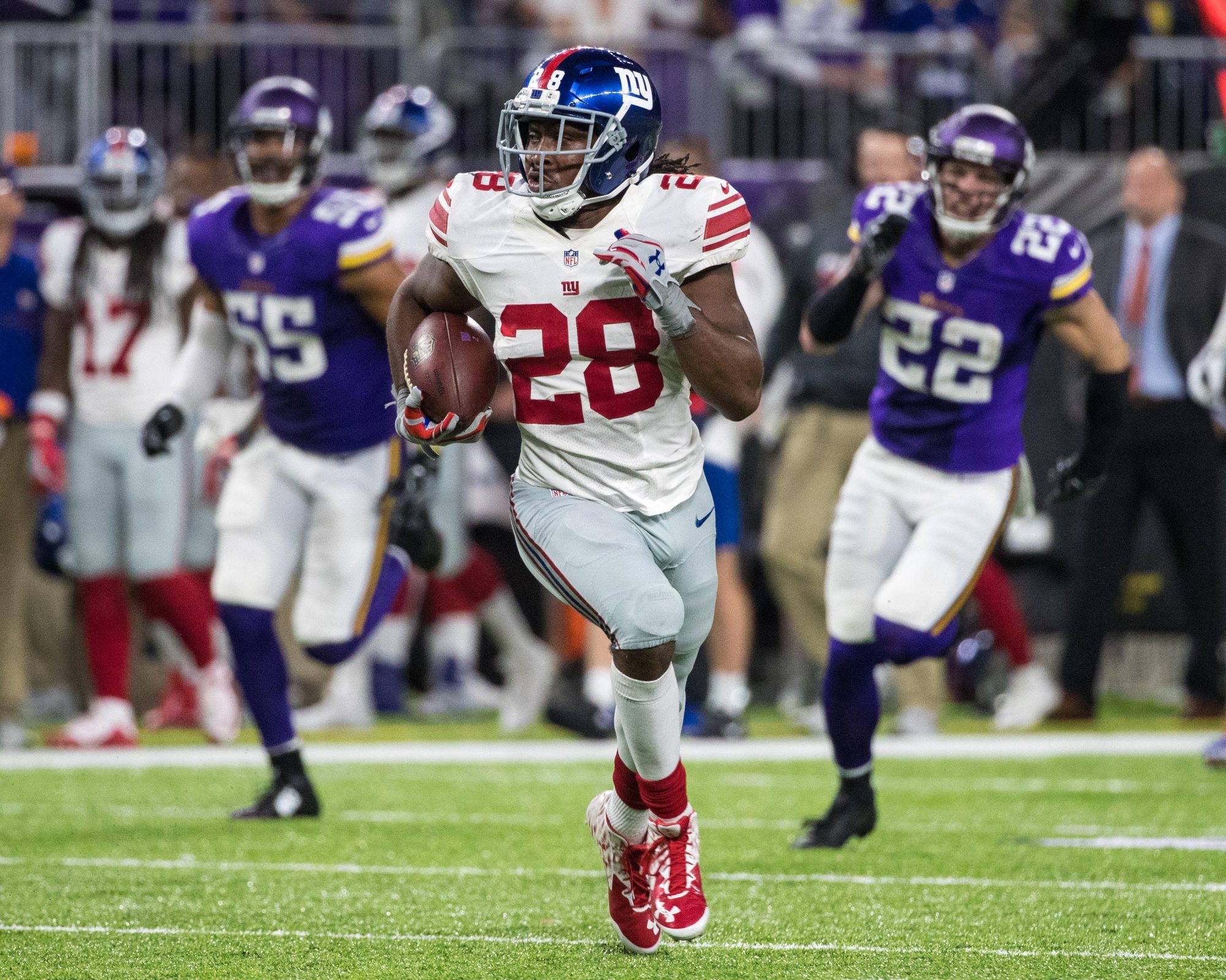 Realistic Scenario
When you put it all together, Perkins should be able to progress in 2017, but not to the point of stardom.
With an improved offensive line, Perkins and the Giants' run game should be a bit more reliable. The fact that he is just 22 and overtook the starting halfback gig midseason are two encouraging factors working in his favor. Of course, Perkins play is heavily reliant on how much better his offensive line truly is.
Has Flowers really worked on his craft, to the point where he won't be a liability on the outside? Will Ellison be on the field enough to help out their run game? Will their line, as a whole, be durable? Those questions, as well as if Perkins can improve his overall arsenal, will be the deciding factors pertaining to his 2017 play.
While they're still not top-tier, the offensive line is improved and based on the fact that he'll be getting the majority of reps at running back, Perkins should be able to ensure a productive season in the Giants' backfield.
Realistic Scenario: 850 yards, 4 touchdowns