When the New York Giants signed Geno Smith to a one year deal this off-season, it was met with a lukewarm reaction by Giants fans.
A
fter all, the former second round pick in the 2013 draft career has been a disappointment up to this point and has made the back pages of newspapers for all the wrong reasons.
Smith does have a strong arm and has occasionally shown signs that he can play at a high level like when he threw for 358 yards and had a perfect quarterback rating in the New York Jets 2014 season finale 37-24 victory over the Miami Dolphins.
But Smith has been more bad than good throughout his NFL career as his 28 touchdowns to 36 interceptions shows.
In addition to not performing as he would have hoped on the field, he's shown poor judgment off the field.
In 2014 when the Jets were preparing for a home game against the San Diego Chargers, Smith and other teammates missed a team meeting because they went to see a movie. They claimed that due to the three-hour time zone difference, they got confused as to what time it actually was.
Then there was the incident in August 2015 when teammate IK Enemkpali broke Smith's jaw for not repaying him for a $600 plane ticket to attend Enemkpali's football camp. This resulted in Smith losing his job.
The good thing for Smith is that he is now part of one of the most stable organizations in sports to turn his career around. But it's far from a lock that he will make the final roster.
Unlike what the Jets did last season, there's no way the Giants will carry four quarterbacks. Eli Manning is the best quarterback in the history of the franchise and he never gets hurt, so he'll be a lock to make the team until he retires. Rookie Davis Webb is viewed as the heir apparent to Manning, and though he may not be active for any games this season, he's a lock to make the roster.
So that means Smith will have to battle Josh Johnson to be Manning's backup.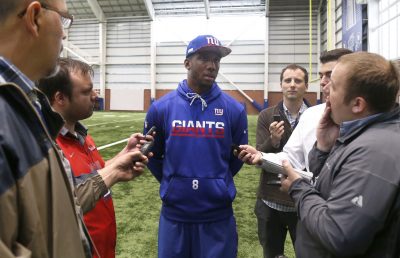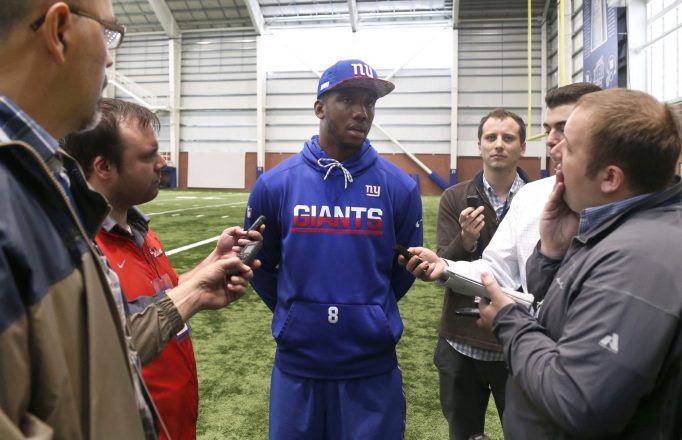 You may think the 26-year-old Smith would be favored to win the backup quarterback position over the 31-year-old Johnson, especially considering Smith has 866 career passing attempts to Johnson's 177. That Johnson hasn't thrown a pass in a game since 2011 doesn't hurt Smith's chances, either.
But Johnson was with the team last year, which means he knows the system and most of the roster, and unlike Smith, he's been the model teammate by all accounts.
So Smith will need to not only show that he's matured, but also show an eagerness to learn the Giants West Coast offense. More importantly, he needs to shine during training camp and in the preseason if he's going to make the roster. With three other quarterbacks getting time he'll see limited reps, so he'll have to make the most of the opportunities he's given.
If he can do that and be a model teammate during the season, he stands a good chance of signing with another team in 2018 and possibly compete to be a starter. If he can't beat out Johnson, then you'll have to wonder if he'll ever get another opportunity in the NFL again.
Smith's quest to make the team will begin next week as the Giants open training camp.