Critics have always clamored for Odell Beckham Jr. to change his mindset when on the field. However, asking him to do so is forcing him to essentially stop caring about his play on the field. What good comes from that?
I
n just three years on the scene,
Odell Beckham Jr.
has amazed the NFL world. Playing with an unstoppable yet unique motor, Beckham has been a sight for all eyes.
Suffice to say, he has developed himself as one of the league's best wide receivers. Taking the league by storm with his stellar quickness and ability to reel in any pass within his general vicinity, Beckham has established himself as one of the baddest men on the gridiron.
There's just one little issue surrounding OBJ's world. Despite all the great facets of his play, there is one glaring notion surrounding his game — his attitude.
Whether it's the fans, coaching staff or even the media, Beckham has been portrayed as a player with an out of control temper when on the field.
Ranging from his temper flaring with opposing corners, most notably Josh Norman, to missing non-mandatory OTAs, Beckham has been under the microscope of many throughout the duration of his NFL career. However, while his temper can be out of line at times, Beckham plays with an intense passion — one that shows how much he deeply cares about his play as well as the Giants as a whole.
Does Beckham's temper at times make him a headcase to work around? Yes, but more often than not, it does more good than bad for the Giants.
In his three years with Big Blue, Beckham has been the go-to man for Manning and company. Recording 4,122 yards in his first 43 games played, he has been an irreplaceable product for the Giants offense.
While his attitude can at times be insane, whether it's banging his head into a wall, or showing frustration at himself on the sideline, Beckham has always taken his play personally. He hates settling and will get on himself for not performing at the level he knows he's capable of.
That's somehow become a bad thing in the public eye.
Isn't the mindset Beckham possesses the one you want your players to have? That they care about their play?
A lot of times you'll see players act like defeat is no big deal or that it'll get better in the near future. The reality is that holding in the truth or lying does no good. Look at Seahawks quarterback Russell Wilson.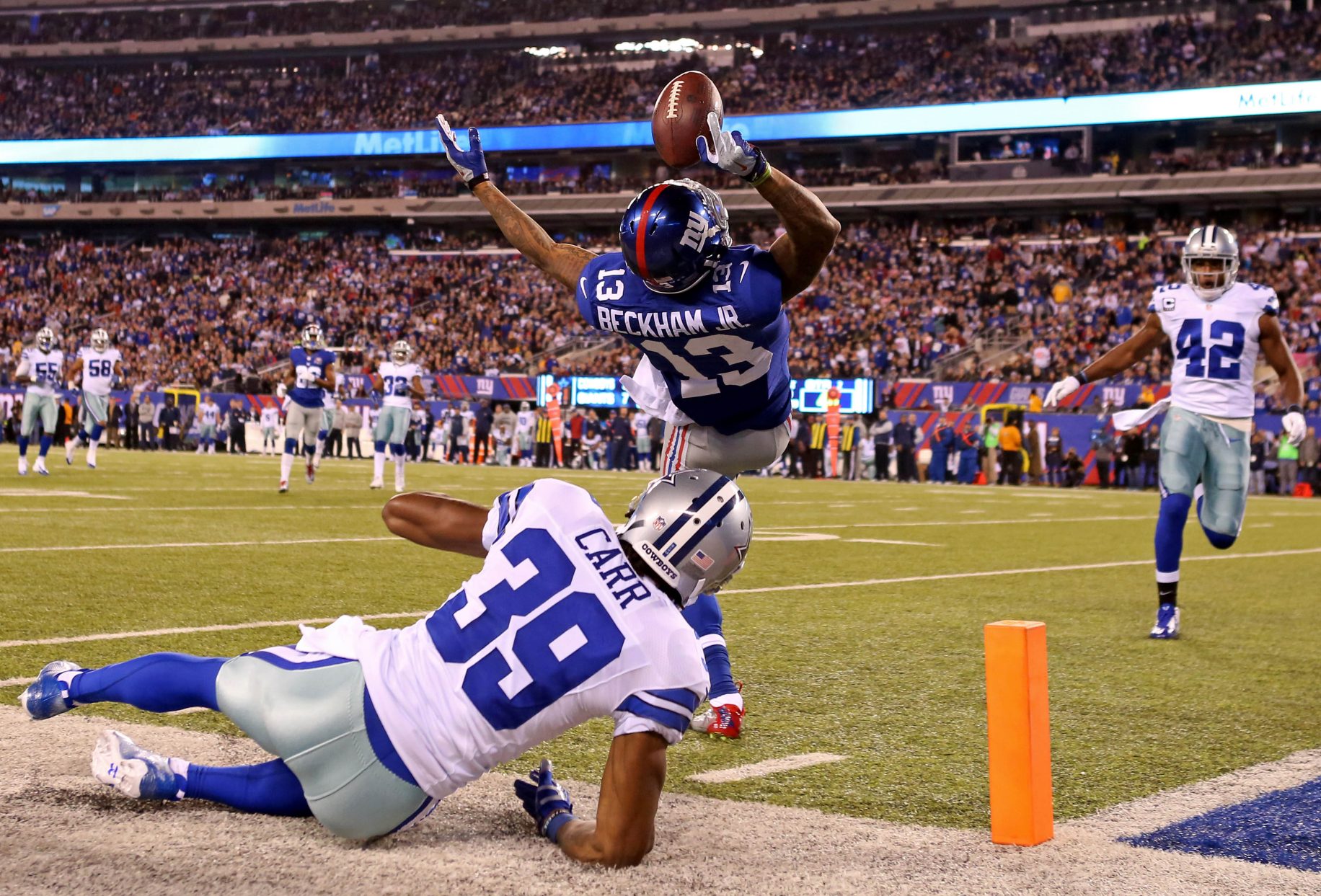 After throwing an interception at the one year line in the final minute of Super Bowl 49, Wilson said afterward that he'll forget about how the game fared and will move on. If you're a member of the Seahawks organization or even a fan of the team, that's the last thing you want to hear from your franchise player after a crushing moment like that.
You want him to use that moment as motivation, or at the very least, be discouraged about it.
Does that mean Wilson doesn't care? Of course not, but the fact that he wasn't expressive about it was a little alarming.
With Wilson's scenario in mind, how does wanting Beckham to hold in anger when he disappoints do any good?
When people say Beckham needs to calm down or change his attitude, they're essentially clamoring for him to stop caring about not succeeding, but more alarmingly change his entire persona.
Say Beckham stops playing with a high motor. Chances are, you won't see the same player. You still may see a highly talented wideout, but you're not going to see a player excel at the higher level you envision; that's something you don't want to have transpired.
Beckham's motor is what makes him great, through both good times and bad. By forcing him to deprive himself of that high standard mentality, you're forcing him to change his game for the worse and would potentially be stripping the Giants of their biggest asset — that being Beckham.
While going insane and throwing things may not be exactly what coaches aspire to see their players do, asking Beckham to calm down would be a mistake. If you change Beckham's mentality, his production will take a toll because of it. The high motor makes Beckham who he is and taking that part of his game away is stripping him of his identity.
At the end of the day, people will preach for him to change his identity, but Beckham will never do something as asinine. So whether people can fathom that reality or not, it's time to accept Beckham for who he is and stop looking for him to act out of character; he's simply not that type of player.