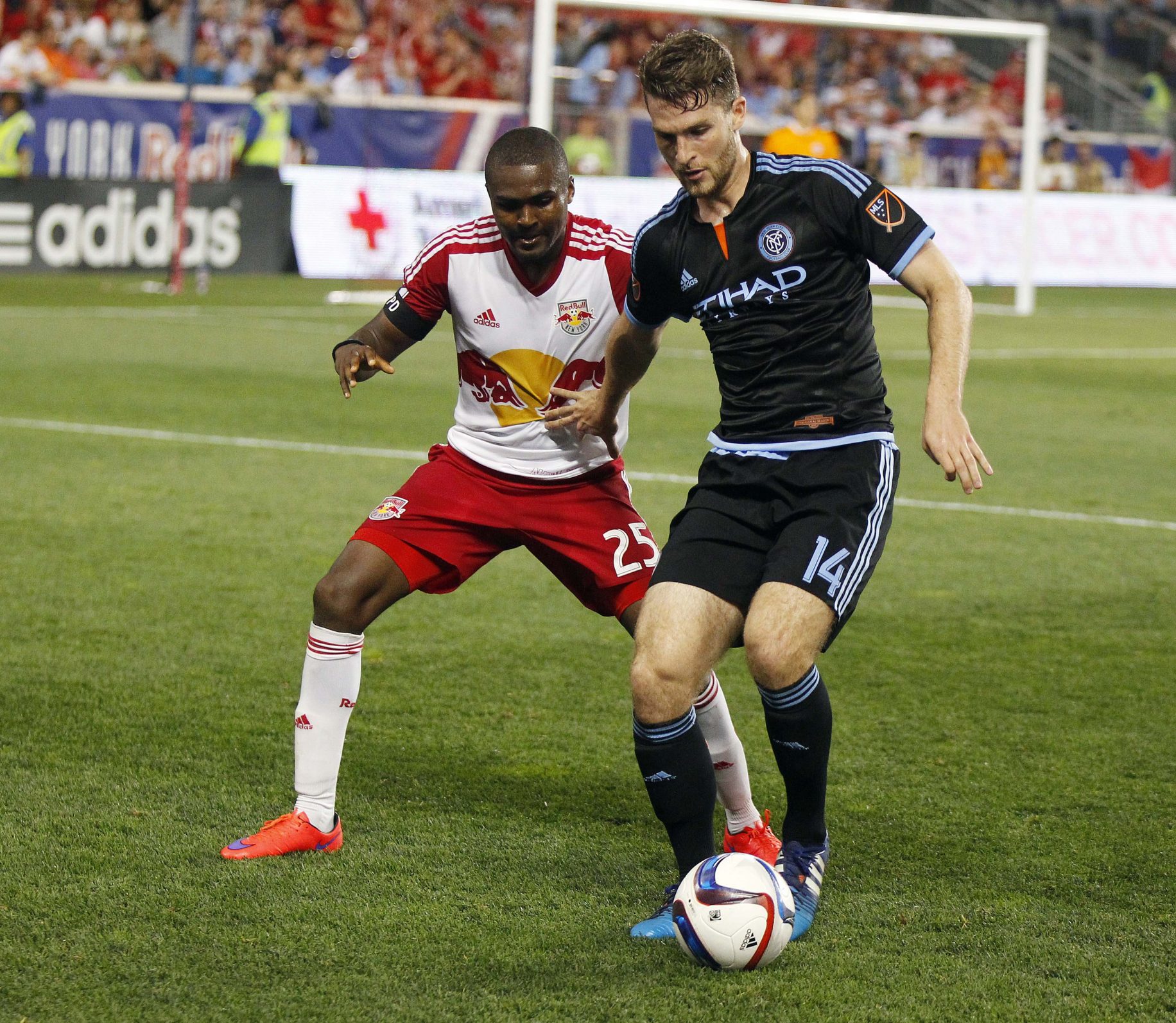 The New York Red Bulls defeated the New England Revolution at Gillette Stadium in a 3-2 heated matchup.
In the first match between New York Red Bulls and New England in a two game, 10-day stretch is declared RED. In a heated matchup, five goals were scored, one penalty kick and a game winner in the 90th minute saw RBNY to victory.
---
---
Two early goals by New England were met by two RBNY equalizers. In the 90th minute, an unlikely hero, designated player, Gonzalo Veron scored to win the game for RBNY.
Goals were scored by Teal Bunbury in the 21st minute. Two minutes later in the 23rd Bradley-Wright Phillips cracked a screaming volley which ricocheted off the crossbar into the back of the net.
In the 26th minute, Lee Nguyen off a deflected shot chipped a diving Luis Robles.
Later, in the second half, Sean Davis was fouled in the corner of the 18-yard box by Gershon Koffie. In the 55th minute, Daniel Royer converted the penalty kick to make the match level.
That'll do, Royer! That'll do! #NEvNY | #RBNY pic.twitter.com/2Ek4yMorCt

— New York Red Bulls (@NewYorkRedBulls) July 6, 2017
Heroics came late in the match from an unlikely RBNY source. Gonzalo Veron, a player who only has seen 167 minutes this season collected a pass from Felipe in New England's defensive third. Without hesitation, Veron slotted a ground ball into the far post, out of the reach of the New England keeper.
New York stole three points at the death in New England! ?

?➡️ https://t.co/y7JIzzjyjz#NEvNY | #RBNY pic.twitter.com/TtZpkG4f2K

— New York Red Bulls (@NewYorkRedBulls) July 6, 2017
When speaking about RBNY's ability to maintain strong into the second half Jesse March said, "The game could have gone either way at the end. It was in the balance for sure, and we were able to make a play right at the end of the game and hang on."
Marsch continued to praise Veron's late performance, "We still feel like he's a guy who can make plays, he's an important guy."
RBNY Sacha Kljestan commented after the game, "I think in the end we were just a little bit more fit." Kljestan also commented on Veron's ability to contribute to the team. Today he showed what value he has in the team's journey to make the MLS Playoffs.
This makes three games in a row now that RBNY has defeated New England. These teams will meet again in less than ten days. On July 13, RBNY will visit New England for a shot at advancement in the US Open Cup.
FT: RED BULLS WIN!!!
 
2-3 #NEvNY | #RBNY pic.twitter.com/P7EqhfEDwM

— New York Red Bulls (@NewYorkRedBulls) July 6, 2017