New York Giants GM Jerry Reese has been stockpiling young offensive talent the past two years but his 2017 offense will rely on two veterans, QB Eli Manning and WR Brandon Marshall. 
When you think of the New York Giants' offense these days, visions of young, fast and flashy players come to mind. WRs Odell Beckham, Jr. and Sterling Shepard, RB Paul Perkins and rookie TE Evan Engram have the collective imagination of Giant fans running wild.
But the reality is, the Giants' offense will likely be steered by two veterans, QB Eli Manning and WR Brandon Marshall. Both are on the downslopes of their Hall of Fame careers but are teaming up for what many believe could be a championship run or two.
Manning, 36, is entering his 14th season as the Giants' QB. He has led the franchise to two Super Bowl victories and has broken or will break just about every passing and longevity record on the team's books. This year, he will surpass 50,000 yards passing, a feat only six other players in the history of the NFL have accomplished.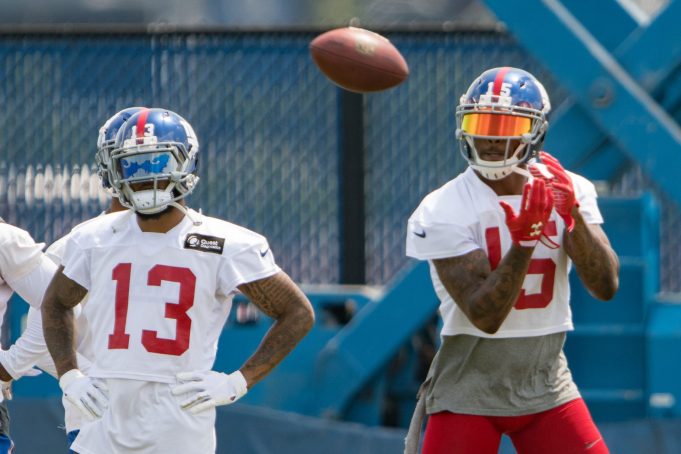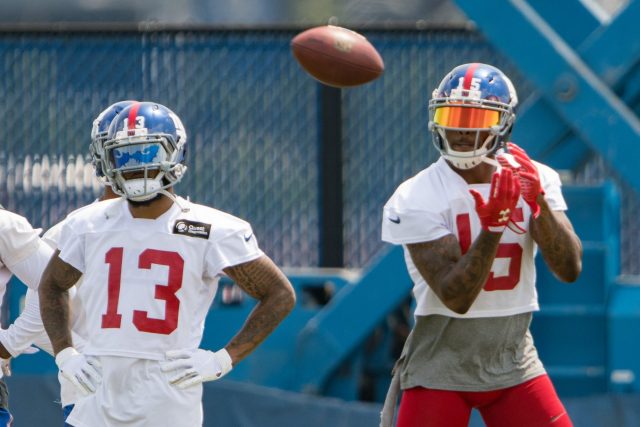 The 33 year-old Marshall is a six-time Pro Bowler who has never played in a post season game. He is on his fifth NFL team in 12 years but has posted some of most impressive numbers by a wide receiver in league history. If Marshall scores ten touchdowns for the Giants this season, he move into 11th place All-Time in receiving TDs behind the legendary Don Hutson of Green Bay Packer fame.
Marshall signed with the Giants this past offseason after two seasons with the Jets and knows right away that he is not going to be the team's featured receiver. He is taking on the role of a No. 2 or possibly even a No. 3 wideout. Not a position he's used to being in, but at 33, the prospect of being a productive role player on a winning team appeals to him.
"They were clear with me we have a No. 1 receiver that's not even in his prime yet, and that we also have a freakin' stud in Sterling Shepard, so there's only one ball,'' Marshall told The Post this week. "I want this to be my most efficient year. It may not be my best statistically, but when it comes to the standpoint of efficiency, I really want to dominate in that category.''
That can only take place if he and Manning hit it off. Usually Manning takes a bit to time to get his timing down with new receivers. Ever since Marshall was inked to a two-year, $11 million deal in March, he has attached himself to Manning's hip to shorten that gestation period. He wants to be on Eli's dance card early and often here in 2017.
"I think I dropped every other ball the first two weeks,'' Marshall said. "I was like, 'These guys probably think they made a bad investment.'' I think our last practice Eli just threw it at my feet and said, 'I'm just gonna throw it so you get the timing — I'm just gonna do my job and you got to do yours,' ''
Both can still do the job. Just doing to together remind to be seen. Manning is being touted as an early MVP candidate after the Giants bent over backwards to get him an arsenal of weapons the past two winters. Marshall is just one season removed from an All-Pro season in which he caught 109 passes for 1,502 yards and an NFL-leading 14 touchdowns.
Marshall fills a role in an area the Giants have been shallow in – red zone scoring. His size (6'4″ 230) makes him a big target that defenses will have difficulty defending. He will also be integral on third downs, moving the chains and cutting down on those frustrating three-and outs.
Many are curious to know if the eccentric Marshall's new persona as a backseat rider is for real. He's always been front and center, the big fish in the small pond, so to speak. Manning is buying it. There's something to be said about an organization that has seven championship trophies on display in the lobby of their headquarters. It takes players down a peg when the enter the building. Marshall is no different, it seems.
"No doubt. He's humble," said Manning. "He has the ability to make big plays and get down the field. He's not a 4.3 40 guy, that's not why we brought him in. We brought him in because he's a big target, great in the red zone, but he also – hey, I hit him on go-routes this offseason, he ran by defenders. He has the ability to make all the plays, run all the routes and make big plays for us.''
So, while Beckham and the others hog the highlight reels, it will be Marshall that does the boring stuff that keeps the Giants' receiving corp grounded and productive.