New York Knicks first-year head coach Jeff Hornacek, thanks to many variables, had no shot of success from the very beginning.
T
he moment
Kurt Rambis
was retained was the instant the rational Knicks fans in this world understood reality.
We understood that president Phil Jackson was still in the business of micromanaging the New York Knicks from wherever he roamed. Whether the setting is Los Angeles, Montana or Manhattan (on those few nights he attends), Rambis continued to act as not only the symbol of futility, but the rat who could fill his buddy in on the current situation from the sideline and locker room.
Bless the soul of Jeff Hornacek. He had no shot of success this season. 
When Jackson went coach hunting this past summer, names were aplenty. There were the former Laker guys in Bryan Shaw and Luke Walton. Walton took the better situation in Los Angeles. With plenty of talent in guys like Julius Randle, D'Angelo Russell and Brandon Ingram, and with Kobe Bryant (the man who held the franchise down as of late) gone, Walton is now, thanks to his decision, on the fast-track.
There was David Blatt, a man who represented a candidate who'd bring offense, yet would seemingly give in to Jackson's every need and want.
There was also Tom Thibodeau, the most talented coaching free agent on the market in a long time — a former Knick sideline boss under Jeff Van Gundy. This man represented the hardnosed city choice, the obvious choice who'd reinstil toughness and grit, something that hasn't been seen since the Patrick Ewing, John Starks, Anthony Mason, and, yes, Charles Oakley days.
Thibs, who was reported as desperately wanting to come back to the Garden, would bring a serious defensive mindset to the table. There would be no softness about the club and compromise would be hard to come by. With Thibs, it would have been "my way or the highway."
Unfortunately, that tough-minded philosophy wouldn't have worked here. You know why?
Phil Jackson. That's why. Thibodeau would have actually wanted complete control — something head coaches are usually awarded with when it comes to the actual games.
What a novel idea.
Jackson — acting as complete personnel boss for the first time in his career — hasn't figured out that micromanaging from afar doesn't work. He hasn't figured out that unless he's actually in the huddle during a timeout or leaning on a guy in the locker room, that forcing others around him to follow certain principles just doesn't work.
Hornacek wasn't only forced to take on Rambis, he was forced to keep at least some basic triangle principles in the bag.
This is wrong on too many levels to discuss.
Then there's the question of personnel. The Zen Master provided Hornacek with a personnel grouping destined to fail.
Living in a new age, 3-point bonanza of a league, Jax went big (as he always does), with his offseason shaking and moving. By signing Joakim Noah and bringing in Willy Hernangomez, he forced Hornacek's hand in playing Carmelo Anthony at the small forward position — a spot Melo just doesn't thrive at any longer. At 32-years of age, Melo — who's as tough as it comes down low — is a much more effective four-man.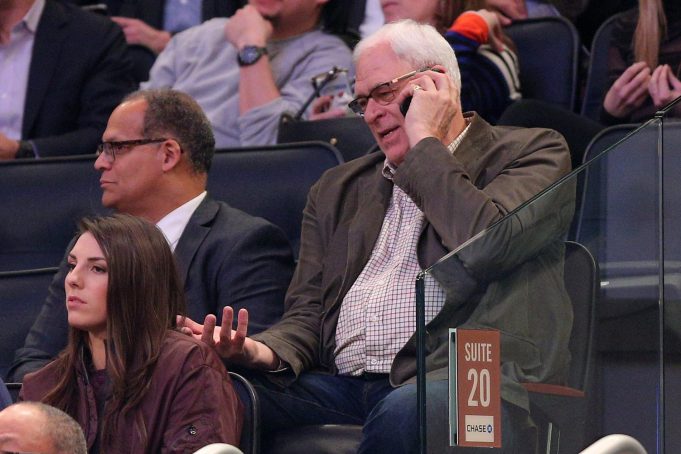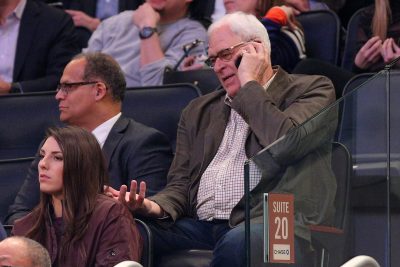 While Hornacek does mix in Melo at the four, it's nowhere near the frequency everybody needs to see it.
The problem comes down to a terrible personnel mix. The individuals are much too big.
If Melo starts at the four, the bench is suddenly loaded with big men with very few guards to go around. This leads us to believe Jackson is still living in the past when big men and the post game ruled the NBA, rather than chucking it from beyond the arc.
Hornacek is a guy who preaches an uptempo, fast-paced style, yet was handed a slow, methodical roster.
How about the development of the one true piece Jackson did get right, Kristaps Porzingis?
Everything about Hornacek attempting to develop the Knicks cornerstone piece has backfired. Starting to develop a stigma as a very streaky player, KP's teammates only care about themselves rather than attempting to build the team around the young Latvian. Derrick Rose is simply playing for a contract while guys like Melo are battling the boss off the court.
Even if you aren't the biggest fan of Hornacek, reality has to smack you in the face about the cruelty of this situation. Has the man done an admirable job this season, his first in the Big Apple? Hell no. Hornacek's coaching has been one of the most disappointing aspects to this ridiculous and laughable season.
At the same time, don't think for one moment he had a chance of success. With Jackson looming and his buddy coaching this awful defense sitting alongside, Hornacek simply can't be his own man. He can't do anything with confidence and always needs to look over his shoulder.
Jackson, for all of his wonders as a 13-time NBA champion needs to figure out this one extremely important aspect about coaching/personnel matters …
Unless you're coaching the team yourself, you can't force a philosophy onto the court. It's an unnatural process no matter how it's rationalized.
The general manager picks the players, the coach runs the court. It's that simple and until Jackson understands this, Hornacek (or any coach who comes here) will have zero chance to win games.