These days, you're either on the side of Phil Jackson or Carmelo Anthony. Why is this? This New York Knicks duo has failed together.
T
ake my advice and do the following …
Be a hip, youthful NBA fan. Open up Twitter.com on your favorite browser and use the handy-dandy search bar in the top right corner. Type Carmelo Anthony and Phil Jackson in that search bar.
What you'll see will be remarkable.
One after another, coming from the brain of either a fan, a blogger or even a credentialed and veteran journalist will be a hot take or thought-provoking line about your New York Knicks pertaining to their two leading men.
More importantly, take note of the anger towards one and the pity for the other. They're either on Team Jax or Team Melo.
Why is this? It honestly makes no sense.
During the summer of 2014, Anthony re-upped with the Knickerbockers. He inked a mega five-year deal worth over $120 million that was laughably passed off as "not a max contract." Melo, our favorite New York citizen, had decided to stay home. (Shortly after, we were all reminded of it as he and MSG Networks aired a special showing just how close Melo came to signing with the Chicago Bulls, but that's a different story for another day.)
In any event, the two parties, Phil and Melo, had decided to team up in efforts of changing the city's basketball franchise.
It hasn't worked. It hasn't even come close to working and both are at fault.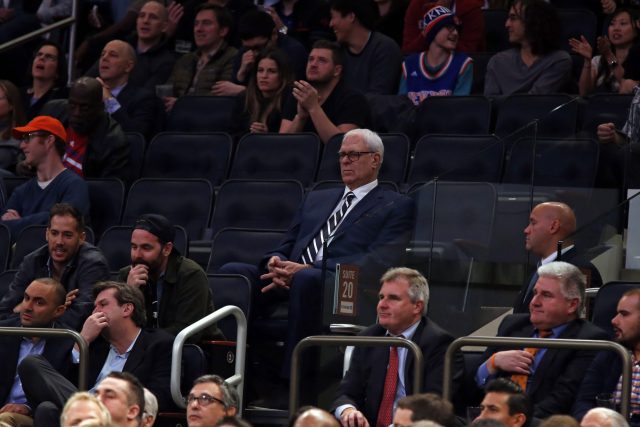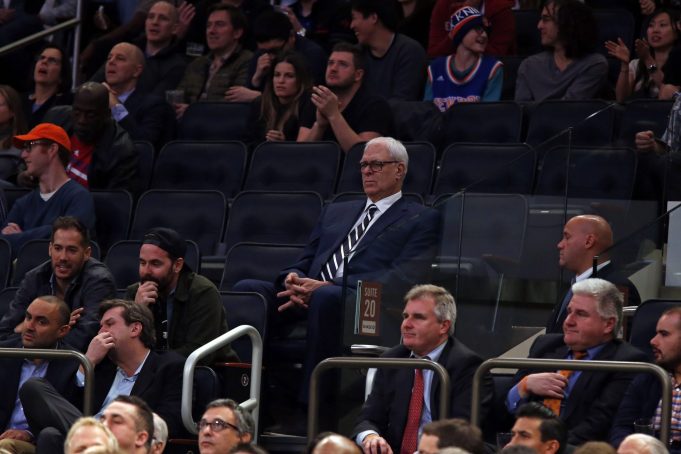 Jackson's Faults
As Jackson done a terrific job of cultivating a winning environment while acquiring the right pieces along the way? We already know the answer to that question. Phil, as great a coach as he is, simply hasn't made that transformation to NBA executive. It was clear as day if you listened to his "one a year" press conference on Friday.
Jackson did everything but throw Jeff Hornacek out of the door.
He admitted to interrupting practice several times, showing Derrick Rose a few things that needed to be pointed out. He also continued to talk about triangle principles while dismissing Hornacek's uptempo system as "that faced paced" whatever type style. He simply cannot get with today's NBA. Instead of allowing his head coach to actually coach, he must micromanage and force his system and beliefs onto his people.
This attitude will never fly as a basketball executive. Which other general manager or president in the association forces a system upon his head coach? Even while wondering aloud if Hornacek is a good head coach, he hasn't had a legitimate shot to succeed from the get-go.
Then there's the social media stuff.
In no way, shape or form is it a good idea for Jax to tweet. Anytime he does, he squeezes more credibility out of his persona. Believing the three-point game isn't the way of the world in today's basketball will only get him into major hot water.
At times, he's also called out Melo through the media, social media. This, obviously, was a tactic by Phil to either motivate Melo or force him out of town. Again, it hasn't worked on either account. In fact, while no words should affect Melo's play and leadership, many might make the argument that Phil's criticisms have hurt Anthony's play.
If Melo had been really hurt by Phil's words, he's not the leader the Knicks need.
Melo's Faults
Just take a look at the playoff teams in the east. We have superstar-less teams like the Atlanta Hawks, Indiana Pacers and Milwaukee Bucks in the playoffs. Come on now, the No. 1 seeded Boston Celtics have just one superstar (unless you count Al Horford as the second).
There's no reason why Carmelo Anthony couldn't have taken this 2016-17 Knickerbockers team to the playoffs this season.
Kristaps Porzingis is no slouch. While he is regressing, thanks to many unbelievable factors around him, he's still a stud. Derrick Rose, as much as many people hate to bash him as that prototypical non-NBA point guard, can still finish with the best of them. Other guys like Courtney Lee, Willy Hernangomez, Lance Thomas, Mindaugas Kuzminskas and Brandon Jennings (before he was released) showed us they, too, possess talent.
If Melo was as good as his reputation, he'd be able to lead this roster to at least an eighth seed.
The problem here, is, at 32-years-old, Carmelo Anthony's reputation and brand far surpasses his actual value at this stage of the game.
Shooting .433 this season and .434 a season ago is all the evidence you need. These are horrid percentages for a guy who doesn't do much else. Melo, a no doubt about it future Basketball Hall of Fame inductee, once represented one of the nastiest one-on-one scorers of all time. Now, he's simply a good iso-scorer who's a major liability on the defensive end who also represents a poor-to-average leader.
After Jax's words on Friday, Melo, as he usually does, sent a cryptic message through one of his social media accounts:
The question then becomes, "Why even do this?" What positive outcome could arrive from doing this?
Both Melo and Phil demonstrate childlike behaviors through social media rather than getting face-to-face and meeting it out in the middle. If Anthony has something to say, he should just say it.
What's worse is KP, a kid who once represented a "coach's dream," is now also acting in an immature manner by liking the cryptic post. More alarming, KP skipped his exit interview.
To have the future cornerstone of the franchise acting this way is alarming. It is, perhaps, the worst thing that could happen.
If Melo is worth his weight in gold, he'd ignore the noise, rally the troops and tell his team that it's "us against the world." He'd say, "nobody, especially our president, can screw with our future." He'd say, "our destiny is totally and completely up to us."
All things considered, he's simply not worth max money anymore.
Final Thoughts
It's silly to take one side over the other. Both parties, who represent the two top spots in the building, are children. Both are overrated in their specific jobs and need to be sent packing immediately.
If you're one who sides with one party while blasting the other, please, ask yourself this one question, "Has it been working?"
This franchise is nowhere near competing and it's both Phil Jackson and Carmelo Anthony's fault. They need to stop jabbing at each other and realize they're a team.
During the summer of 2014, both individuals entered into this tag-team agreement. They need to start acting like it instead of looking to garner the bulk of fan sympathy.