With some smart signings and sneaky good drafting by Jerry Reese, the New York Giants reached the playoffs once again in the 2016-17 season.
However, when looking into the future, some key pieces of the team are set to hit free agency in 2018. With that being said let's take a look at the three who are the most deserving of contract extensions.
Lowkey, the former New England Patriot may have been the secret to the Giants offensive successes in 2015, and their offensive failures in 2016.
In 2015, Shane Vereen averaged five targets per game. But, after taking a closer look, in wins, he only averaged 3.3 targets per game.
However, in games that Vereen averaged at least five targets in from 2015 (eight), Eli Manning averaged 297 passing yards per game. In other games, Eli only averaged 257 passing yards per game.
This past season, the Cal product was only able to play in five games, and in three of those games, he missed significant time due to injury. In the two games that he was completely healthy for, he only reached five targets once, but it was in a Giants win.
With Vereen in 2015, Eli had one of the best seasons of his career, but without him, in 2016 he predictably struggled. This is true because Vereen has been a reliable dump-off target for Eli in the past. With how the offensive line struggled in 2016, Vereen would have been a nice tool for Eli to use.
While Vereen was oft-injured in 2016, the Giants desperately missed his pass catching presence. No matter how one looks at it, Paul Perkins, nor Wayne Gallman, are as much of a pass catching threat out of the backfield as Vereen.
However, coming off of an injury-plagued 2016, and the fact that Vereen will be playing the 2018-19 season at the age of 29, makes him only an honorable mention.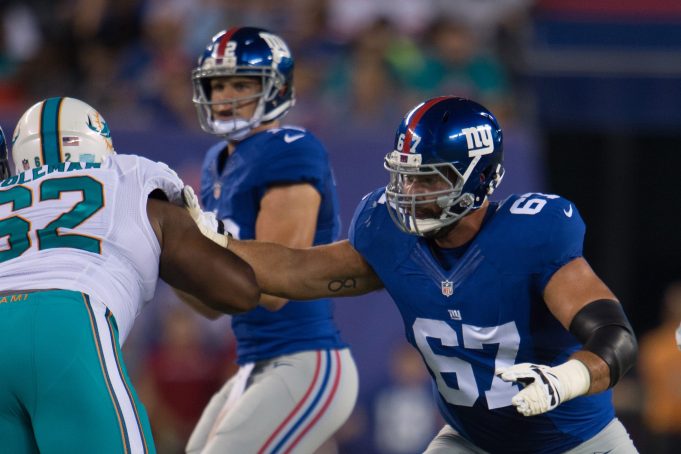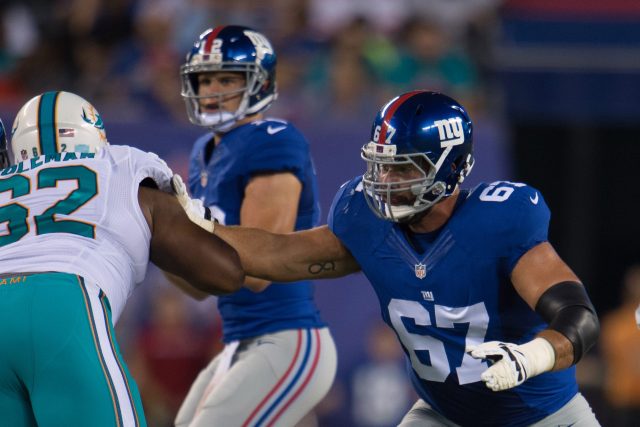 Out of all of the players to be mentioned, Justin Pugh is the most obvious extension candidate. However, it will not be cheap to extend the 2013 first rounder from Syracuse.
Pugh has been taking notes on contracts given out to similar guards. The market for guards is high, and it is to be seen if the G-Men will be able to offer him the contract that he wants.
Ever since the Syracuse alum was made a first-round draft choice by the Giants, he has outperformed expectations. Pugh went on to start 16 games for Tom Coughlin as a rookie at right tackle. When Tom Coughlin was the head coach, it was considered nearly impossible for a rookie to start 16 games under him. The fact that Pugh did that, all while protecting the franchise's most important player shows how much that the Giants have trusted him.
While the 2013 first rounder was a serviceable option at right tackle, he has managed to excel since being moved to left guard.
According to Pro Football Focus, Pugh was the 16th best guard in the NFL this past season. Before the guard suffered an MCL sprain, he was one of the tops at his position and in the running for a Pro Bowl spot.
Over the past three seasons, the guard has missed nine games, a total that could limit his earning potential. Overall, Pugh is a great guy that will give any team that he plays for everything that he can, he has just run into some bad luck in the injury department, but look for him to cash in as soon as he can.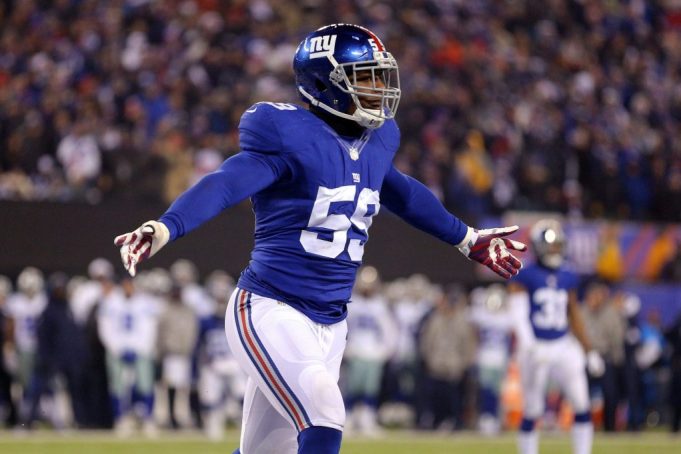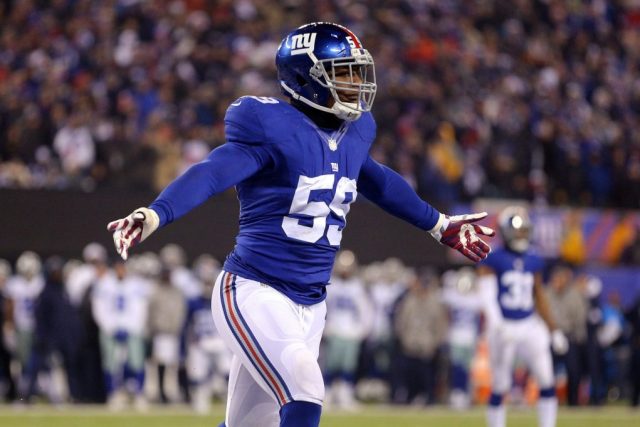 Jerry Reese unearthed a gem when he drafted Devon Kennard in the fifth round of the 2014 NFL Draft.
While Kennard was oft-injured while playing at USC, that trend has somewhat translated into the NFL. He has missed 11 out of 48 regular season games over his career. However, in 2016, Kennard was able to play in every game, as he attempts to shed his injury-prone label.
When he has been on the field, Kennard has been the Giants best linebacker by a large margin. He was the only linebacker on the Giants to grade out as average according to PFF.
He has also shown the ability to rush the quarterback from the linebacker position, as evidenced by Kennard's 5.5 career sacks.
The ex-USC linebacker may be the Giants best linebacker, but he has a modest tackle total over three seasons, with 110 total tackles, he has excelled in other areas. For instance, he has forced three fumbles thus far in his career and has broken up six passes.
Kennard should have a bright future with the Giants, but do not expect Reese to offer the linebacker a lucrative contract. It is not because of his injury concerns, but simply due to the position that he plays. Reese has downplayed the value of linebackers and does not draft linebackers at all in the early rounds. If the G-Men could sign Kennard on a team friendly deal, he will be back, but do not expect Reese to reach deep into the piggy bank.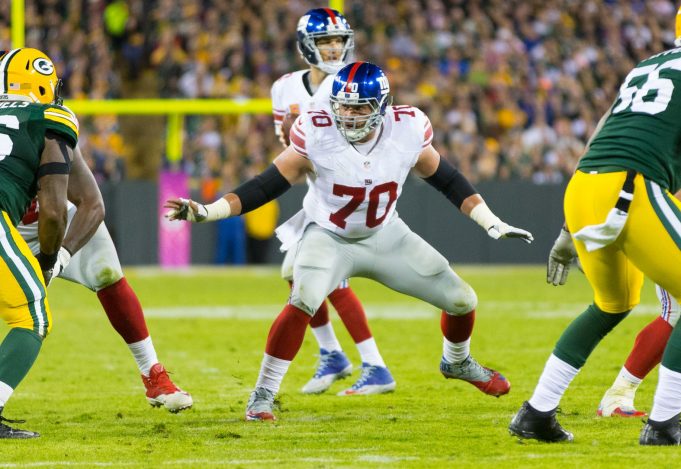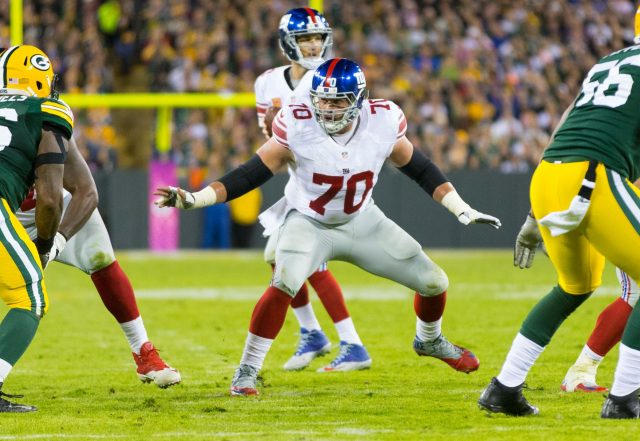 Another member of the 2014 draft class, Weston Richburg was the second rounder. He was drafted out of Colorado State, as a center.
However, in his rookie season, in which he started 15 games and played in 16 games, he played the entire season at left guard. It was only a one-year thing though, as he has played every game since then at center.
Similarly to Pugh, he goes out there and competes every day, no matter the challenge. In fact, last season, Richburg played the majority of the season with an undisclosed hand injury. According to Richburg, he suffered multiple torn tendons in his snapping hand in the second preseason game. After the 2016 season concluded, he had surgery on the hand.
After his first season as the Giants starting center, PFF rated him as one of the top centers in the league, posting an 87.2 grade in 2015.
His second season as the starting center of the New York Football Giants was solid but did not live up to the lofty expectations after his elite 2015.
PFF had Richburg as the top pass blocking center in the NFL in 2016, however, he posted a poor run blocking grade of 65.5. Perhaps his hand injury prevented him from being able to run block as well as he could.
Nonetheless, as one of the top centers in the entire NFL, Richburg should also command a hefty contract. Expect him to land a deal that is similar to what Rodney Hudson signed for. Also, expect Richburg to be the most likely for the Giants to extend out of this trio, as the offensive line is an area of need and the center is one of the best in the league.