If Garth Snow isn't able to land Matt Duchene this summer, he should turn his sights to a veteran center with leadership capabilities.
L
ooking up and down the Islanders' roster, it's not difficult to see that the team is lacking a player who has previously led a Cup-winning squad.
Sure, this sort of experience may be a tad "overrated," as many journalists have recently suggested, but it's not something to completely discount. In a league where postseason success is so often determined by who is most prepared for battle, the importance of having someone with leadership qualities can't be overstated.
Granted, both Johnny Boychuk and Nick Leddy hoisted Lord Stanley's Cup during their time with Boston and Chicago, respectively. While that's quite an achievement, they didn't assume leadership roles on these squads.
Nick Bonino, meanwhile, was one of the Penguins' most important dominoes. He's an unrestricted free agent, and the Isles would be wise to consider adding him.
Bonino, 29, was drafted by the Sharks with the 173rd pick of the 2007 Draft. He spent his collegiate career at Boston University, where he helped the Terriers win the NCAA National Championship (more on that later). Mere months after being drafted by San Jose, he was traded to Anaheim.
In March 2010, he signed a two-year, entry-level contract with the Ducks, and within days joined the NHL team. On his second night in the pros, he netted his first career goal. He would notch one goal and one assist during his rookie campaign.
Three seasons later, now with the Canucks because of a trade, he enjoyed a breakout year, scoring 15 goals and 24 assists to help his team make it the playoffs. Finally, after getting traded once more, this time to the Pittsburgh Penguins, Bonino made a noticeable impact for the Cup-winning team.
During the 2015-16 playoffs, he led the club in assists and was part of (along with Phil Kessel and Carl Hagelin) the 'HBK Line,' which was noted for its strong play. He emerged as a leader both on- and off-the-ice, which would be made clear once again in 2016-17 when he played through a broken leg to help the Pens win their second consecutive Cup.
Since he first started lacing up his skates, Bonino has earned a reputation for being a winner. He won the New England Championship in high school, the NCAA tournament in college and the Stanley Cup finals — twice — in the NHL.
But rather than Bonino following success, success has been following Bonino. In what has been called "the greatest game in the history of college hockey," the Boston Terriers stunned the Miami (OH) RedHawks, 4-3 in overtime, after scoring two goals with under a minute to go in regulation (to win the NCAA tournament).
What did Bonino do? He notched an assist on the second goal and tied the game up at three. He sent a message to his teammates that when the game is on the line, there are few players out there who are better than he is (case in point: Bonino notched six game-winning goals in 2014-15).
Besides for his acclaim as a clutch, late-game scorer, Bonino has also been praised for his work as a two-way skater. Because of the Penguins' depth, he spent much of his two seasons in Pittsburgh centering the team's third-line.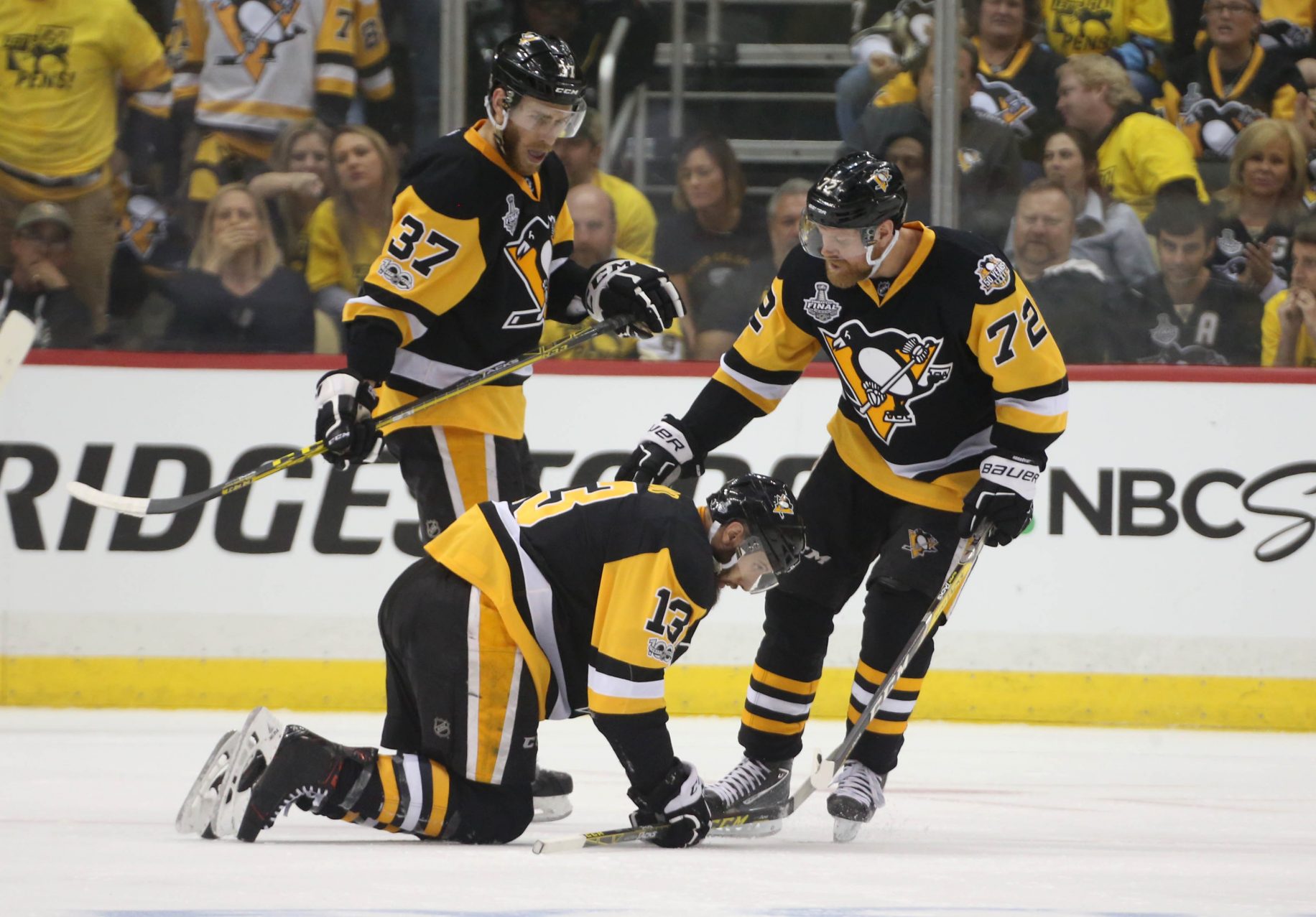 However, he did a lot more. Gushing to me about Bonino's two-way play, a Penguins insider told me that "he's amazing on the penalty kill." Not only that, he insisted, but Bonino is "cognizant defensively and never takes a shift off. He's someone that every playoff team could use."
The Islanders could certainly use him, for more reasons than one. The loss of Frans Nielsen was devastating to the team's penalty kill last season, and Bonino could make a case to replace him. Meanwhile, Doug Weight's club could use another veteran leader. Bonino would be an ideal fit.
Sure, there are concerns about Bonino disappearing from the stat sheet for large chunks of time. But that's something to discuss at a later point. The Isles' case for signing Bonino is simple: he fits the mold of a player who would help the team 'go for it.'
What he does isn't always flashy, but it's absolutely necessary for a team craving success. Mike Sullivan, his head coach in Pittsburgh, calls Bonino's responsibilities "thankless," but "the types of plays that help teams win."
"He's an inspiring guy for our team," Sullivan says. "He plays his best when the stakes are high, he's a great shot-blocker and he's a brave kid. When he comes back on the bench I know it gives our whole bench a boost."