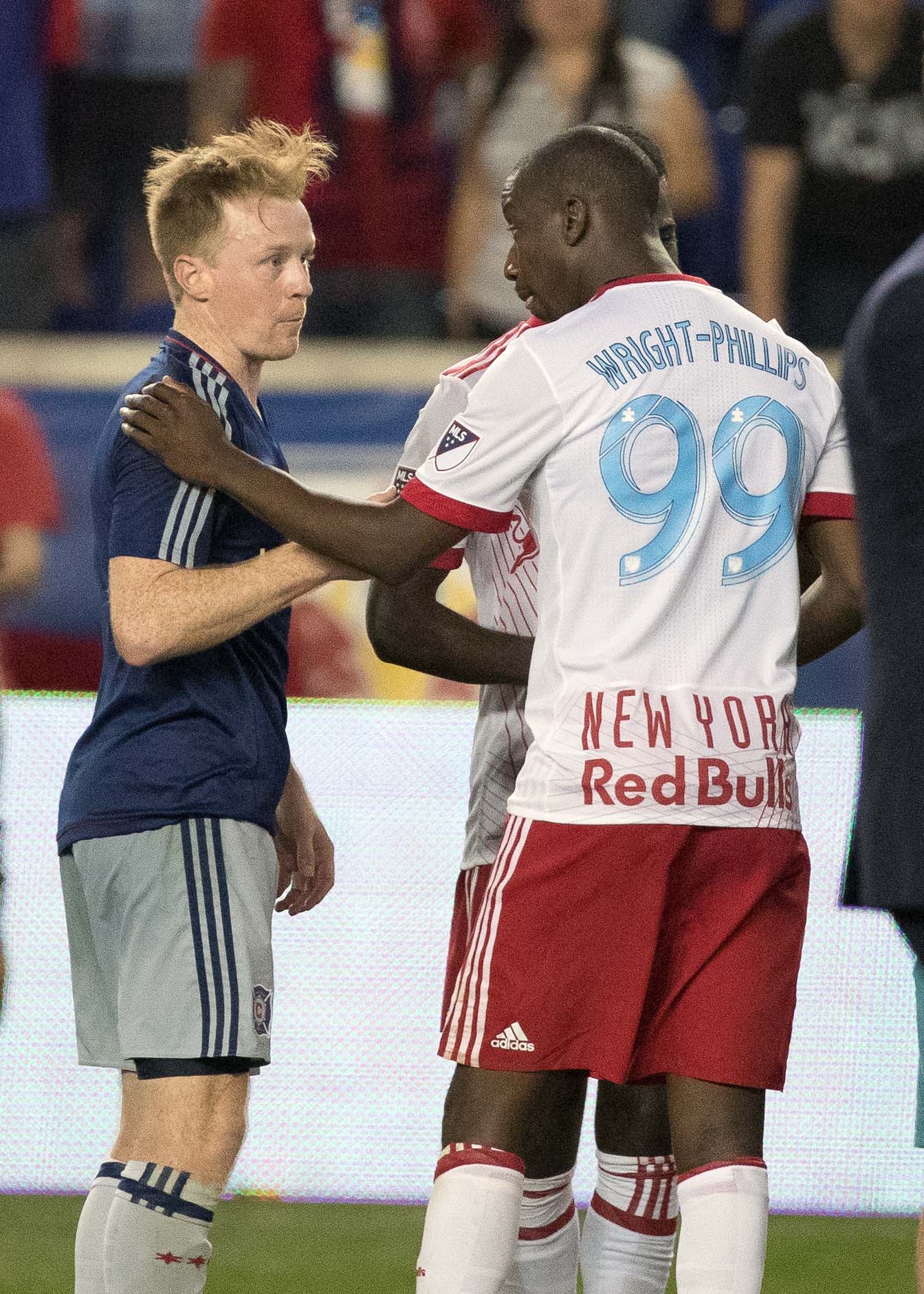 The New York Red Bulls hope scoring woes fade as they meet Philadelphia Union in the US Open Cup. This will be the second meeting between the two in ten days.
T
he New York Red Bulls
find themselves in a familiar position
at the midseason point.
Their current record stands at 7W-2D-8L. Last year's record at the 17 game mark stood at 7W-2D-8L. The exact same!
The Red Bulls scoring, on the other hand, is slightly different. 28 goals were scored at this point in the season last year. This goal tally was contributed by huge 7-0 and 4-0 wins against both NYCFC and FC Dallas, respectively.
This year's scoring tally adds to a mere 17 goals. This is less than half of last year's season tally at the 17 game mark.
Who is to blame for RBNY's scoring woes and difficulty to find the back of the net? As a result of their scoring issues and a recent loss to NYCFC at home, fans are getting anxious.
The obvious change was Dax McCarty. At this point in the season he tallied two assists and two goals. While it doesn't seem like much, Dax also added four shots on goal and 14 shots total.
Dax was the glue that held together the offense and the defense. He transitioned back to receive the ball and was crucial to the attack of RBNY. Therefore, Dax's tallies after 17 games at two goals, two assists, 14 shots and four shots on goal were undeniably important.
The players that are trying to fill the void of Dax McCarty are Sacha Kljestan and Felipe.
Kljestan is posting poor attacking numbers at this point in the season. His stats tally to zero goals, 6 assists, 18 shots and three shots on goal.
This contrasts to his two goals, 10 assists, 20 shots and nine shots on goal. While only a difference of about two or three in nearly all categories, the difference is noticeable. Kljestan's midseason slump is contributing to the poor attacking threat of the Red Bulls.
Felipe has posted no goals, three assists, 15 shots, and five shots on goal. Compared to last year, he recorded three goals, three assists, 26 shots, and 11 shots on goal. This, too, is a noticeable difference for RBNY's midfield.
This is a combined five goals, four assists, 13 shots, and 12 shots on goal. For the New York Red Bulls' defense, this is atrocious. It explains nearly all of the attacking woes that the team is experiencing.
For example, this past weekend's showing vs. NYCFC saw only one shot on goal for RBNY. Out of 10 available shots, the team struggled through the midfield to put shots on frame. This compared to NYCFC's six shots on target, which is what made the difference in the game.
Luis Robles nominated for @MLS Save of the Week!

VOTE ➡️ https://t.co/aw4gW9so1F#RBNY pic.twitter.com/du0KB2KXRd

— New York Red Bulls (@NewYorkRedBulls) June 26, 2017
Possession-wise, the New York has been strong. The disappointing part is that possession doesn't win games, goals do. A team cannot have goals without shots on target. For that reason, there is a noticeable struggle that the midfield of RBNY is experiencing.
This may be due to the departure of McCarty. The front office has so far failed to fill the void.
In a postgame interview Marsch noted, "Then, you know, I would say that we're, unfortunately, kind of what we've been all year, which is not very efficient or effective in the attacking part of the field, and in some ways anemic, again, giving up goals on set pieces."
He continued to explain that the club is aware of the attacking issues and they were trying to fix it.
The simple solution: seek a major attacking signing in the upcoming summer transfer window. Many of the fans would like to see a major game-changing midfielder or attacker added to RBNY's line up.
New York Red Bulls players swap jerseys to honor @the_USO service members on behalf of @SNHU's "Operation: Back of the Net" program. #RBNY pic.twitter.com/1wczrQJUFi

— New York Red Bulls (@NewYorkRedBulls) June 25, 2017
Jack's first-half goal that gave #NYCFC the lead in Harrison and impressed former teammate Frank Lampard back in London at @MLS #RivalryWeek pic.twitter.com/4oLldSxPG5

— New York City FC (@NYCFC) June 26, 2017
DON'T SWEAT THE TECHNIQUE ⬇️ (cc: @22BenSweat) #NYCFC pic.twitter.com/XOh0WXoa2M

— New York City FC (@NYCFC) June 26, 2017
While Gonzalo Veron showed a bit of promise in the game vs. Philadelphia, it doesn't seem like more playing time for him will add much value to RBNY's attack.
The same post-game interview revealed that Sacha Kljestan blames "the lack of creativity in the final third" and being more dangerous in the attack.
While individual players on the team are aware of their sluggish attacking performance, is it really RBNY to blame? For instance, their record is identical to this point of last year's season.
Last year, RBNY ended up in first in the east. Also, at this point in last year's season they were knocked out of the US Open Cup by Philadelphia.
Perhaps the team's scoring difficulties could be attributed to a tougher Eastern Conference. The top three teams in the East are faring equal to or better than the West's top team, Sporting Kansas City.
Since RBNY play more Eastern Conference teams throughout the season, this could be completely plausible. Teams such as Toronto, Chicago and NYCFC are all frequent matches. On the other hand, their matches against Philadelphia, New England and DC United are also frequent. Those teams, however, are faring much better than the bottom teams in the West.
For now, the remedy to the Red Bulls' scoring woes is to look toward the transfer market for the summer window. In the meantime, the midfield as a whole needs to improve their ability to shoot on target. In turn, goals will come and so will wins.
The good news: RBNY is still in the US Open Cup. Quite possibly we can see a US Open Cup and a MLS Cup in the same season.
What do you think of the recent scoring issues of RBNY? What changes would you like to see in the upcoming weeks and transfer window? Let us know in the comments section below!