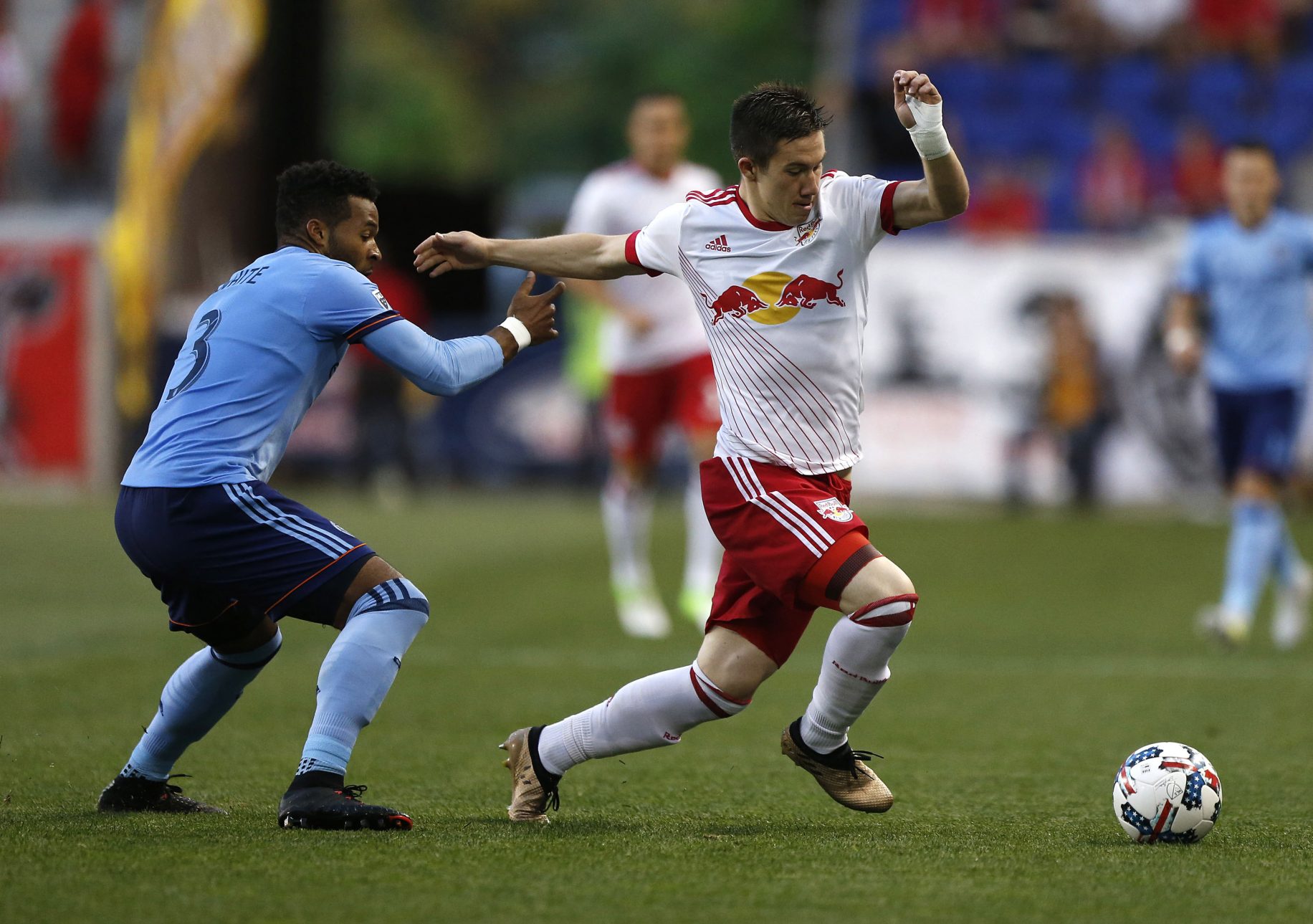 The New York Red Bulls will face their geographical rivals, NYCFC in New Jersey on Saturday. 
Saturday's Hudson River Derby will be the second meeting between these sides in 2017 and their first of the regular MLS season.
Match Facts:
Saturday, June 24th @ 1:30pm
Red Bull Arena, Harrison, NJ
Watch on Fox, Fox Deportes
RBNY Form (MLS Season)
LDWLW
7W-2D-7L
5th in East (23 pts.)
NYCFC Form (MLS Season)
WLDWW
8W-3D-5L
3rd in East (27 pts.)
T
he New York Red Bulls will
host NYCFC on Saturday, June 24th
in a rematch of their bout in the
US Open Cup
. Only 10 days ago these two sides met to a 1-0 finish in favor of RBNY. Now squaring up at Red Bull Arena once again, the question arises: Can RBNY replicate their 7-0 demolition of NYCFC?
Many RBNY supporters hope for another thrashing, especially after reports of NYCFC fans vandalizing both the stadium and surrounding property. While these acts were committed by a few independent fans, it adds fuel to the rivalry fire.
A 1-0 win in the US Open Cup was welcomed, but fans want to send a statement that New York is red. What can we expect on Saturday and will it be a 7-0 destruction of NYCFC?
Red goals. Blue goals. Here's all of 'em. #NYDerby#RivalryWeek pic.twitter.com/sBGU8ueMfI

— Major League Soccer (@MLS) June 22, 2017
No doubt these two teams are ready to battle it out on the pitch Saturday afternoon. I do not think that we will see a replication of RBNY's convincing 7-0 win over NYCFC. While it would be nice, NYCFC will surely strategize to avoid losing by that margin, if losing at all.
As RBNY continues to own this rivalry NYCFC surely plan to seek a convincing away win at the Harrison fortress.
With scorers such as David Villa who currently sits second in league for goals scored (10) and shots on goal (27) RBNY's defense will have their hands full.
NYCFC also have a goals against tally of 20. This is good enough for being tied for third in the East. RBNY sit in fourth at 21. NYCFC on the other hand has a goal differential of 9, while RBNY's is -4.
Luis Robles nominated for @MLS Save of the Week!

VOTE ➡️ https://t.co/jCZL5QkC2i#RBNY pic.twitter.com/sqkMfMshWL

— New York Red Bulls (@NewYorkRedBulls) June 19, 2017
I expect this match to be hard fought. I also anticipate a close score. With RBNY's dominance at home, however, they have the edge.
If RBNY win, they will jump to only one point behind their NYC rivals. It will also give a jumpstart to their season where they have not won two league game in a row since April.
Game prediction:
What do you think the final score will be on Saturday?