The list of who the New Jersey Devils will protect is in. The team has chosen to protect Taylor Hall, Kyle Palmieri, Travis Zajac, Adam Henrique, new acquisition Mirco Mueller, Andy Greene, Damon Severson, John Moore, and of corse Cory Schneider. That leaves names like Mike Cammalleri open to the Vegas Golden Knights. And there is a reason for this and others.
T
he New Jersey Devils, along with every team, has either paid ransom or picked their 10 players to protect from the impending expansion draft. The Devils did their best to the protect key players for the future.
As for the those not protected, let's just say the Devils won't be sad if Vegas takes them. Either way at least two Devils will end up in Vegas.
Mike Cammalleri
The aforementioned Cammalleri is 35-years-old and has two years remaining on his contract. He was reportedly unhappy at times this season as a healthy scratch and his stay in New Jersey has been injury plagued. Last season he finished with 10 goals and 21 assists. He also struggled to start the scoring to begin the season. Cammalleri is a former multiple time 30-goal scorer and would add some depth and veteran instinct to Vegas.
Beau Bennett put up a good season for what the Devils asked of him. He scored a career high of eight goals and 11 assists. The pending restricted free agent brings youth but also comes with a risk. He is quite injury prone, as the Devils found out last season. If he can stay healthy, he can build off of his best season yet. Whether he does it with Vegas, the Devils, or another team is to be seen.
Luke Gazdic was brought in solely to give Taylor Hall a familiar face. He did nothing for the Devils except take up space on the injured reserve and take 12 penalty minutes. He didn't register any points with the Devils and is a pending unrestricted free agent. It's likely that the Knights won't take him, and the Devils won't re-sign him.
Jacob Josefson
Jacob Josefson is a first round draft pick of the Devils. His skill had him be compared to Niklas Backstrom. However, since then, he has been anything but. He found his niche in recent seasons as a shootout specialist on the shootout struggling Devils. The pending restricted free agent has scored 18 goals and 42 assists in almost 300 games in his seven years with the organization. More than likely he will remain with the team.
Noesen was this year, to what Devante Smith-Pelly was last year. After being claimed off waivers by New Jersey in January, Stefan Noesen scored six goals and two assists in 32 games with the Devils. Vegas might not take him but the Devils might resign him before all is said and done.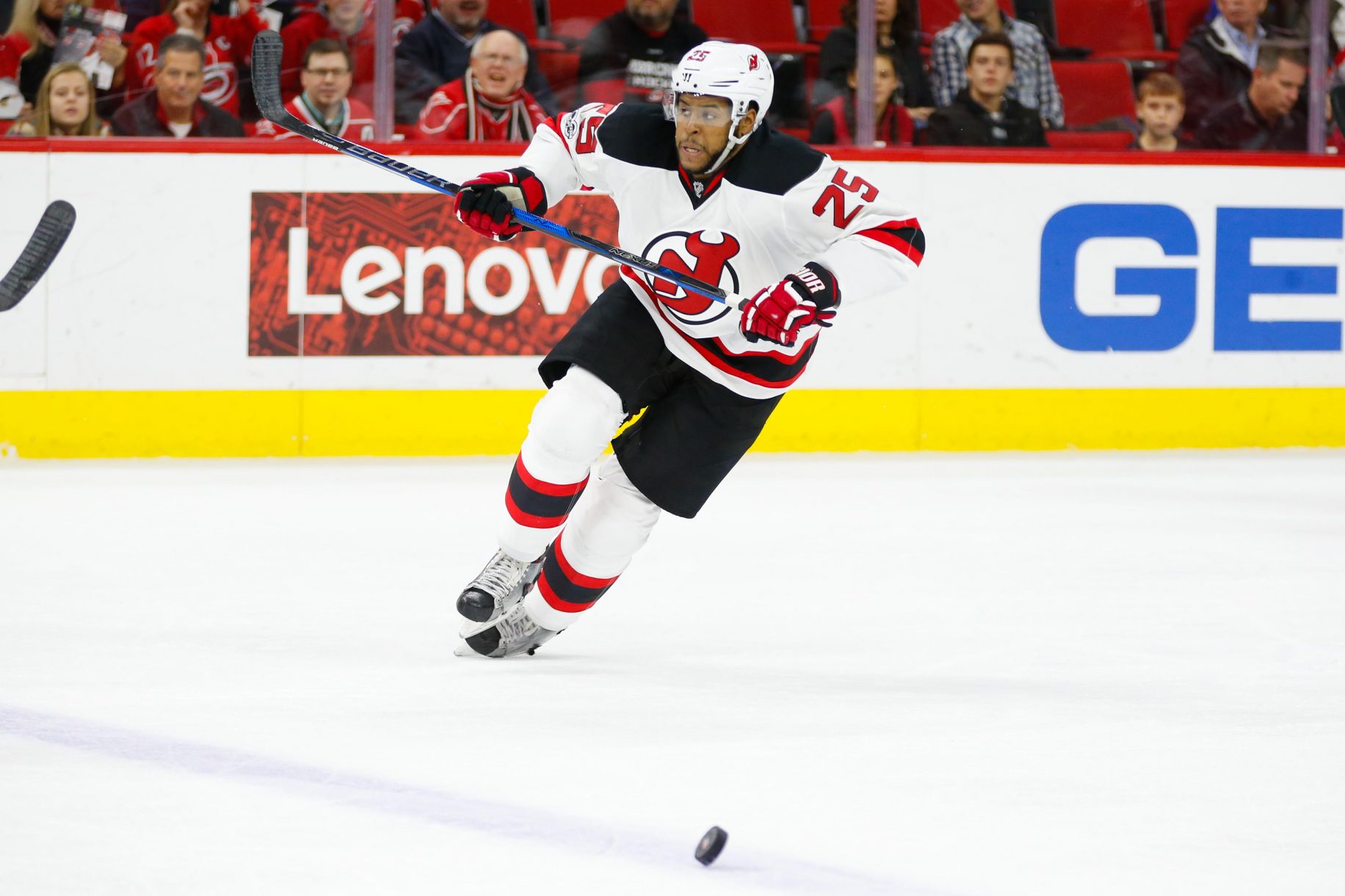 Devante Smith-Pelly
Speaking of Devante Smith-Pelly, he's awful! After scoring eight goals in 18 games he was rewarded with a two-year contract. Last year he scored fewer than 10 points in over 50 games and yet he is making over $1 million and gets a raise this season! If Vegas is looking to fill out the bottom lines, he could be a fit. The Devils wouldn't miss him.
Speaking of awful, Ben Lovejoy, come on down. The equivalent of a traffic cone, Lovejoy was one of the many problems the Devils had on defense his past season. Vegas would be doing the team a favor as he has two years left on his contract. It's likely work will be hard to come by for Lovejoy once this deal is over, as he'll be 35.
Jon Merrill
If there is a player the Devils want Vegas to take, it's Jon Merrill. This is the last year of his contract and he will be a pending restricted free agent, meaning they would have the right to negotiate with him. Merrill pinches far too often and is terrible in the offensive zone in general. Vegas taking him would be a blessing in disguise.
Keith Kinkaid is available because anything other than him being available would be insane. Schneider is safe.
So who goes?
Two players must be taken from each team by Vegas. Most likely Mike Cammalleri will be taken. His goal scoring ability can be useful if he can find it again. For the other player, it may be Ben Lovejoy, although the Devils would benefit more if the Knights took Jon Merrill. Either way two players are leaving the Devils before the make the first overall selection in the NHL Entry Draft.