WR Odell Beckham, Jr. was second in the NFL in receiving targets last season. With the team adding several new weapons to the offense, will he see less passes thrown his way in 2017?
(East Rutherford, NJ) The New York Giants have one of the most talented and deepest receiving corps in the NFL, led by the eclectic and acrobatic Odell Beckham, Jr. Beckham is clearly the centerpiece of the Giants' passing attack, garnering nearly a third of all targets in 2016 (169 of 598, 28.2%).
With the addition of veteran Brandon Marshall, rookie TE Evan Engram and the return of RB Shane Vereen, Beckham's targets could take a slight hit in 2017. That's no reflection on him, he'll still be as valuable, he just will have to learn to share the wealth.
Beckham came to minicamp in great shape and made several signature plays on both Tuesday and Wednesday, but it was clear the Giants want to try to spread the ball around more. Marshall saw as many passes as Beckham in the drills and the third WR, Sterling Shepard, saw his share as well. That was likely by design, but all in attendance felt we could be seeing the new norm.
Engram was sore and did not participate, but the Giants may have something in third-year TE Matt LaCosse, who caught everything thrown his way and used his 6-foot-6 frame to his advantage in the end zone, scoring several times. Vereen was as effective as ever coming out of the backfield. It cannot be underscored enough how much the Giants missed him last year. He will be a key element to the club's offense this season, which will undoubtedly cut into the target pie for the others.
Giants offensive coordinator Mike Sullivan has his hands full this summer with a slew of pleasant problems. GM Jerry Reese restocked the offensive war chest this offseason with the additions of Marshall, Engram, TE Rhett Ellison and rookie RB Wayne Gallman.
There is still only one football allowed on the field at a time, however, and Sullivan knows he's got to get the ball into the hands of his playmakers, a list which continues to grow here with each passing practice.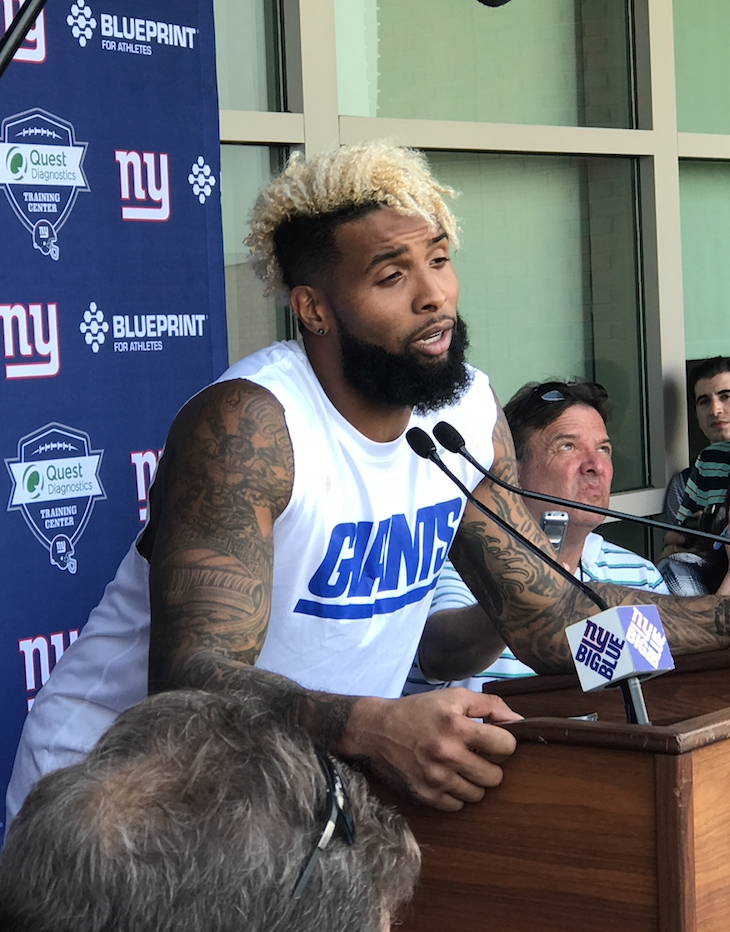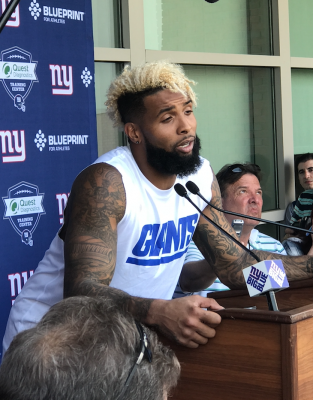 During his media session on Wednesday, Sullivan was asked if the offense, which averaged under 20 points in 2016, would be better off with a more equitable pass distribution system this season. Would the offense be better off not being so reliant on Beckham?
"You know you could look at it in that respect, but if the yards go away, they don't hopefully go away, they are going to somebody else," said Sullivan. "The important thing is that we get those yards. That we get the points. You know we didn't score enough points last year, everyone knows that. We didn't take care of the football where we needed to take care of it. So, I think that we want to use his talents and give him his opportunities and also with some of the other tools we have, some of the other weapons, how can we kind of put those guys in position via personnel grouping, formation, or scheme to try to get somebody else. But, to answer your question, we want to have, it's the absolute value is what we want. We are looking to make sure we get those yards to the maximum. I'm not saying it would be a good thing or a bad thing, we just want to make sure we get the yards, regardless of who is making them."
Beckham is the most electric of the Giants' receivers and the fans want nothing more than to see the football in his hands as much as possible, but that may not be the best course of action for this offense on a play-by-play basis. Beckham only caught 59% of his targets  last season and only 38% of his targets resulted in first downs, which by comparison to the other great receivers in the league (Mike Evans 47%, Julio Jones 49%) is low. If the Giants spread the ball around more, that figure could rise significantly.
Sullivan didn't rule it out, but he also knows he has to feed the beast. And Beckham is a beast. Defenses fear him and the Giants have fallen in love with what he brings.
"I think you have to kind of wait and see to how it unfolds and how, you know some of the questions you asked about Evan and of course Brandon and our running backs and the other individuals with their development, how well we can pass protect and how well we are able to establish the run would be great problems to have, you know. Those would be great grey hairs to get to say, 'oh geez, how would we get some of those balls because we are doing so well on offense.' I'm not trying to bust your chops to answer your question. It would be a good concern, a good worry about, oh jeez, let's see well Odell had this many catches, and now Brandon has this many catches, oh jeez, now Evan has to get this many, whomever. I'm just throwing these names out, not that anything is set in stone but, it would be a good problem to have."
It sure is.
@John_Fennelly has been covering the New York Giants and the NFL for multiple media sources on the internet since 1997.