The Brooklyn Nets have a big decision to make with the No. 27 pick in the 2017 NBA Draft. Should Tyler Lydon be a viable option? We tell you.
W
e are just one week out from the 2017 NBA Draft, and the Nets have bigger decisions than most. For the first time since 2008, Brooklyn has three draft picks. For reference that's when the New Jersey Nets took
Brook Lopez
10th overall.
A plethora of guards and forwards have been rumored as under the Nets' radar. One power forward out of Syracuse, Tyler Lydon, may be a dark horse candidate for the Nets at 27th overall.
Originally from Elizaville, New York Lydon played two seasons of college ball with the Syracuse Orange. He developed into a three-point shooter, rebounder, and solid defensive stop.
What does Lydon bring to the Nets?
Across the NBA, the Brooklyn Nets ranked fifth in three-point attempts and finished tenth in three-pointers made.
The former Syracuse shooter shot at least three shots from deep in both seasons at Syracuse, and 39 percent from behind the arc both seasons as well.
As much as his shooting is sharp, it's even more consistent. In both seasons in college, Lydon connected on 49 threes, shooting only three additional attempts his sophomore year.
The Nets are slowly forming into a three-point team. They just don't have the accuracy behind them. Drafting Lydon here at 27th will further their depth on the perimeter.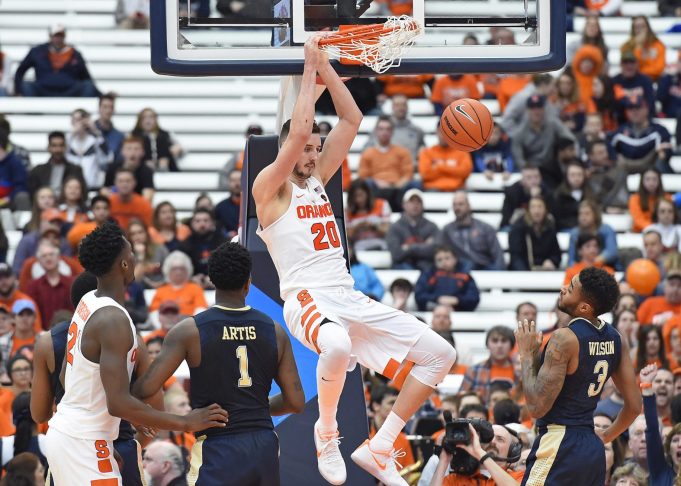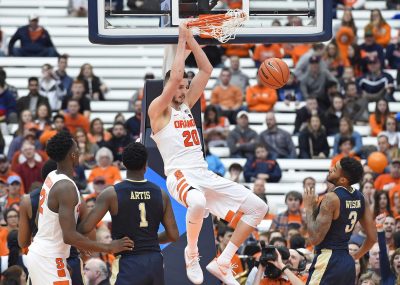 Additionally, Lydon has size. At 6-9 and 223 pounds, this stretch four has the length for the big league. Though Brook Lopez is the starting center at seven feet tall, he's the Nets primary scoring option, and that takes away from his rebounding.
Though he's young, Lydon has the length to compete with other big men on the glass. Gaining some weight will be the key to winning those battles. In his last season with Syracuse, he averaged 8.6 rebounds per game.
Defensively, he's not a liability but may still need some development. In two seasons with Syracuse, Lydon managed to average at least 1.4 blocks, and 1.0 steals per game.
One factor to consider here is his experience of zone defense in college, as opposed to the man to man he'll have to prove he's capable of in the league.
What's his Draft Board Projection?
The latest mock draft on Bleacher Report has Lydon falling to the Philadelphia 76ers in the second round, and the one on CBS Sports has him falling to 28 to the Toronto Raptors.
That's a good summary for his overall feel in the draft.
Lydon will either be drafted late in the first, or early in the second, making him a prime target for the Nets at 27th, should he be deemed fit.
In Conclusion
Tyler Lydon will assuredly be on the board for Brooklyn at 22nd, likely be available at 27th, but may be gone before they pick in the second round at 57th.
For the 27th overall pick, Lydon is a viable option for the Nets. With his solid shot, rebounding, capable length, and untapped defensive potential; he compliments all team needs.