The media came out in full force at the New York Giants' minicamp on Tuesday to see the return of Odell Beckham, Jr. 
The New York Giants held Day One of their mandatory minicamp on Tuesday, the highlight being the return of Odell Beckham, Jr., the prodigal prodigy, to the team's facility after he elected to skip all ten of the Giants' OTAs this spring.
He spoke frankly and plainly and revealed very little other than that his absence was not due to any contract dispute, but rather expressed the hope of remaining a Giant for the remainder of his career, something that Giants CEO John Mara had intimated last week.
"I think we are on the same page there," Beckham said of Mara's desire to sign him to a long term contract. "Obviously this is one of the best organizations in the league and I would love to be here for the rest of my life."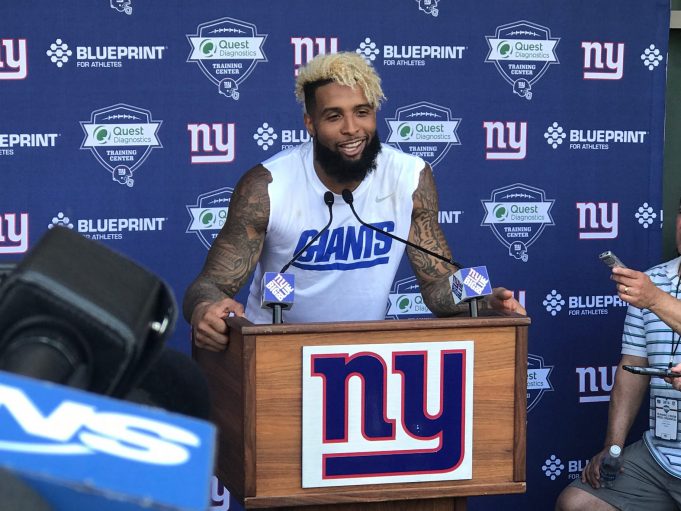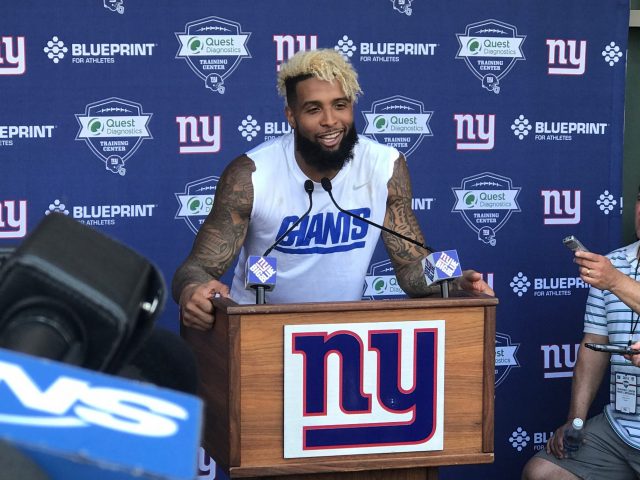 As for that contract, Beckham said he had no intention of holding out and the the right thing will be done in due time.
"I leave that in the hands of the man above honestly,"  When that time comes, that time comes. Right now is really not the time to discuss it. Like I said, when it comes, it comes."
The fourth year pro looked like his old self, perhaps a little blonder, maybe a few more tats and more muscular. Out on the field yesterday, he moved like the OBJ Giant fans know and love but raised some eyebrows when he beat Pro Bowl CB Janoris Jenkins down the right sideline only to allow a catchable pass slip through his fingers.
Shades of last year's Wild Card loss to Green Bay? Perhaps. Beckham spoke about his poor performance in that game where hid dropped passes and missed opportunities changed the tenor of the game early on.
"I have reflected on it a lot," said. "It is just like, I feel like LeBron losing the finals – you are going to look back on it and see what you could have done better, how you could have handled the situation better or whatever the case may be. But it is all a part of life, it is a learning process and you just have to take it with a grain of salt and you have to grow from it and you have to learn. That is what I have been doing and that is what the time off was."
As for DE Oliver Vernon, the other major star who was absent for the voluntary OTAs this spring, he looked as chiseled as ever. Standing before the media, the well-paid defensive end told reporters he usually works out at home in Miami and that he never attended OTAs in the past.
"It was something I was always doing even when I was with the Dolphins," he said. "I just wanted to stick to it. If it isn't broke, then I'm not fixing it. I just wanted to do."
What was he doing? He certainly wasn't goofing off, that's for sure.
"Just working out, training, just trying to get better," he said. "I know these guys were grinding out here, so I was trying to grind the same way."
Vernon looks ready to go, and since there are no padded practices scheduled until August, he doesn't feel as if he missed a whole lot.
"There's probably going to be tweaks here and there," he said. "You can't come into the season with the same stuff, so it's just something that I've been working on while I was down in Miami. [I was] Keeping up to date with the coaches, but right now it's just getting on the field and building from there."
He will be an integral part of the defense again, and hopes to build on his first season with the club, which was kind of an uneven one. Vernon had 8 1/2 sacks in 2016, but only recorded 1/2 a sack without fellow DE Jason Pierre-Paul on the field in the final four games. He did have 37 QB hurries last season, which was second in the NFL behind Philadelphia's Brandon Graham.
"On paper, it looks good. But as far as what I see, as far as the leadership, guys being more vocal," Vernon said of this year's version of the defense. "Which we had vocal guys last year, but just adding to it. We got a lot of potential, but once again, you still got to prove yourself when you get on the field. I feel like this team is ready to prove themselves."