Many are hopping on the "New York Jets have the worst roster in the NFL" train, but they're foolish to. It's an impossible thing to claim.
T
he foolish will continue to ride the same train all the foolish hop on. It's as simple as that.
It started at the 2017 NFL Draft, the discussion of the New York Jets possessing the worst roster in the league, but now it's reached idiotic heights.
Since the cuts of veterans Eric Decker and David Harris, nameless folks around the NFL have gone wild. According to Daniel Jeremiah of NFL Network, the same Jeremiah who started this discussion himself at the draft, one NFL executive has stated this is the worst roster he's seen in a decade.
From an NFL exec- "I think the Jets might have the worst roster I've seen in a decade."

— Daniel Jeremiah (@MoveTheSticks) June 7, 2017
Of course, he remains nameless.
Brian Costello of the New York Post published an article circulating around the Jets as the laughingstock of the league, having multiple nameless roasters.
Via Costello:
"They have the worst roster in the league and it's not close," one executive said.

"In several conversations over the past two days, NFL people have wondered whether the Jets actually have a plan, how much dysfunction there is inside the organization and why they waited until June to dump one of their most respected players."
Obviously, these brave titans of industry all remain anonymous.
The reason they smartly remain nameless is pretty obvious to the football mind: it's an impossible task to label one personnel grouping the worst during the month of June.
These nameless so-called experts have been proven wrong too many times prior and will continue to get it wrong on a million occasions moving forward. Nothing has changed.
Perhaps this one exec Costello spoke to works within the Cleveland Browns organization. You know, that world-class, stellar franchise in Ohio.
No matter, though. We understand the Jets possess a horrible roster. It's terrible. From fielding the worst quarterback situation in the league to uncertainties many other spots, the overall depth chart is beyond weak on paper.
But this is football. This is a sport that plays just 16 games apiece which sees momentum carry poor teams to shocking records and great teams to awful seasons. In football, too many factors play into a season, especially early on.
What if the Jets offensive line actually plays well?
Kelvin Beachum was signed on as the team's blindside tackle this past offseason. According to most of the league — despite already employed by his third NFL team — Beachum possesses big boy talent as a left tackle.
James Carpenter and Brian Winters are more than capable guards, and Wesley Johnson filled in admirably for a declining and injured Nick Mangold.
If Beachum and second-year Brandon Shell put it together this August, the O-line can play as a solid NFL unit. This would mean Bilal Powell and Matt Forte can spearhead a terrific running game, leading to good things for whichever QB is under center in the passing game.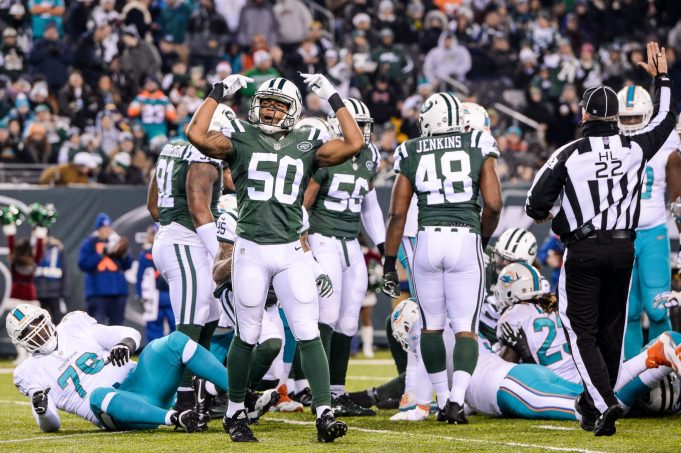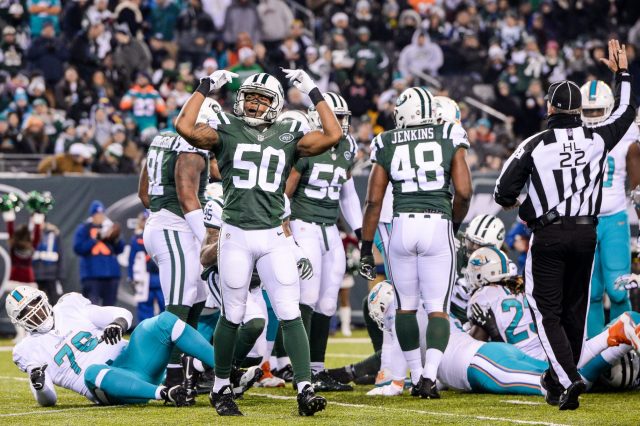 What if Darron Lee assumes his stud defensive role?
This kid was a No. 20 pick in the NFL Draft. He has extraordinary talent at the position. While he graded out terribly during his rookie season, there's no guarantee he'll stay at that pathetic level in 2017.
With the cutting of Harris, a 33-year-old over-the-hill middle linebacker who could cover you in the open field, all eyes will be on Darron Lee. If he excels immediately, suddenly this defense isn't looking so shaky.
Suddenly, Lee is the captain and leader of a defensive unit with three stud defensive linemen in front of him (Muhammad Wilkerson, Sheldon Richardson and Leonard Williams).
Not bad at all.
Other than QB and edge rusher, the other extremely weak spot on the Jets depth chart is at the all-important cornerback spot. There isn't much there heading into training camp.
Ex-Dallas Cowboys corner Morris Claiborne was signed this past offseason and can resemble a solid No. 2 guy. Buster Skrine is an excellent nickel corner, not a starter (as he's currently slated as). Those two guys can be bumped into their natural spots if second-year CB Juston Burris shocks the world.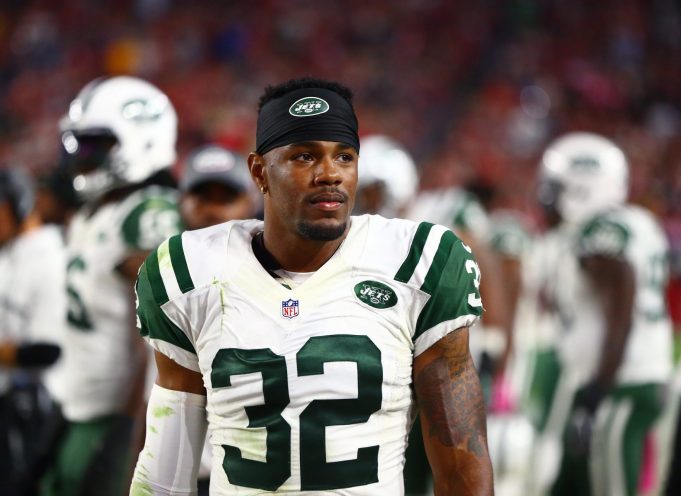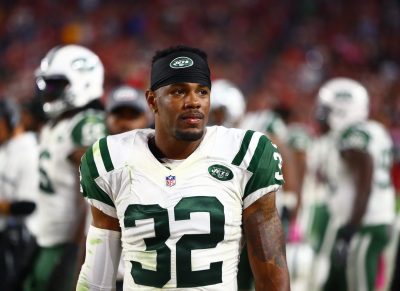 He's not a top pick. Rather, he's a fourth-rounder who possesses every raw athletic ability an NFL personnel decision-maker wants in a corner. He's fast. He's mobile. He has great hips and his awareness is near average. If his mind can catch up with his athletic ability this August, suddenly, the Jets corner spot isn't looking so horrific.
What if the 2017 schedule breaks right?
Talent in the NFL in regards to final record isn't everything. Sometimes, locker room momentum fools a bad team into thinking they're better than they are. What if the schedule breaks right for the Jets?
What if they beat the Buffalo Bills in Week 1 and then take advantage of a preseason injury to David Carr in Week 2?
Suddenly, these terrible Jets find themselves 2-0 with the worst roster in the league. We just don't know and cannot predict a season's fate in June.
[graphiq id="43VYxA8q5aR" title="New York Jets 2017 Schedule" width="400″ height="1000″ url="https://sw.graphiq.com/w/43VYxA8q5aR" frozen="true"]
Final Thoughts
Even the most optimistic Jets fan can't feel great about the QB spot. Even if you hate all reporters on the scene, nothing Christian Hackenberg or Bryce Petty have done thus far can have us feeling nice and fuzzy.
Josh McCown is only as good as his recent injury, so the three guys at the spot spell doom for the 2017 Jets.
But it doesn't spell 0-16 doom. To claim that is to simply look for attention.
Although young, the wide receiver spot looks solid. Like previously mentioned, the O-line and running game could be solid. New York's defense still possesses three beasts on the D-line and boast a tremendous, talented rookie duo at the all-important safety spot.
No, this Jets team isn't heading for the playoffs. We understand this.
At the same time, we have no idea if they're headed for zero wins, one win, five wins or six wins this coming season. We also don't know if they come equipped with the worst roster in the league.
All we can say is it doesn't look good, and that's the most we can say.
But make no mistake about it, the cuts of Eric Decker and David Harris shouldn't bring this outpour of animosity on as it doesn't decrease the overall personnel's talent that drastically at all.
All of this "worst personnel in the league" talk is just silly. Don't listen to those who remain nameless.