The New York Giants believe they have found their every down back in second year RB Paul Perkins. 
If you look at the numbers, the New York Giants' running game is one of the NFL's least productive units. They finished 29th in the league in yards per game (88.3) and 30th in yards per attempt (3.5), while scoring a league-low six touchdowns on the ground in 2016.
The running game has been down lately due to a number of factors. Their lack of a quality blocking scheme (and blockers) along with their lack of commitment to the run has made them impotent offensively. Injuries to key players and the fact they had no fullback, no experienced blocking tight ends and smallish wide receivers who could not seal the edges compounded the problem.
This past offseason, Giants GM Jerry Reese took measures to address the run game. He signed G/T D.J. Fluker, blocking TE/FB Rhett Ellison and 6-foot-4 inch WR Brandon Marshall in free agency. Then he drafted a TE in Evan Engram, a tough all-around RB in Clemson's Wayne Gallman and Pitt OT Adam Bisnowaty. Those six players should add some toughness and size to the Giants' offense this season and compliment the existing players on the roster.
One player the Giants missed last season was RB Shane Vereen, the senior member in the running backs room. Vereen tore his biceps twice and missed 11 games. He is the jackknife of the offense, an all-around back who is a first down machine and a key short option in the passing game.
"Shane has been around a lot of systems and has been a productive back for a long time," running backs coach Craig Johnson told reporters on Wednesday. "Last year was a tougher year for him because he wasn't able to stay on the field. He had to overcome injuries. Right now, he's working through that. I've watched him in the offseason and he is getting back some of his quickness. We have to makes sure that he is ready for the next season."
[graphiq id="gU5QKB6bLLv" title="Paul Perkins Rushing/Receiving Yards Distribution in 2016″ width="600″ height="526″ url="https://sw.graphiq.com/w/gU5QKB6bLLv" frozen="true"]
Second year back Paul Perkins is poised to the be club's "bellcow" back this season. Perkins began to earn more carries as the season went on, averaging 4.8 yards per carry on 47 attempts in the final three games of the regular season. Johnson believes Perkins can be the every down back this team has been looking for.
"What he's shown is that in our system, you need three phases," said Johnson. "You have to be able to run the ball. He was an effective runner last year. You have to be able to catch the ball. He did a good job in that and you have to be able to block people because they're going to try you out. I thought that he probably improved the most in that situation. Guys were testing him out to get to the quarterback and he held up very good in protection. He is continuing to do that. If you could do that, it allows you to be a possible back on all three downs."
Johnson likes what Perkins brings to the table in terms of making tacklers miss and gaining positive yards.
"He really can cut sharp," said Johnson. "He puts his foot in the ground and bursts through the hole. I like that. It helps both in the run and in the pass protection. That really helps his versatility."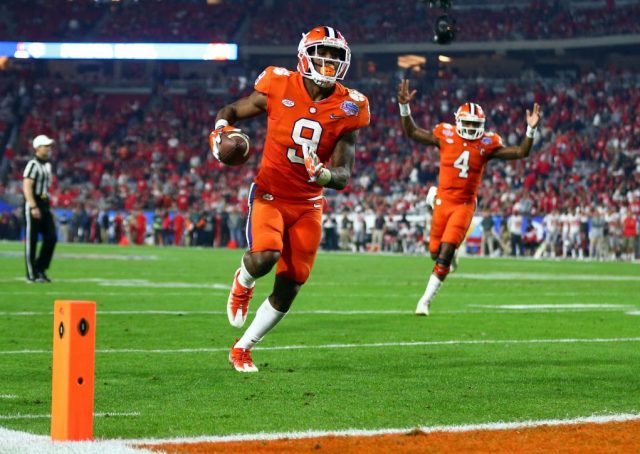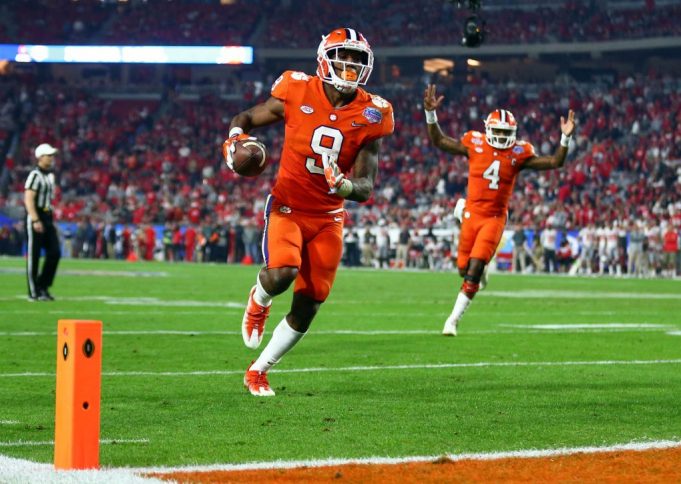 Instead of signing a veteran, such as LeGarrette Blount, Reese decided to draft another runner to throw into the mix. Enter Gallman, who has played in the last two BCS Championship games.
"Coming from college, he was a very productive runner," Johnson said of Gallman. "Stats don't lie. So far what I've seen in practice is that he has been effectively able to run the ball in the runs he's been given. The pass protection, he's coming along in. He's certainly made a big improvement in the last week or so. He's been able to catch the ball effectively. Again, as a young back, he's trying to figure it all out. The game is a little too fast for him, like they are for every back right now when they're young. The game starts to slow down and he's starting to get it. I've seen a couple bursts. I think he will continue to get it in the future."
In addition to Vereen, Perkins and Gallman, the Giants still have Orleans Darkwa and signed former 49ers red zone specialist Shaun Draughn. Darkwa has been in the room for past three years but has been injured often. They still believe he can be of value to them on both offense and special teams.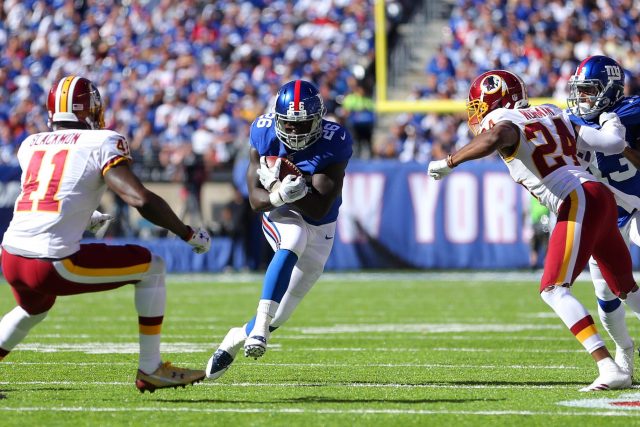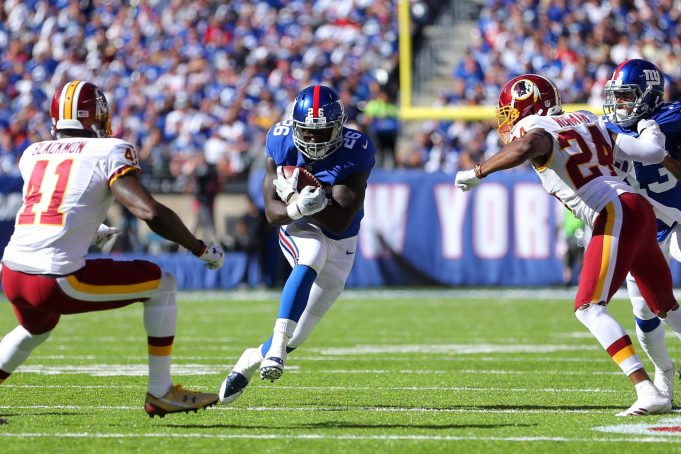 "I think the biggest thing is that every time you've watched him on the field he's been a productive player," said Johnson. "Everything you put him in, the simple things like Shane a year ago has been Orleans. He hasn't been able to stay healthy enough to stay on the field. When he's been able to do that, he's been a productive player. Obviously, availability has been an issue. He's going to work towards that. Right now, when he's been available he's been a good player. Hopefully he will continue to keep that up."
All told, the Giants have a much deeper and experienced backfield than they did last year at this time. With the players brought in to assist in supporting the run and everyone healthy and on the same page, expect the running game to be much batter here in 2017.