Duke's star sharpshooter, Luke Kennard, has been deemed an underrated prospect for this year's NBA draft. Still, could the Brooklyn Nets find him on the board at 22?
In his sophomore season with the Blue Devils, Luke Kennard averaged 19.5 points and 5.1 rebounds a game. He was a huge part of Duke's 28-9 league record and March Madness appearance.
Duke's Luke Kennard putting on a shooting clinic in a gym full of NBA GMs and decision makers pic.twitter.com/DuqmdrIBm6

— Jonathan Givony (@DraftExpress) June 3, 2017
Kennard shoots from the perimeter efficiently, and never fails to create his own shot. Whether it's off the dribble or in the post, Luke will take advantage of defenders and mismatches, smaller or not. Scouts have raved about his outstanding court vision, high basketball IQ and the ability to make plays.
At 6-6 and 200 pounds, an NBA-ready body will put him above other prospects in the middle of round one. Despite his size, his growth from freshman to sophomore has boosted his stock dramatically. A difference of nearly 300 points and a 12 percent increase from behind the arc is tough to ignore.
What value does he hold to the Nets?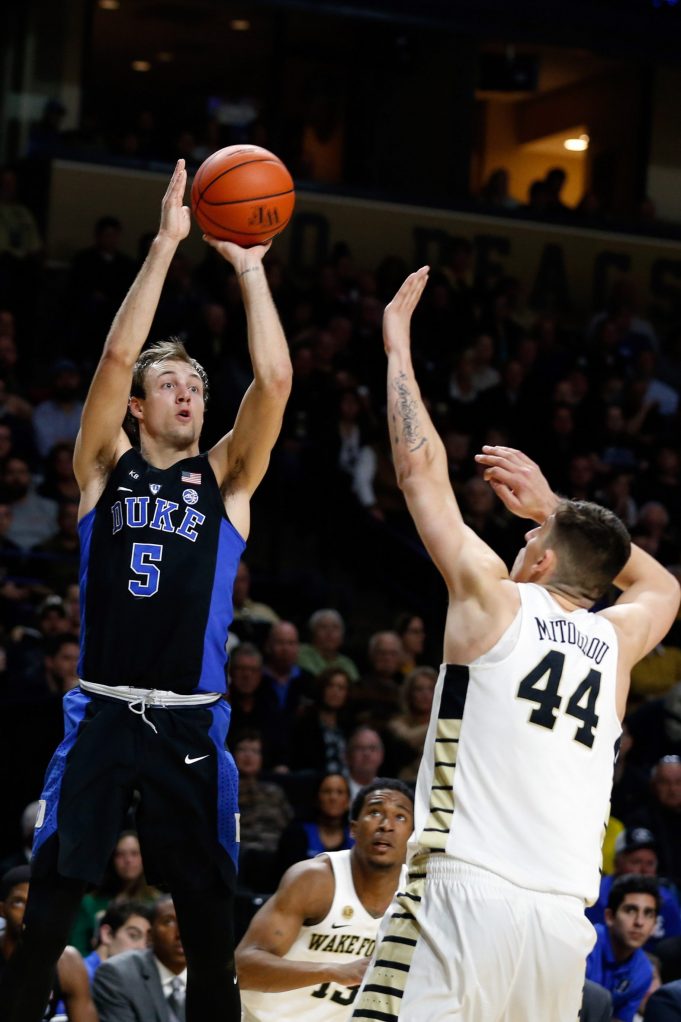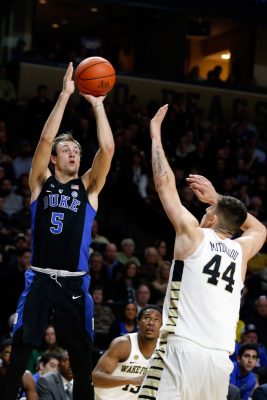 The Brooklyn Nets shot the fifth most three-pointers last year, and adding Kennard will only boost that. On average, the guard attempted 5.4 per game last season!
Kennard made one triple in every game and put on a clinic against Wake Forest where he recorded 34 points, and shot 6-6 from behind the arc.
Jeremy Lin didn't see much play time last season due to injury. Keeping him healthy is one problem, but adding depth to support him is a bigger one. With free agent targets like shooting guard J.J. Redick, adding Kennard provides not only depth but a reliable scorer off the bench.
What's the catch?
If you aren't familiar with the Duke star, you are probably wondering why this sounds too good to be true. Well, as prolific as his scoring can be, experts have deemed his defensive skills highly mediocre — a liability.
For Brooklyn, it's a risk worth taking. Though they had the 23rd ranked defensive rating with 110.7 points allowed per 100 possessions, their offensive stats are equally lacking and ranked 28th at 104.0.
How likely is it he falls at 22?
Everyone knows the draft is unpredictable. Until your team is called, not one player is out of reach. Most mock drafts have Kennard falling somewhere just outside the lottery.
At the combine, Kennard opted to not participate in athletic testing, which may have disappointed some general managers. His decision was good news for the Brooklyn Nets.
Two teams are consistently paired with Kennard. One is the Oklahoma City Thunder, who pick just before Brooklyn at 21. The other? The Portland Trailblazers, whose pick the Nets have been rumored of interest.
With a possibility of Lonzo Ball falling out of the top three, and Detroit and Portland shopping picks, you never know.
In Conclusion
Whichever team manages to draft this prolific scorer will make an immediate upgrade to their offense.
The Brooklyn Nets are facing a crucial draft because it's the first in two years where they held first round picks.
Luke Kennard would be a significant addition at 22, and Nets' fans would certainly embrace this Blue Devil in Brooklyn.
[graphiq id="1meUFYRmtud" title="Luke Kennard 2015-16 vs. 2016-17 Stats" width="600″ height="551″ url="https://sw.graphiq.com/w/1meUFYRmtud" frozen="true"]