The New York Giants continued their OTAs this week and some unlikely figures are stepping forward to shine, such as forgotten TE Matt LaCosse. 
OTAs are "voluntary" but to many on the roster bubble, these sessions are the only opportunity for them to remind the team they're still alive. Such is the case of TE Matt LaCosse, the third-year player out of Illinois the Giants have been harboring on their roster the past three seasons.
LaCosse, 6-foot-6 and 260 pounds, has been battling various injuries during his young career, which included a short stint with the Jets back in 2015. He has been a bit of a forgotten man here with the Giants, who have been adding tight ends to their roster the past few seasons. This year, he stayed in New Jersey during the offseason to work out to ensure the club remembered he still existed.
The additions of first round pick Evan Engram and free agent Rhett Ellison have made the tight end room a crowded one this spring. The team already had Will Tye, Jerell Adams and, as it appears, LaCosse.
OTAs are important for guys like TE Matt LaCosse and he's taking advantage. Just made his 2nd great TD catch on a fade (from Webb). #Giants

— Dan Duggan (@DDuggan21) June 2, 2017
"He made some nice plays," coach Ben McAdoo said on Friday. "He is a big target down there in the green zone. Matchup-wise, he gives you that length that you are looking for, he can run and he is a functional blocker, so he has a nice skillset."
He does, and is willing to help the Giants win any way he can, but they may have overpaid their hand with him by piling up players of talent at the position.
"Whatever the Giants want me to do, I will do," said LaCosse. "If they want me to be an in the goal line blocking tight end, I will do it. If they want to split me out, I will do it. If they want me to play fullback, I will do it. I think that I bring that versatility to the offense. I have shown the ability to make plays, but I haven't shown the ability to stay healthy. I think they see potential, but I have to stay healthy first."
This is why they do these things, these OTAs. You never know what you've got until you see it out on the field.
Bigger Apple Hopes to Add to Giants' Core 
Second-year CB Eli Apple is known around here as the "other Eli" but from now on he might just be called the "Big Apple" after gaining ten pound of muscle as a result of a rigorous offseason workout program. He has gone from 194 pound to 204 in just four months.
"I've been lifting a little bit," Apple told reporters on Friday."I think I put on a good 10 pounds since the season ended. I've been working, just a little bit. Just lifting harder, more weights, and also throwing the junk food to the side."
Eli Apple (@EliApple13): Mom, let's cut down on fried foods.
Annie Apple: ?

(? via @KimJonesSports) pic.twitter.com/hRIuiyIElm

— NFL Network (@nflnetwork) June 3, 2017
Apple has done this without losing any foot speed, something his critics have hammered him on. Apple has actually gotten faster, according to the training devices the club issues the players to wear in order to monitor them during workouts.
"We have these things, these little GPS on the back of our jerseys, so can they track our speed and they said that the last practice I was out here for was the fastest I've ever moved since I've been here. So I'm getting a little faster."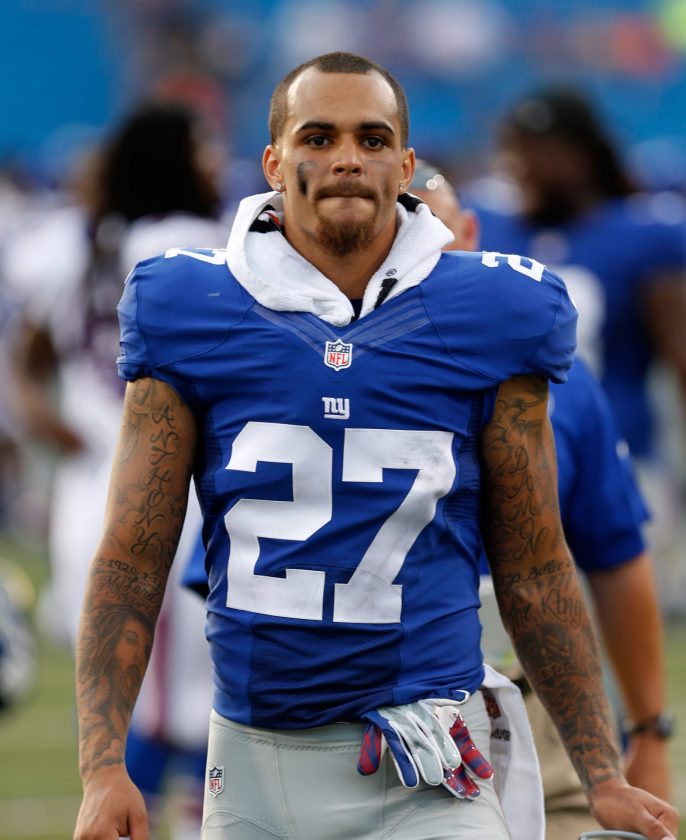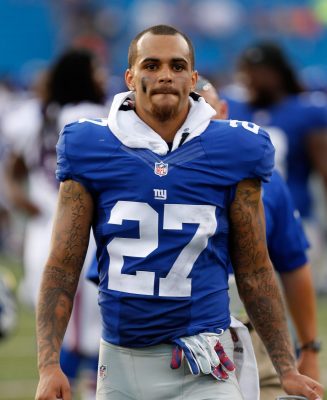 That would be good for the Giants, who already have three Pro Bowl-level players in their secondary in cornerbacks Janoris Jenkins and Dominique Rodgers-Cromartie and safety Landon Collins.
The Giants will also be welcoming back safety Darian Thompson, last year's third round pick out of Boise State who missed all but one game as a rookie with a Lisfranc injury. Thompson won the free safety job in camp but then the broken bone in his foot prevented him from joining the fray.
"I think he's definitely going to help," Apple said of Thompson. "He's a great football player. Very instinctive, he's always around the ball…..He had 18 interceptions in college, so we'll definitely need that ball-hawking out there in the secondary but also with depth as well. So just in case, you never know what happens during the season with guys getting hurt, so he's going to be able to help with that and the ball-hawking as well."