The New York Giants are making news during OTAs this spring for the players that are not in attendance, such as WR Odell Beckham, Jr. and DE Oliver Vernon.
The New York Giants shelled out over $85 million for DE Olivier Vernon in free agency in 2016. He had a deceptively productive first season for Big Blue and they were hopeful he could develop into a team leader in his second season. Not so, it seems, as he is conspicuously absent during Phase Three of the Giants' offseason workout program.
Vernon was perhaps the biggest marquee name signed during GM Jerry Reese's spending spree last March. He was certainly the most expensive, but unlike the the other two big ticket defensive free agent additions, DT Damon Harrison and CB Janoris Jenkins, Vernon did not quite live up to the contract.
He did play well, however, as illustrated below in some graphics provided by Pro Football Focus, but the Giants were obviously hoping for more.
Giants DE Olivier Vernon stood out among the league's 4-3 defensive ends from the right side of the defensive line. pic.twitter.com/GKfvEVAQMj

— Pro Football Focus (@PFF) May 29, 2017
Khalil Mack. Olivier Vernon. Brandon Graham. Aaron Donald. The only defensive players with 80+ pressures in 2016. pic.twitter.com/l6wK17YfZG

— Pro Football Focus (@PFF) May 21, 2017
Vernon began the season slowly, recording just two sacks in the team's first eight games. Then, he began to settle in and heat up. He collected six in the next four games, but then after Jason Pierre-Paul went down in Week 12 with a sports hernia, Vernon only managed a half-sack in the Giants' final four games and only one tackle in the playoff loss to Green Bay.
It should go without saying that Vernon would want to hit the ground running here in 2017. Yes, these sessions are voluntary, but that is in a technical sense. Most players make it point to show, if for team unity more than anything else. JPP is here. So are the players who were named All-Pro and Pro Bowlers: Snacks, Jenkins and safety Landon Collins. Eli Manning is always here. So are Justin Pugh and Brandon Marshall.
"You want all of your players here, especially your great players," head coach Ben McAdoo said last week at the first OTA. "It's a time to build fundamentals, communication, chemistry, and trust. So you want all your players here, especially the great ones. They facilitate a lot of those things for you. But you coach who is here, that's what time of year it is for us."
I come from the mindset where "voluntary" usually means "mandatory". Don't let these talking heads and other media types who never held a job with any accountability attached to it tell you otherwise. I actually managed businesses and held responsible positions in my prior lives. Voluntary is usually code for "get your ass in here."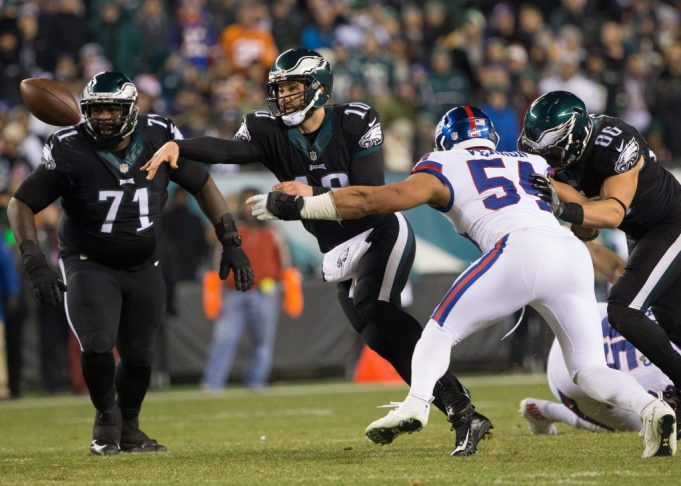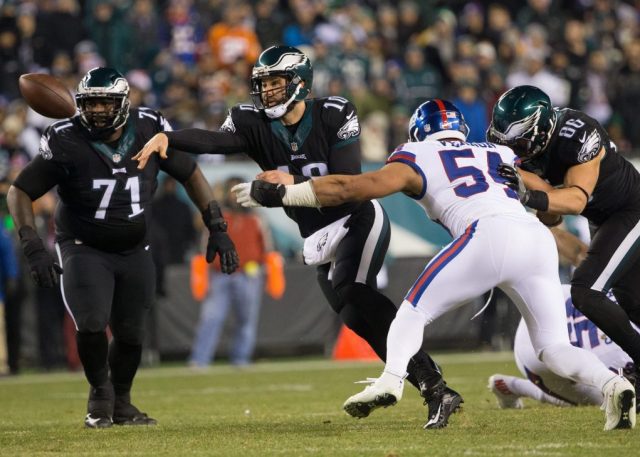 Vernon is holding the literal line on the CBA and it's not going over with the Giants and their fans at the moment. He's lucky that OBJ is dominating the headlines or he'd be the focus here at OTAs this month.
"I'm more than sure OV and OBJ are somewhere working out just as hard or maybe even harder than we are. So I'm confident that they'll come in and will be ready," Harrison said last week. "I mean they get a chance to or they miss the opportunity to get out here around the rookies. You know what I mean. OV to get the feel out Dalvin [Tomlinson] right now and that's something they are going to have to work out during training camp and going forward but they aren't missing much."
I beg to differ. When your entire team makes the effort to show, you should, too. Being a professional has to stand for something. I hope Vernon does not start slowly again this season or the criticism may be difficult to overcome this time around.