New York Giants CEO John Mara reveals the passionate letters he received regarding QB Colin Kaepernick while former RB Brandon Jacobs is intent on bringing down Jim Harbaugh. 
What's going on with the New York Giants these days? Not a whole lot. They'll be continuing their OTAs this week, without superstar WR Odell Beckham, Jr., but basically there is little to report at the moment. Just a bunch of guys running around in shorts and then not saying a whole lot about it afterward
So, in the interim, we will provide you with some interesting happenings from around the blogosphere…
Giants CEO John Mara told Jenny Vrentas of MMQB about the mail he's received about controversial QB Colin Kaepernick:
"All my years being in the league, I never received more emotional mail from people than I did about that issue. 'If any of your players ever do that, we are never coming to another Giants game.' It wasn't one or two letters. It was a lot. It's an emotional, emotional issue."
This was after a rally was held outside of NFL Headquarters on Park Avenue last week in support of the still out of work signal caller, who made headlines around the world by kneeling during the National Anthem before games.
"He stood up for our community," said the protest's organizer, Kevin Livingston, whose Queens-based non-profit, 100 Suits. "He took these issues to a national platform. I feel that it's only right that we stand up for him. We want to let the NFL know, we are not sitting silently, we are buying consumers and we want to make sure he gets a fair shot."
A fair shot is in the eye of the beholder. NFL Commissioner Roger Goodell was asked at the recent league meetings why he thought Kaepernick was still without a team:
"Each team makes individual decisions on how they can improve their team. If they see an opportunity to improve their team they do it. They evaluate players. They evaluate systems and coaches. They all make those individual decisions to try and improve their team."
The facts are that Kaepernick is no longer considered a starter in the NFL. Perhaps he never was. The 49ers started him over Alex Smith during the Jim Harbaugh years, but ultimately pid the price when he could not close the deal in the Super Bowl. His demonstrations have made him even less attractive to teams. Who wants a backup QB with all that baggage? No one, it seems, although the Seahawks are said to be interested.
Speaking of Jim Harbaugh, former Giants RB Brandon Jacobs is apparently hellbent on running his former coach out of the business. Jacobs, who played under Harbaugh in San Francisco in 2012, the same year Kaepernick took them to the Super Bowl, is still sore over his treatment by the team.
Jacobs injured his knee that year and then was suspended the last three games of the year by Harbaugh over some divisive posts on how the team was treating him on social media. The feud is still going on, although Jacobs hasn't played in the NFL since 2013 and Harbaugh is now the head coach at the University of Michigan.
"Jim, I had a lot of respect for Jim when I was there – before I got to know him," Jacobs said on CBS Sports Radio. "I enjoyed my time there, but we didn't see eye-to-eye."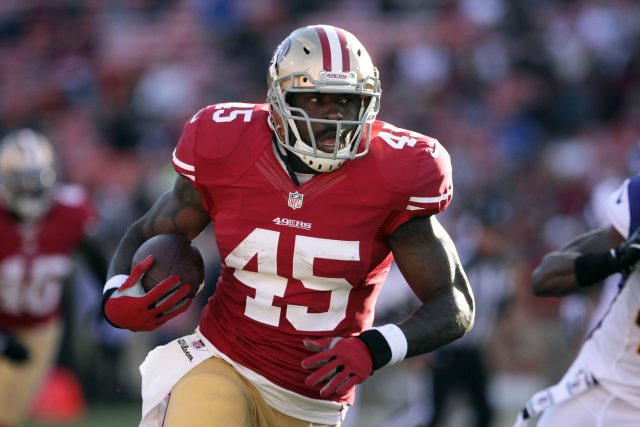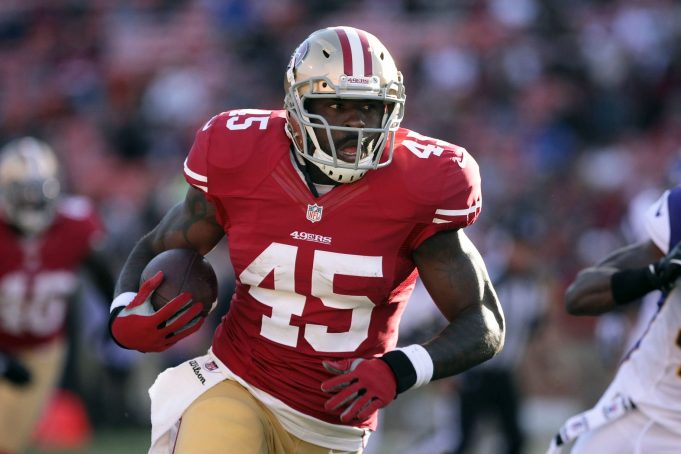 "I knew a little bit more about football than what they led on," Jacobs went on. "Going somewhere where they don't have route conversions into certain coverages was just absurd. They're just running routes in the defense, getting people killed. Size and strength is what they had, and that's why they won. Let's be real. They had great assistant coaches, but Jim didn't know what he was doing. Jim had no idea. Jim is throwing slants into Cover-2 safeties, getting people hurt. That guy knew nothing, man."
Jacobs wants to get Harbaugh fired at Michigan. Good luck, Brandon. Harbaugh is entrenched there and is going nowhere.
"He is a bitch, and that's why he's never won anything," Jacobs said. "It is what it is. I've got two rings. Harbaugh, though, he's a bitch. So it doesn't matter."
WR Victor Cruz has moved on from the Giants to the point where he has envisioned what he'll look like in a the uniform of his new team, the Chicago Bears, who signed him to a one year deal last week. Cruz photoshopped his image onto the body of former Bears wideout Bernard Berrian….