Always rumored to be on the move, could Brook Lopez finally be replaced when the Brooklyn Nets make a selection in the upcoming NBA Draft?
P
rior to this season's trade deadline, the Nets' star big man,
Brook Lopez
, was involved in many trade talks. With his stock higher than ever, it's likely he'll be traded before the season commences. Brooklyn's leading scorer, rebounder and three-point shooter, it won't be easy finding a replacement.
The search for the next center begins, in this year's draft.
With a strong rim protector a top priority in absence of Brook Lopez, expect Brooklyn to use the first of two first round picks on a center. Below, two prospects that could fall to the Nets at 22.
Harry Giles III is a make-or-break draft prospect, after tearing his ACL twice in high-school. He didn't debut for Duke until Christmas, and at that point, rotations were already set. On average of (11.5) minutes of play, Giles averaged (3.9) points and (3.8) rebounds a game. After averaging (7.7) fouls per 40 minutes of play, he's considered a liability on defense above all else.
Expect a lot of teams, including the Nets, to look over his one-and-done season at Duke in remembrance of his high-school dominance. Prior to injury, Giles was once thought of as a future #1 overall pick.
It's more likely the young center falls to a team with two draft picks, to due to the high risk of his future in the league. That leaves Portland (15 & 20), Brooklyn (22 & 27), and tentatively the Lakers, should he be available at 28. Should Giles find his stride and return to old form, he may prove a risk worth taking, and strong candidate for Lopez' renewal.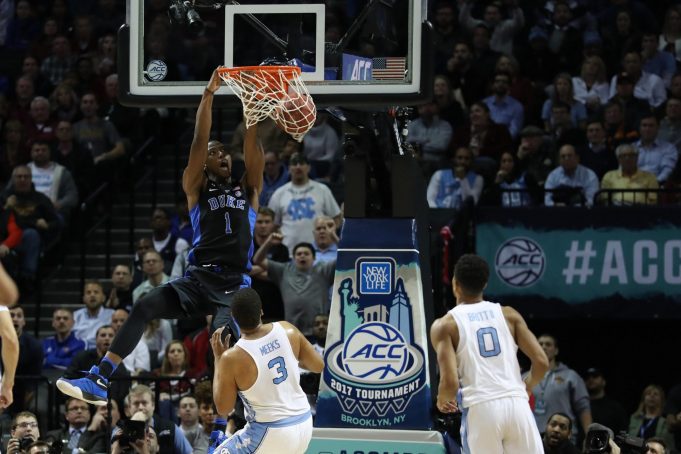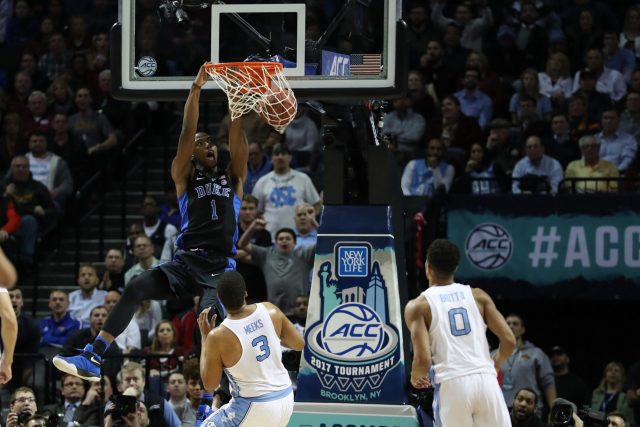 Jonathan Jeanne is a 7-foot-2, 210 pounds international center, whose college career took place overseas in France. He's developed his interior defense and shown potential to be a great rim protector.
Similar to Brook Lopez, this big man has displayed talent as a perimeter shooter. Fast and athletic, concern for Jeanne rises around his build. Though he is tall, he's not nearly heavy enough, and that raises flags regarding future injury. Most are comparing his build to that of Jazz big man Rudy Gobert. A strong torso, with some thin, very bendable legs. Other concerns include his struggles with scoring in traffic, and when he does, it's rare to see a free throw fall.
In (13) minutes played, the Frenchman averaged (3.7) points and (3.9) rebounds a game. Jeanne has arrayed an ability to rebound better than others and is considered a strong playmaker. He's got the size to play in the paint and uses it to his advantage when it comes to shot blocking.
Jonathan Jeanne is projected to fall from mid to late first round, just where the Nets sit. Should he be available come pick 22, Brooklyn would be wise to draft this young talent.
Brook Lopez won't be easy to replace by any means, and no one is expecting said player to play better overnight. Both previously mentioned draft picks are investments, not purchases. Drafting a big man will widen the Nets options regarding pieces received for Lopez. For example, Brooklyn sends the big man in exchange for a reliable shooter, while rebounding talent awaits them in the draft. Not a bad thought.
This summer will be an interesting one for the Brooklyn Nets, and the options are countless. Nonetheless, there's plenty of talent waiting for a team with two picks in the first round.