After low-balling former Patriots running back LeGarrette Blount in free agency, the New York Giants are now fully committed to second-year back Paul Perkins. Them low-balling Blount and sticking with their duo of Perkins and veteran Shane Vereen was the right move on their part.
Despite rumors swirling in regards to their interest in Patriots' running back LeGarrette Blount, news came out that the New York Giants, in fact, low-balled him in their final offer. As a result of their overwhelming offer, Blount opted to join the rival Eagles on a one-year, $2.8 million dollar deal. However, while there's no doubting his power presence (Blount led the NFL with 18 rushing touchdowns in 2016), Blount wouldn't have been the greatest fit for the Giants, given their plethora of halfbacks, but one in particular – Paul Perkins.
As a result of not bringing in Blount, the Giants are now fully committed to Perkins as their lead back and for the right reasons. In his rookie campaign, Perkins impressed the Giant faithful.
After breaking out to overtake Rashad Jennings as the lead back, Perkins began to showcase his promising ability to bring their starting back. Rushing for 456 yards on 112 carries, Perkins showed his ability to produce at the halfback position. Perkins also stood out, rushing for 105 yards in the Giants' week 17 matchup versus the Washington Redskins in the nation's capital. Him doing so was significant because of no Giant, throughout the duration of the 2016 season, had a 100+ yard game on the ground; an impressive feat for the UCLA grad. In addition to his ability to grind out yards on the ground though, Perkins is also a legitimate threat as a receiver.
Last year, Perkins served as a receiving threat. Reeling in 15 receptions for a total of 162 yards, Perkins was an asset for the Giants passing attack.
Given his promising second half, Perkins deserves the chance to start at halfback in 2017 – an opportunity which wouldn't have been granted had the Giants brought in Blount. If the Giants inked Blount, Perkins' role would've likely been diminished, preventing him from growing into an every down back. Blount's presence also would've been an odd one, given the presence of Shane Vereen.
In his first year with them in 2015, Vereen was a welcomed addition to the Giants' West Coast offense. While he did rush for just 260 yards, Vereen contributed greatly to the Giants' passing attack. Reeling in 59 catches for a total of 495 yards, Vereen was a weapon on the outside for Eli Manning and company. Vereen's versatility was an asset for the Giants. 2016 though, wasn't the same story for Vereen.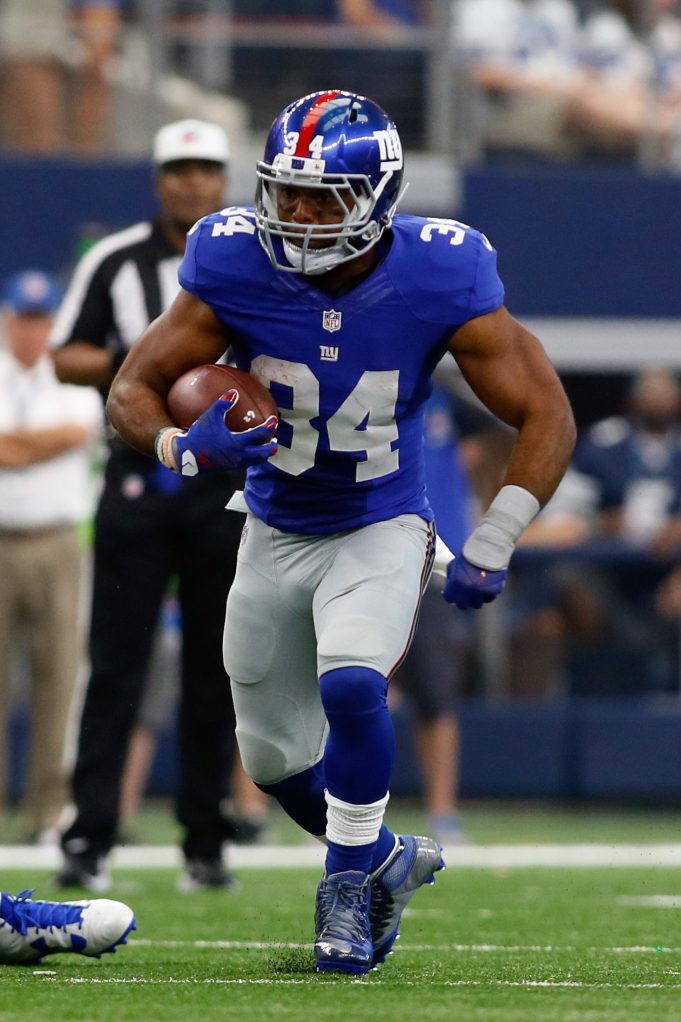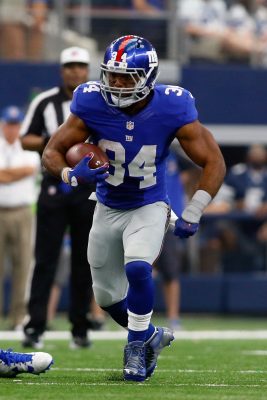 After their week three loss to the Redskins, news broke that Vereen had suffered a devastating neck injury. His neck woes kept him out for the Giants next ten games. Then, after coming back for their home matchups versus the Dallas Cowboys and Detroit Lions, Vereen was placed on the injured reserve (IR) with a triceps injury, ending his season.
Vereen's second year with big blue was not as successful as his debut one. However, given that he's an all go for the 2017 season, the Giants are right to stick with Vereen and not give up on him after an injury infested 2016 season. Pushing him aside for Blount would've been an unneeded adjustment on the Giants' part, given what Vereen brings to the table. In fact, his 2017 return helps make for a balanced and promising running back corp. A healthy Vereen, paired with an improved Perkins, as well as rookie back Wayne Gallman could pan out to be a decent and productive unit.
While Perkins can serve as a receiving threat, he's for the most part, a rushing back. That's where Vereen can step in and vise versa. Perkins can take first and second down snaps, while Vereen comes in on passing downs and/or third and short scenarios. The X-Factor in their running back unit though is Gallman.
The Giants selected Gallman in the fourth round of the NFL draft, out of Clemson. In his senior year, Gallman rushed for 1133 yards and finished the year with 17 touchdowns. Gallman's ability to pound the rock and finish at the goal line make him an intriguing prospect for the Giants going forward, but also in the short term.
If Perkins fails to progress in year two, then Gallman could take some of his snaps and potentially overtake his starting role.
While Blount is a proven and established presence, the Giants were right to pass on him and roll with Perkins and Vereen at running back. Given Perkins' ability to grow in the upcoming season and the receiving threat that Vereen poses, the Giants could have themselves a productive halfback duo in 2017.