Despite an inconsistent offensive line, Eli Manning needs to bounce back and bring it in 2017 if the New York Giants are to compete for a Super Bowl title. 
Last year, the New York Giants' defense was the key ingredient to their success. Led by free agent signees Olivier Vernon, Damon Harrison and Janoris Jenkins, as well as veterans such as Jason Pierre-Paul and Dominique Rodgers-Cromartie, the Giants' defense as a whole was key to their 11 win season.
However, the Giants' offense was not as crucial to that success. Finishing the year with the seventh fewest points per game (19.4), the Giants' offense failed to play up to high expectations, Eli Manning especially.
In 2016, Manning wasn't his dominant self, that the NFL world had grown accustomed to seeing throughout the duration of his career. Finishing the year with 4,027 yards, to go along with just 26 touchdowns and a quarterback rating of 51.8, Manning didn't play up to elite standards in 2016.
Many believe Manning's inability to compete at a high level was due to the poor play of his offensive line. 
Last year, the Giants offensive line was abysmal, to say the least. Outside of center Weston Richburg, their line as a whole struggled to protect Manning in the pocket. With second-year men Ereck Flowers and Bobby Hart struggling to hold their own on the outside, opposing pass rushers were able to rush Manning at ease, forcing him to get sacked or throw the ball away; the injury to Pro Bowl guard Justin Pugh also hurt their line in a big way.
Not ignoring the issue completely, the Giants have made some moves in an attempt to sure up their line.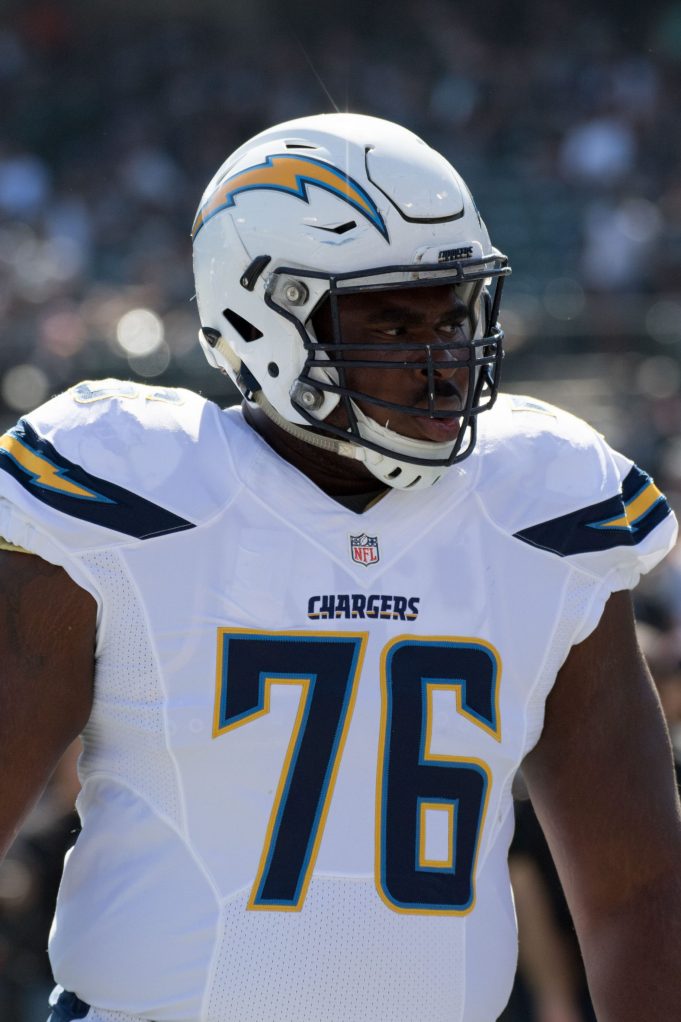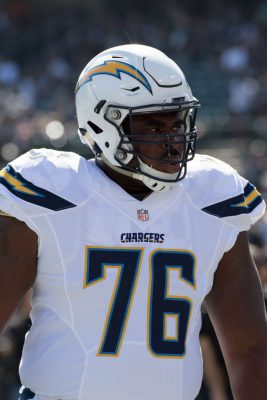 The biggest addition to their line will be former Chargers' guard D.J. Fluker. Fluker, the former first-round pick out of Alabama, inked a one-year, $3.8 million dollar deal with the Giants. Standing tall at 6-foot-5 and weighing in at 339 pounds, the Giants hope to see Fluker come in and make a difference on their line.
Despite being bulked up though, Fluker likely won't make a Pro Bowl like impact. Despite his overpowering size, Fluker can at times be blown by, given his lack of speed. However, while that can be a liability in his game, Fluker gives the Giants more good than bad, especially in regards of versatility.
In addition to playing guard, Fluker has the versatility to play tackle as well. His ability to do so will be valuable to the Giants, given their collective struggle to remain healthy as a group. Fluker though, won't be the only new face on the Giants' offensive line.
In the early stages of the NFL free agency period, the Giants and former Vikings' tight end Rhett Ellison agreed to a four-year, $18 million dollar deal. Ellison comes to the big apple after spending five years in Minnesota, where he served as a blocking presence on both rushing and passing downs — a much-needed facet of production that the Giants are in dire need for improvement. Given his ability to block both the run and pass, Ellison will be a welcomed addition to the Giants'' offense and one who could also be a versatile threat.
While he's, for the most part, a tight end, Ellison could very well play some downs at fullback, being the Giants don't have a starting fullback set in stone.
Added onto Fluker and Ellison though, the Giants have also brought back guard John Jerry.
The Giants and Jerry agreed to terms on a three-year, $10 million dollar deal to help keep the veteran lineman in the big apple. While not a force to be reckoned with, retaining Jerry adds more depth to the Giants line. They also traded up in the draft to select Pittsburgh lineman Adam Bisnowaty with the 200th pick to add on to that depth. With all those acquisitions in mind, Manning must produce in 2017.
While it's still not stellar, the Giants' offensive line as a whole has improved to the point of respectability. As a result, Manning must step up and bring it this upcoming season.
After a mediocre and disappointing 2016 campaign, Manning must bounce back and produce at a high level for the Giants this ensuing year. While their elite defense will return and likely improve off a successful 2016 trial, they can only do so much — as the end of last year showed losing 38-13 in the first round of the playoffs.
Also, while their offensive line was lackluster last year and still won't resemble brilliance this upcoming year, they can only take so much blame for Manning's struggles. In fact, while he wasn't granted an overwhelming amount of time to operate in the pocket, Manning himself was rather shaky at times too.
Despite not throwing a crazy amount of interceptions (16), Manning put the ball in harm's way too often and got away with passes not being picked off. If the Giants are going to make a Super Bowl run in 2017, Manning cannot put the ball in danger like he did last year. With a slightly improved line, as well as the addition of wideout Brandon Marshall, he now has to step up in a big way this upcoming season, as the Giants' and Manning's excuses for not being able to make a deep playoff run are now empty.
Manning is a two-time Super Bowl-winning quarterback; he knows what it takes to win. They key though, is whether the 36-year-old quarterback can execute at this stage of his career, after an overall mediocre 2016 season, but still, just a year removed from a successful 2015 one.