The New York Giants don't appear to be very concerned with the state of their offensive line. That's probably because they know something you don't. 
At the New York Giants rookie minicamp on Friday, I learned a few things. One was that the organization remains a very orderly and accurately timed one. Things start when they are supposed to start and end when they're supposed to end. The head coach, Ben McAdoo, has a firm grip on the day's schedule and what he wants to get accomplished.
Each coach and player that spoke in front of the media crush in attendance were well-coached and versed in the lingo the organization maps out for them to use. All of their draft choices are sharp, cognizant speakers who are confident in their own skin.
That attitude permeates the entire building. No one at 1925 Giants Drive is off message. Everyone knows their job and the direction in which the franchise is heading. So, when outsiders question the organization's motives in a particular area, such as the offensive line, it's no surprise they stand with such confident in their current plan.
Last season, the Giants' two young tackles, Ereck Flowers and Bobby Hart, struggled in many facets of the game. As a result, the offense sputtered a bit and QB Eli Manning did not trust his protection causing him to get the ball out quicker than he wanted to.
The Giants are not stupid. Nor are they foolish. They recognized the problem. They have a building full of scouts and personnel people who went into re-evaluation mode. Flowers was a high draft pick and Hart was a high functioning lineman in a national championship offense. The pedigree is still there, the development has just been slow. Stand pat and the rewards will come.
---
---
They are hoping that both players, who will only be 23 this season and already have two full NFL seasons under their belts, take a huge "jump" this summer and realize their potential.
"It's been documented that both Ereck and Bobby spent a lot of time here working out in the weight room," offensive coordinator Mike Sullivan told us on Friday. "I think if you see Ereck, his body is a lot leaner and so it's very early and we didn't get a chance to practice against the defense yet, but you do see some increased quickness. I'm just very pleased that both those young men have made that commitment to try to improve their game physically and do the things that they need to do to their bodies to mature and grow. They're both young players and we're excited about seeing what they are going to do once that competition steps up when we're out there in OTAs and mini-camps and so forth."
That alone kept the Giants from reaching for an offensive tackle in the draft. Many mock draft geniuses had them taking Wisconsin's Ryan Ramcyck with the 23rd pick, not taking into account that Ramcyck was still recovering from major hip surgery. The consensus was that the Giants may have selected Utah's Garret Bolles had he not been taken three spots before by the Denver Broncos.
Instead, they stuck to their plan. They brought in free agent D.J. Fluker a formfirst-roundund pick out of Alabama who is only 26 himself. Fluker can play both guard and tackle and will create competition for both tackle spots and RG John Jerry, who was re-signed over the offseason. At the very minimum, Fluker will provide depth.
At the draft, the Giants did what they always did. They took players they liked, not ones these unqualified "experts" said they should take. They traded up in the sixth round to select Pitt OT Adam Bisnowaty, a lunchpail, grinding type that makes up for any athletic shortcomings with toughness, grit and desire. They also signed USC's Chad Wheeler and Jessemen Dunker of Tennessee State.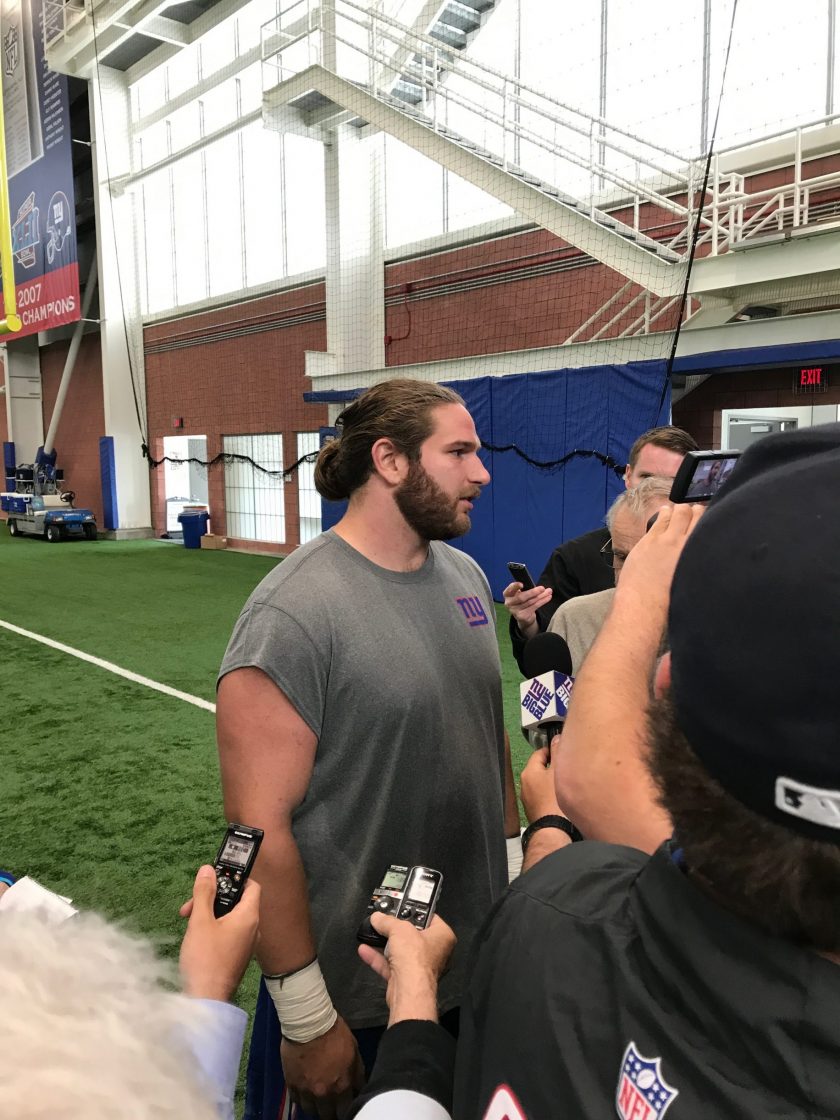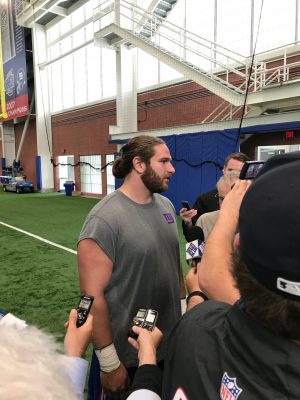 Bisnowaty looked every bit the part. Standing 6-foot-6 with his 307-pound body proportionately distributed throughout, the Pitt product showed in drills why the Giants liked him. He has a high motor with more than a tad of nastiness to his game. At one point, coaches instructed him to tone things down.
"I was told to slow it down a little bit through some of the periods," he told reporters when the subject was broached. "But I just have to go out there and go as hard as you can and keep getting better."
Bisnowaty figures to be in the mix at right tackle. Wheeler and Dunker will have a longer road to hoe. They will be trying to make  the team that will carry nine, maybe ten, linemen in which all but 2-3 are spoke for at the moment.
The five that finished the season last year will all be back: Flowers, Hart, Jerry, center Weston Richburg and LG Justin Pugh. Fluker and Bisnowaty make seven. So the remaining spots will be filled from a group consisting of Dunker, Wheeler, Brett Jones, Adam Gettis, Michael Bowie, Jon Halapio and Khalid Holmes.
So, all of the rhetoric and speculation about what the Giants need to do with their offensive line, we now have our answer. Very little. Minor tweaks. If they're not too concerned about it, maybe you shouldn't be, either.
John Fennelly has been covering the NFL and the New York Giants on the internet since 1997. Follow him on Twitter – @John_Fennelly