While he's not a blocking presence on the inside, Giants' rookie tight end Evan Engram can and should fit out with the New York Giants' offense.
A
fter a successful free agent period in which they brought in, most notably, former Jets' wide receiver
Brandon Marshall
, the New York Giants went into the 2017 NFL draft with aspirations of adding even more fire power.
They did just that. With the 23rd pick in the draft, the Giants selected Ole Miss tight end Evan Engram.
The four-year product impressed many in his senior year, finishing with 926 receiving yards as well as eight touchdowns. However, despite his offensive output, there are some question marks surrounding Engram's game. Engram though, shouldn't dwell on that, as his skill set, coupled with the Giants offense as a whole, allows him to fit out.
The biggest knock on Engram's game is his size, or lack thereof, as he's not an established blocker. Standing at 6-foot-3 and weighing in at just 233 pounds, Engram isn't built like a typical tight end. As a result of his small size, Engram tends to play as a slot receiver, as opposed to a blocking force on the inside. He makes up for his lack of size though, with his electric speed.
Given his lack of size, Engram tends to set up as more of a slot receiver and has done so thanks to his quickness. In his four years at Ole Miss, Engram showcased his ability to run at lightning speed and also showed off his good hands in the process.
Engram's senior season was, by far his most encouraging one for the Giants to base his production off of. The question becomes though, does Engram fit in with the Giants?
While his skill set is not that of a two-way tight end, the Giants have the weapons around Engram to help make up for his lack of blocking.
In the early stages of the free agency period, the Giants inked former Minnesota Vikings tight end, Rhett Ellison, to a four-year, $18 million dollar deal. Ellison will be a welcomed addition to the Giants', given his ability to block against the run and the pass. Standing at 6-foot-5 and weighing in at 251 pounds, Ellison brings a blocking presence to the big apple. His presence also helps aid Engram's inability to block at a high level. Engram, though, also helps aid Ellison's weaknesses, that being his inability to be a target on the outside.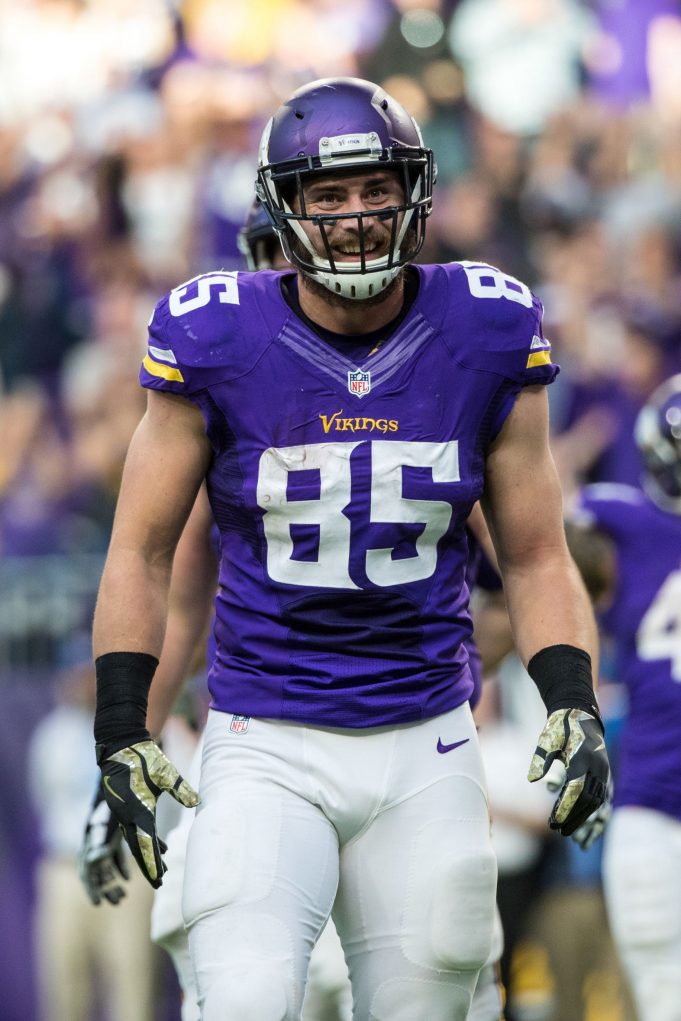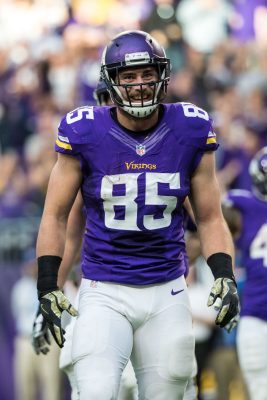 In his five-year career, Ellison has a total 515 receiving yards, as well as just three touchdowns. Given his inability to be a big target for the Vikings' offense in the past, there is little reason to believe that Ellison will be such a presence for the Giants. However, much like Engram, Ellison doesn't need to try to become something he's not.
With Engram fortifying his every down effort towards being a target for Eli Manning in the slot, Ellison doesn't have to try to become another weapon on the outside.
Instead, he can focus on blocking for the Giants run game and helping provide Manning with more time to find his receivers. If he can serve as that much needed blocking presence on their line, then Ellison can also help open things up a bit for the Giants offensive weapons – ones which are and can be lethal.
With Odell Beckham Jr., Marshall, as well as second-year man Sterling Shepard present, the Giants have a potentially lethal trio at the receiver position. If Manning can be granted some more time to find them, then the Giants offense could achieve greatness in 2017. That greatness could also gain even more traction with Engram thrown into the mix.
With Engram serving as an option in the slot, the Giants' will have yet another threat for Manning and company to get involved.
While he's not your ideal tight end, Engram gives the Giants' another target to work with. Also, when you look back at the Giants' Super Bowl teams in the past, they all had a receiving tight end, who played some role in their success.
Could Engram be the next in line to succeed? Allowing him to fit out, and do his thing may allow him to do just that.