Despite having a solid year for the New York Islanders, Johnny Boychuk must begin accepting a diminished role on the blue-line.
The 33-year old defenseman is entering his fourth full year with the New York Islanders, and has been a key cog in making them competitive team since he joined in 14-15. He's appeared in 208 games for the Islanders, tallying 24 goals and 83 points (24-59-83).
Boychuk has done an admirable job with the Islanders on the PP, surpassing his total career powerplay goals with the Bruins in one season for the Islanders. His booming slapshot is valued along the blue line and physicality, despite not being as effective as it was with the Bruins, is still noted when he's on the ice.
The tough fact to swallow is that father time is catching up to Boychuk. His skating has slowed down considerably, and his physique certainly will help contribute to that as well.
The magic of the Nick Leddy – Johnny Boychuk pairing faded away this past season. That's not to say the pair still wasn't effective, they were still very reliable. But that shut-down element seen in years prior wasn't there this season. Boychuk is having a hard time keeping up with Leddy, and it shows on the ice.
In some instances this past season, Boychuk played to the right of former teammate Dennis Seidenberg. In fact, Boston fans remember this as a pairing that helped the Bruins capture the 2011 Stanley Cup.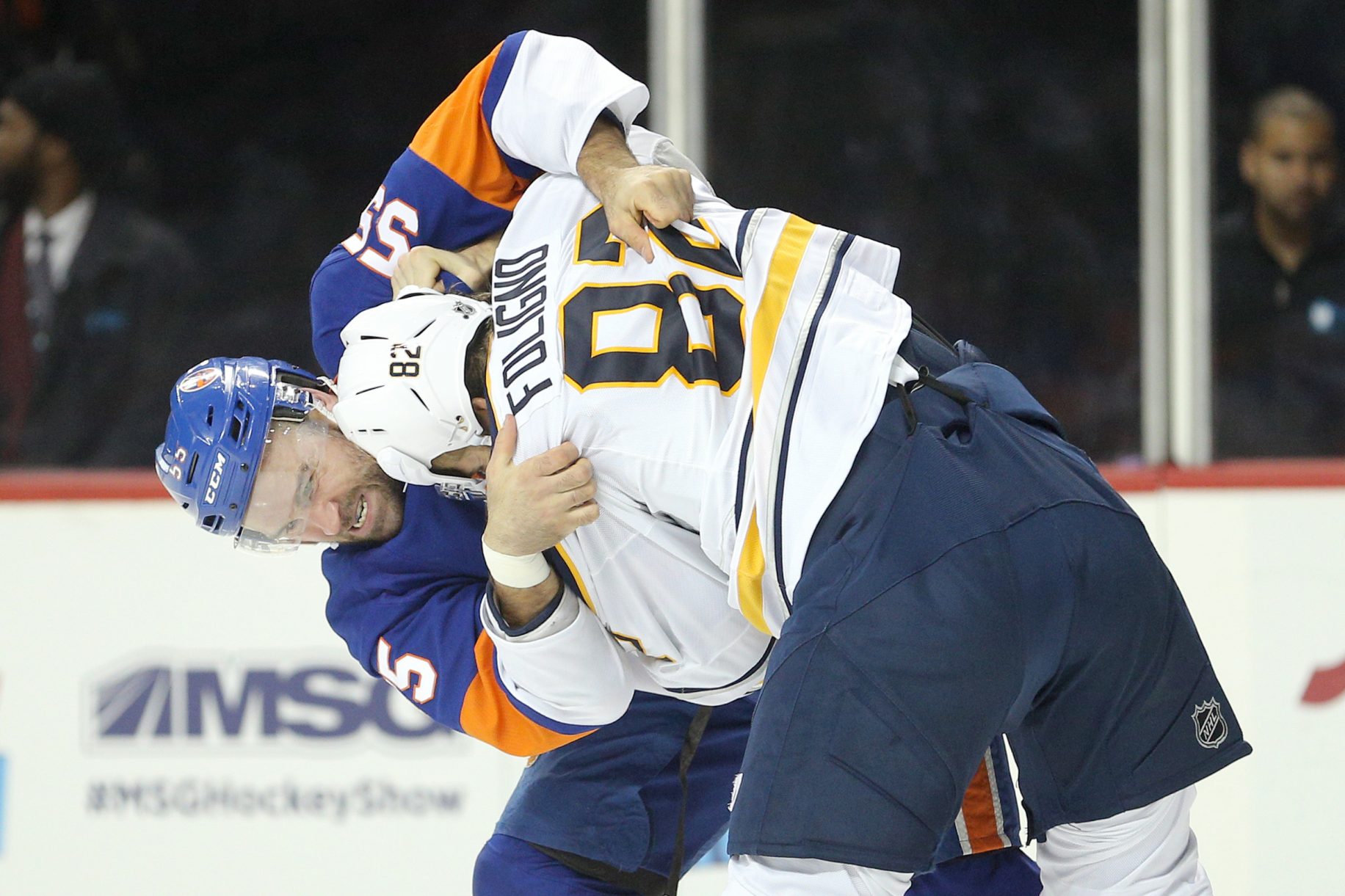 Perhaps reuniting the pair would be a great idea for the third line of defense. Why not stick a grizzled cup-winning pair together? With the way Adam Pelech played to the right of Leddy at points this season, the Islanders defense is ready to get younger.
It's unclear what the Islanders blue line will look like in 2017-2018. Ryan Pulock got a look that lasted a whopping one game after impressing heavily in the 15-16 playoffs, and Devon Towes skyrocketed up the depth chart faster than fans could ask "Is he related to the Blackhawks' Jonathan Towes?" (no relation). Scott Mayfield got 25 games in, and Adam Pelech stayed for most of the season. Some bumps existed here and there, but overall the two look to be NHL ready sooner than later.
Ultimately, the defense is a toss-up for the Islanders next season. For Boychuk, it's all about being the veteran presence needed in the locker room and taking a more diminished role until the team gets closer to post-season contention.