Detroit Pistons guard Kentavious Caldwell-Pope is a free agent this summer, and he's someone the Brooklyn Nets could offer a lucrative sum. 
K
entavious Caldwell-Pope, or KCP, is an intriguing player. He's likely to get a sizeable deal in the offseason despite being a relatively average player, and that's a concern for me. I wouldn't mind KCP on the Nets roster but, if the price isn't right,
Sean Marks
shouldn't overspend — especially when there are a few bigger names at the guard spot.
After his fourth season, it's clear he's got potential. In 33.3 minutes a night, Caldwell-Pope averaged 13.8 points, 3.3 boards and 2.8 assists, but the biggest blemish on his resume is the 39.9 percent from the floor. Few players can get away with shooting sub-40 percent, and they're typically high volume guys. Caldwell-Pope is not that. Detroit ran a balanced offense and had five players average more than 11 shots a night. Even with spreading the wealth, KCP is the fourth option. And maybe even fifth.
The Pistons played him exclusively at shooting guard over the last two seasons. Just by looking at him on paper, it's his natural position. Caldwell-Pope stands at 6-6, tips the scale at 205 pounds and is a decent athlete with a modest 6-8 wingspan. Having that added length is valuable for matching up out of position, and his potential on defense is something that'll be noted once negotiations start.
Detroit was elite on that end of the floor, finishing seventh in points allowed (102.5) and 11th in defensive rating (105.3 points per 100), according to NBA.com. It started with KCP up top. Even though the metrics say he's average, that's still exponentially better than where Brooklyn was for most of the season. Opponents shot 34.3 percent from three when guarded by him, 2.6 points lower than their average.
KCP brings energy. He's got active hands and finished second on the team with 89 steals in 76 games. That's not a lot when compared to the rest of the league, but it's seven more than Rondae Hollis-Jefferson's 82. And he was the Nets' leader. Additionally, he didn't pick up many fouls and was only whistled for 1.6 on average, which is the same amount as Kawhi Leonard. They're not comparable, but it's an interesting tidbit.
As our focus shifts, it's hard to tell what kind of offensive player Caldwell-Pope is. He's aggressive and isn't afraid to look for his shot, but his decision-making is the biggest question mark for me. The Nets need a guy who's versatile offensively but, if KCP isn't going to do a lot of ball handling, being a spot-up shooter isn't a bad thing. He made 153 threes at a 35 percent clip, which are huge jumps from year three. Most of Caldwell-Pope's attempts come from the "above the break 3" — 353, to be exact. From that zone, his clip is a less-than-desirable 33.4 percent. From the corners, however, it's a different story.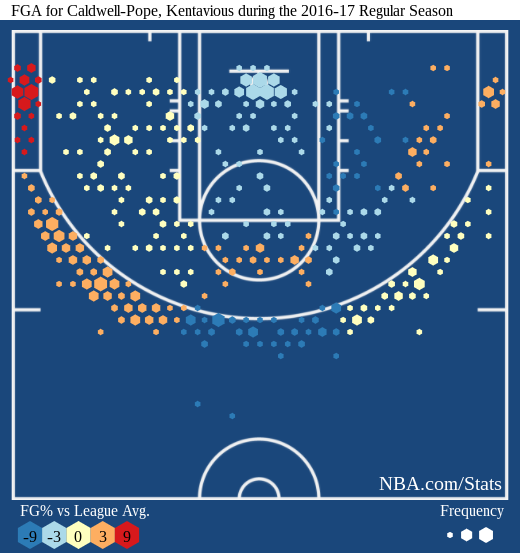 He made 35-of-76 shots, and that's a lethal mark of 46 percent. If he were to sign with Brooklyn, I'd want to see the coaching staff do anything and everything to get Caldwell-Pope as many looks from the corner as possible. It wouldn't be hard, either. The numbers say he isn't a good catch-and-shoot option, but, if it's from the corner, I'll take my chances.
Inside the arc, however, is a different story. KCP's a mediocre finisher around the basket and converts on 57.7 percent of his attempts inside the restricted area, per NBA.com. That zone is where he's most effective, but it's not where the majority of his shots come from.
Caldwell-Pope attempted more mid-range jumpers (254) than he did layups (124). That wouldn't be troubling if the percentages were equal but, you guessed it, they aren't. From mid-range, KCP's clip drops down to 40.2 percent.
Something that attributes to his struggles is the Pistons' dysfunction on the offensive end. They lacked an identity all year. At first, Stan Van Gundy wanted to be pick-and-roll heavy but had to adjust once Reggie Jackson got hurt. Whether it was isolation or motion, Detroit struggled to manufacture points and would lean on their defense to win games.
It may be a shock but, when Caldwell-Pope played well on offense, the Pistons were better. It's hard to defend Tobias Harris, Andre Drummond, Jackson and KCP, and scoring and efficiency saw major upticks in wins:
33 wins: 16.4 points, 46.3 percent from the field, 42.2 from three
43 losses: 11.8 points, 34.7 percent from the field, 29.0 from three
Just because he's inconsistent isn't grounds not to offer him; Hollis-Jefferson is inept offensively and still makes it work with the Nets. If RHJ can do it, KCP can, too. Moreover, he's only 24! Creativity is where Brooklyn gets many of their points, and being in a position that's stable on offense would generate more confidence for Caldwell-Pope.
If Marks were able to acquire him, he'd have another project — and that's okay so long as he gets the right price. Being a restricted free agent, the Pistons will have the chance to match the Nets' offer sheet.
Caldwell-Pope is far from a scrub and has shown plenty of flashes throughout his four campaigns. His three-and-D potential is the most alluring quality, and he's got everything to develop a more respectable package on offense. KCP probably won't make an All-Star team in the next couple of seasons, but he'd fit just fine in Brooklyn.