Peter Schwartz of ESNY digs deep into the sports memorabilia world and takes a look at what Eli Manning's E-mail really means.
T
he whole
Eli Manning
-memorabilia saga has intrigued me for a number of reasons.
As a football fan, I've always respected Eli for what he's accomplished on the field. I'm not a Giants fan, but there's no denying how good he's been in his career. As a reporter, I can appreciate that Manning has always been open and honest whether the Giants win or lose. He may not have the most outgoing personality, but he stands up there and faces the music. And finally as a memorabilia collector, it's troubling that Eli's integrity is on trial when it comes to this controversy and I don't want to believe he did anything wrong.
There are athletes that you just would never think could be dishonest with something like this and Eli is on a short list of special players in sports that you could never imagine being a part of a scam. I think we'd be having this same conversation if a Derek Jeter, a Mark Messier, a Mike Piazza or a Patrick Ewing was in the news for something like this.
Just to recap, Manning is a key figure in a lawsuit filed by memorabilia dealers in which Eli and the Giants are accused of distributing equipment that was labeled "game-worn" when it wasn't really the case. In an email, as part of court documents acquired by the New York Post a couple of weeks ago, Manning wrote the following to Giants equipment manager Joe Skiba …
"2 helmets that can pass as game-used. That is it. Eli"
You can read into that email in a number of different ways.
Did Steiner Sports, the memorabilia company that Eli has a contract with, ask for game-used helmets but Eli didn't have any so he asked Skiba for two that looked game-use?
Did Steiner, also named in the lawsuit, deceive Eli by asking him for two helmets that looked game-used and Eli just went along with it?
In the sports memorabilia business, you have to trust the people you're dealing with whether you're a dealer or a seller so I went to someone I trust to try and shed some light on this story.
"At first, I was skeptical because Eli Manning, as most people in the industry know, is really squeaky clean," said Warren Heller, a long-time dealer and the owner of Living Legends Sports Memorabilia in Rockville Centre on Long Island.

"He is one of the nice nice guys. He has always been the epitome of a good citizen. He's a good guy and will sign autographs at Giants camp for free. He's a genuine sweetheart of a guy."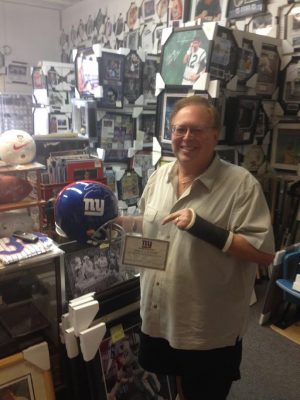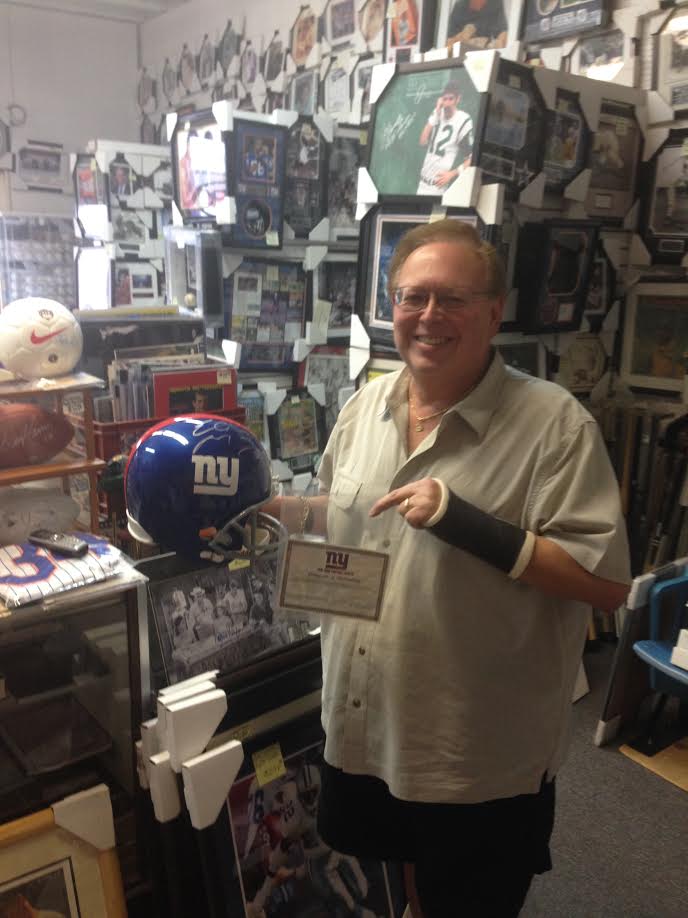 Heller, who is also an attorney, has been following this story since it first surfaced about three years ago. The saga had died down for a while but it resurfaced a couple of weeks ago when the Post released the email as the litigation continues.
The email could be construed as cryptic since we don't know the entire conversation and we really don't know what Eli was trying to say.
Or, do we?
"Game-used equipment can be really dirty or it can be clean but still have been used," said Heller who has a number of Eli Manning items in his store. "Did he want it to really look the part or did he want something just to look like something that could have been game-used?"
How the lawsuit plays out is going to be interesting because while the email could be looked at as damning to Eli, the Giants, and Steiner, the burden of proof is on the plaintiffs to prove that there was fraud committed. Manning has vehemently denied he did anything wrong and his 14-year track record should stand for something.
But there's just so many different ways to read into that email.
"It's subjective and it's a major major stumbling block for the defense, that being those who are representing Eli and/or those who are trying to prosecute this as being fraudulent because you don't know in an email what the person's intentions exactly were," said Heller. "It's not like spoken word where you can intimation or the inflection of what they're trying to say by the words they're using."
When speaking to reporters about it at Giants OTAs last week, Manning was as angry as we've ever seen him in discussing this situation. Not there to answer any questions, and since this is pending litigation they probably can't, was anyone from Steiner. A leader in the sports memorabilia industry for many years, their reputation is on the line here as well.
Eli Manning said he's done nothing wrong regarding the allegations against him @EliteSportsNY #NYG pic.twitter.com/CY5FV2H8Ce

— Jason Leach (@JasonKLeach) April 20, 2017
If you've ever bought something that was labeled as "game-used" from that company, aren't you a little concerned right about now?
"I don't know exactly all of the protocol that goes into when they receive an item," said Heller. Does it go through steps A, B, C and D? Did they skip B and C? I don't know, but if Steiner is going to put an item out on the market as game-used, they have to be 100% sure beyond any shadow of a doubt that it is absolutely authentic. They might not have done that in this case but I don't know."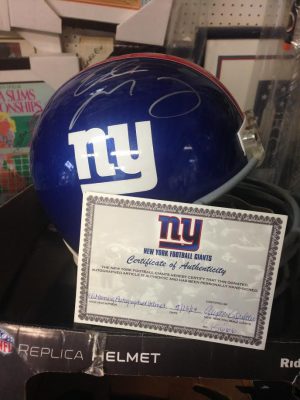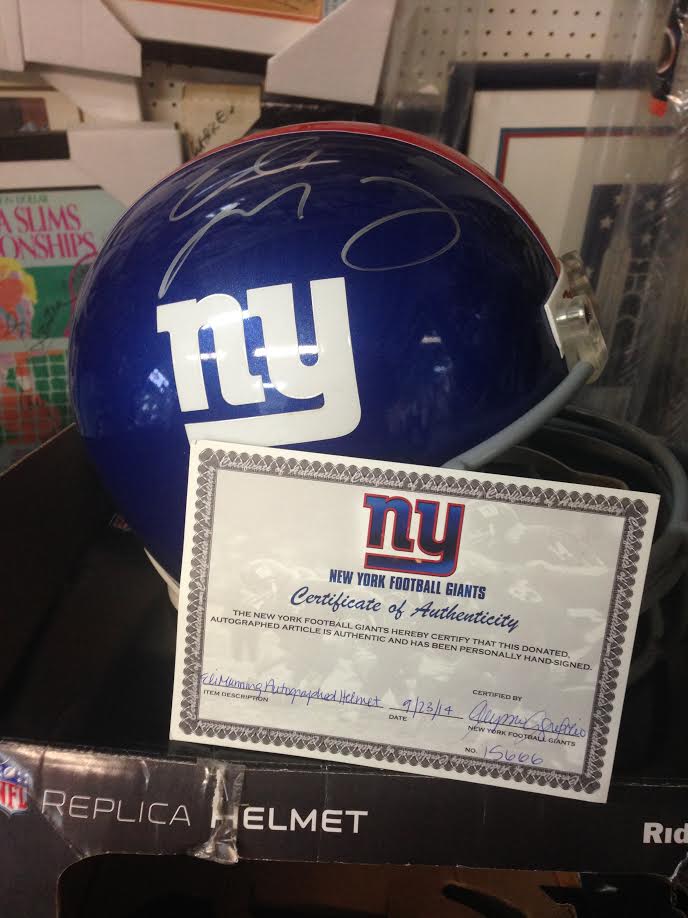 Whether the items were actually autographed is not being argued here but rather whether or not the helmets were game-used or not. But when it comes to memorabilia, buyers and dealers have to be extremely careful when making a purchase. One of the items in Heller's store is interesting because it's a perfect example of dealing with people that you know and trust.
There are a number of footballs in the store that are autographed by Eli, but there is a helmet, not game-used, that features a signature different from the others. Heller purchased it from someone, along with a certificate of authenticity from the Giants has a reflection autograph where the "Eli" is very noticeable but the last name just has what looks like an "M" and a "G."
"Athletes sign autographs for free, they often sign autographs at shows and are paid to make public appearances," said Heller. "Often, they're rushed when they're signing autographs and/or they change their autographs after a certain period of time."

"I would never have purchased this helmet without a letter from the Giants because this autograph is not necessarily consistent with many of the other versions that I have seen. It doesn't mean that it isn't real because when you're rushed you may sign differently than when you're doing a sit-down signing."
The moral of the whole story is that you have to trust people and be careful when you're in the sports memorabilia business whether you're a buyer or a seller. A large majority of people trust Eli Manning because they have no reason not to because of his track record. The same may or may not be said about Steiner Sports because there has always been a stigma when it comes to dealers.
"It could have a negative impact on the industry temporarily but the impact has always been there," said Heller. "That grey area of "is it real or isn't it".

"You have to know who you're buying from and you have to be comfortable with who you're buying from. That's how people will do better in this industry both as buyers and sellers."
As of now, there are a lot of people who are rushing to Eli Manning's defense on this story. Eli is confident that he'll be cleared of any wrongdoing and that could very well be the case. But when it comes to paying for autographs and game-used memorabilia, I've always been skeptical.
My son Bradley has two footballs signed by Eli Manning and he treasures them both. You know why? Because Eli signed both of them right in front of him. They aren't game-used and in fact, one of them is a Nerf ball, but it meant the world to Bradley that a two-time Super Bowl MVP signed them.
Eli has earned the benefit of the doubt until proven otherwise. As far as the memorabilia business is concerned, the same can't always be said about everyone.