Next up on the New York Giants 2017 NFL Draft Diaries is a player who the club can absolutely use, tight end Evan Engram.
O
nly two days to go until the 2017 NFL Draft, which means only three more editions of NFL Draft Diaries remaining. In this series, we preview potential first round picks for the New York Giants, who pick at 23rd overall.
Today, we look at our second tight end of the series: Evan Engram out of Ole Miss. According to NFL.com, Engram was "the nation's most prolific tight end." He caught 65 catches for 926 yards and 8 touchdowns, and was an all conference selection in 2014, when he led all tight ends in yards per catch, with 17.4.
The guy is crazy productive, but does he have the proper strengths to translate to the NFL? Let's take a look.
Strengths:
Engram's production is obviously a huge strength. The guy can flat out ball, as he showed in his time at Ole Miss. He has great athleticism and speed, and is very explosive up the seam. At 6-foot-3, he may be undersized for a tight end, but the plus for Engram is that he might not even play as a tight end in the NFL.
Because of his size and athleticism, it's very possible that Engram could play as a wide receiver in the NFL once Brandon Marshall retires. That kind of versatility is definitely a plus.
Engram also can operate in multiple areas. He is effective in the flat, in the middle of the field, and is a vertical threat as well. He also can adjust his body to make catches on throws that are too high, too low, or behind him.
Overall, Engram is a super productive player that has plus athleticism and the ability to play as both a tight end and wide receiver.
Weaknesses:
His size is tough for a tight end — 6-foot-3 might not be tall enough to be an effective tight end in the red zone, as it is difficult for him to leap over players. He also needs to improve his physicality during the catch — often times, he allows defenders to go through him and break up the pass. He must learn how to post up defenders and prevent them from getting to the ball.
Engram also struggles with both drops and working back to the ball. While the drops are fixable, his work ethic during plays to get back to the ball might be more difficult to improve.
Finally, as a blocker, Engram doesn't offer much. He's an out and out receiver, and won't contribute much to the running game.
Should the Giants Draft Engram?: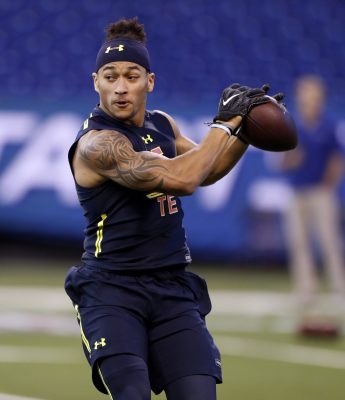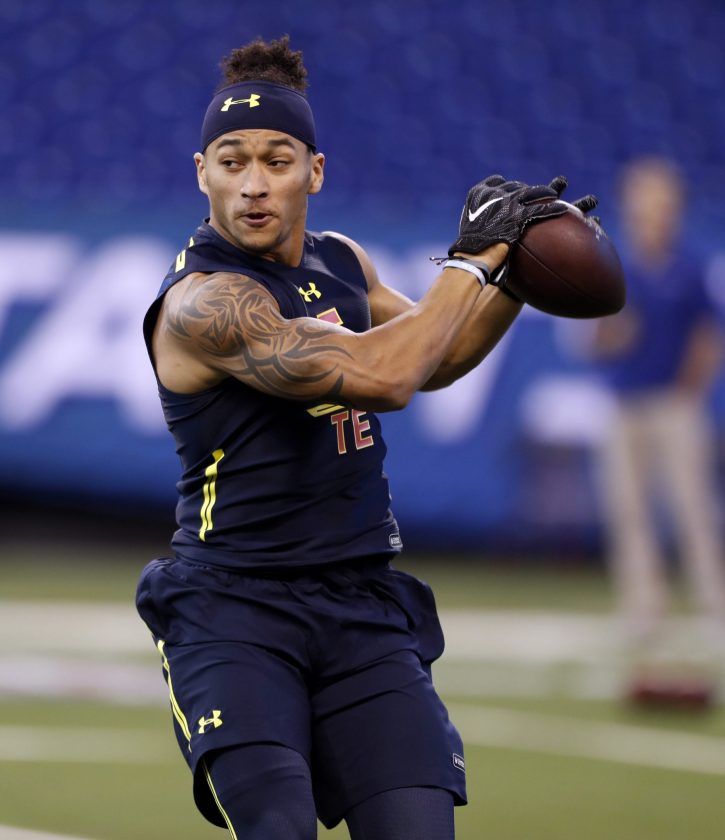 Engram is probably the third best tight end in the draft, behind OJ Howard and David Njoku. They all are similar players: crazy athletic, very productive, and beasts in the red zone. The difference for Engram is that he can't block, and he doesn't have the same height that the other two have. With that being said, Engram would make the Giants offense significantly more dynamic, and could give Eli Manning another weapon down the field. If he could act as a security blanket over the middle is yet to be seen, but it's possible that Engram could develop into a plus NFL tight end.
I'm not sure if he's worth a first round pick, however. The blocking issues scare me, as does the drops. Overall, if Njoku is off the board, I'm against the Giants using a high pick on a tight end.
Verdict: Not in the First Round