Next up on the New York Giants NFL Draft Diaries is a kid from Wisconsin named T.J. Watt, not to be confused with J.J. Watt.
T-minus 5 days until the 2017 NFL Draft and the pre-draft hype is escalating by the minute. Here at ESNY, we've been covering potential draft prospects for the New York Giants, who select 23rd in the First Round.
Today, we'll be looking at Wisconsin defender T.J. Watt. Does his last name sound familiar? It should.
T.J. is the younger brother of three-time Defensive Player of the Year J.J. Watt, who spends his time terrorizing quarterbacks for the Houston Texans.
The question remains, "Is T.J. Watt as good as his older brother?" No. However, is anyone in the NFL at their prime as good as J.J. Watt is? You'd probably get the same answer.
Let's take a look at T.J., removing the family heritage from the equation. How is Watt as a player? Let's find out.
Strengths
The numbers speak for themselves. Watt only played one full season as a starter and put up monster stats: 63 tackles, 15.5 tackles for loss and 11.5 sacks, against top end competition in the Big Ten. Not too shabby for a guy who was a reserve backer the year before.
Watt has a terrific motor and will give unrelenting effort on every play. He's got great length and terrific hand movement and has a very high football IQ. Additionally, he'll be able to use his brother as a resource to help improve his pass rushing skills.
One of the more encouraging things about Watt is his room for improvement, as stated by a midwest area scout for an AFC team (according to NFL.com):
"He looked a lot stronger and a lot more confident on tape this year. He needs to get bigger, but he's already a strong guy. I can see him standing or playing base end for a 4-3 team. He's going to keep getting better."
If Watt has the potential for improvement and has the work ethic to get it done, he could be a smart selection for the Giants, who could use a new outside linebacker.
Weaknesses
Injuries have been a concern for Watt in the past– he only played as a full-time starter in his final season, after tearing up his knee in Wisconsin's 2015 Spring Game.
Watt also is pretty limited athletically. He isn't particularly explosive, he doesn't have terrific acceleration, his footwork is decent at best, and he'll struggle to power rush. Watt projects as a plus run defender, according to NFL.com, but he will struggle to effectively pass rush at the next level.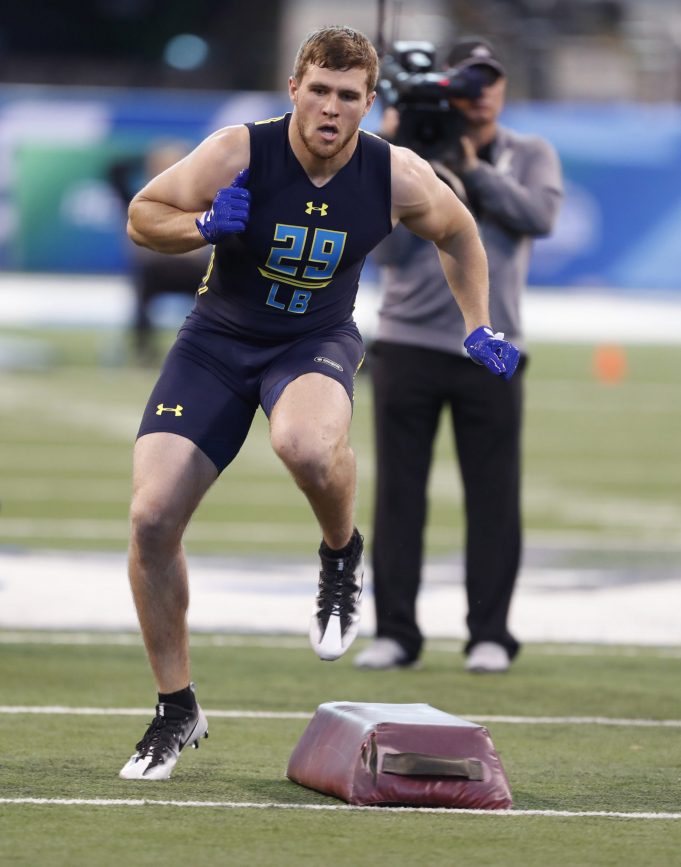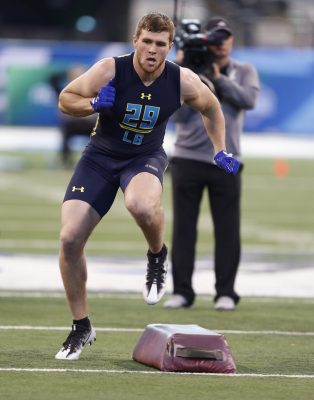 Should the Giants Draft TJ Watt?
In the second round, absolutely. He projects as a late first/early second rounder, and the Giants would be extremely fortunate if Watt fell to them in the second round. As an outside linebacker, he'll give 100% on every play. He'll be a productive run defender and a decent pass rusher.
However, Watt's low ceiling might suggest that a first round selection is not justified. The Giants might be better suited going for a pass rusher like Taco Charlton, or another position of need. Watt plays a position that isn't a top need, and he isn't talented enough by himself to be a good first round pick.
Verdict: Not in the 1st Round