Today's edition of New York Giants NFL Draft Diaries focuses on Temple University linebacker Haason Reddick. The Camden, New Jersey native is our first linebacker covered in this series.
F
or those of you who are new to NFL Draft Diaries, for the past week or so, we've released a scouting report on a new player that might be selected by the
New York Giants
in the first round of the NFL Draft. We've covered offensive lineman, running backs, tight ends, safeties, defensive ends and now set our sights at linebacker.
The Giants have an elite secondary. Despite losing Johnathan Hankins in free agency, the Giants have three players on the defensive line with NFL All-Pro potential. The linebacking corps., however, have been a bit neglected.
Jonathan Casillas was solid last season. Devon Kennard is serviceable if healthy. But when was the last time the Giants had an outstanding linebacker on their team? Antonio Pierce comes to mind, and he hasn't been on the Giants since the beginning of the decade.
Linebacker is a position that is constantly neglected by Jerry Reese and the Giants front office. Maybe it's because there simply hasn't been a good enough linebacker prospect when the Giants have been on the board. Maybe they don't value linebackers highly.
Regardless, Haason Reddick has terrific potential to be a Pro-Bowl linebacker, which would give the Giants a legitimate threat at all three levels of the defense.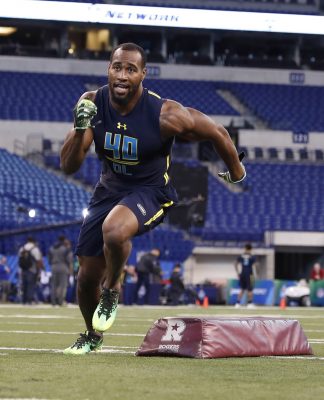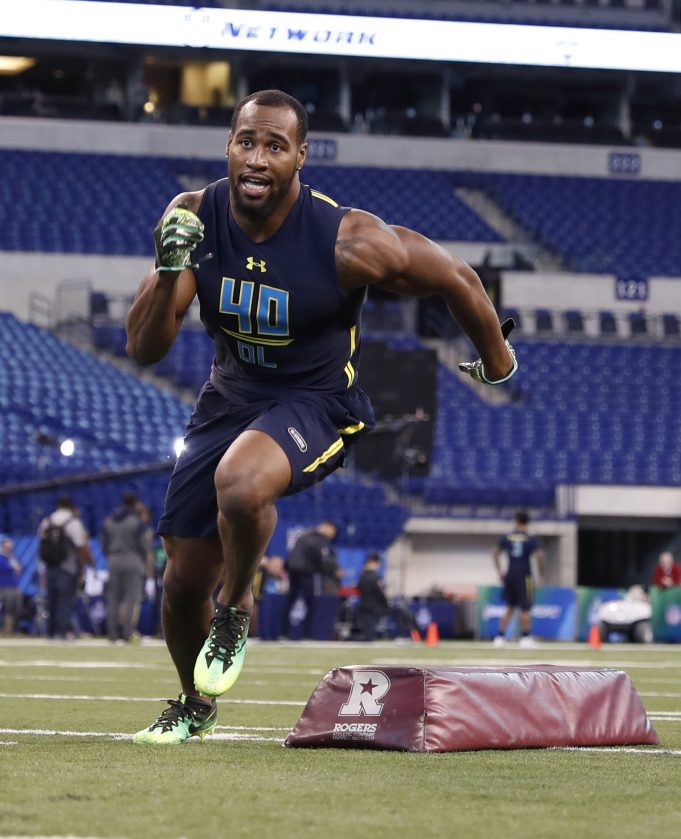 Strengths
The dude is explosive. Off the edge, through the middle, you name it. Reddick put up beastly numbers in his senior season, putting up 22.5 tackles for loss (third in the nation), and 10.5 sacks during his senior season at Temple.
He also is a very versatile player– he played as a safety and as a running back in high school, which is a testament to his cover ability (he can absolutely cover tight ends and safeties at the next level) and his explosiveness. He also is a strong pass rusher, showing he can play effectively at all levels of the defense.
Reddick also shined at the Senior Bowl and has received plaudits for his effort, athleticism, and explosiveness. He isn't as much of a Swiss Army knife as Jabrill Peppers, but he does have the ability to thrive at multiple positions on the defense, ideally as an inside backer in the 4-3 or an outside backer in the 3-4.
Weaknesses
His size and strength might prevent him from being an effective edge rusher on the next level. While he has a quick burst off the line, he might be handled by bigger, stronger offensive lineman that can swallow up him up easily. He needs more bulk and length, according to NFL.com. It's possible to bulk up; it's hard to get longer.
He also missed 16 tackles over his last two seasons at Temple, which isn't exactly encouraging for a potential linebacker.
Should the Giants Draft Reddick?
He fills a position of need. He's easily coachable. He's a leader of men. He has cover and pass rushing ability, and his tackling deficiencies are fixable. The important thing for Reddick is that he needs to be utilized correctly. As a linebacker who can fly from sideline to sideline, cover, and blitz occasionally, he should thrive. If he tries to set the edge and be a straight up pass rusher, he'll struggle.
I trust the Giants coaching staff to do the right thing with Reddick. Behind Ramczyk and Njoku, he's the No. 3 prospect on my Big Board for the Giants at 23.
Verdict: If Ramczyk and Njoku are off the board, Yes