Former New York Giants GM Ernie Accorsi always said that you can never have too any pass rushers. If that's the case, Michigan TE Taco Charlton would be an ideal pick for Big Blue.
The 2017 NFL Draft is only one week away, and Draft Diaries continues to roll on. In this series, we are covering potential first round draft picks for the New York Giants. We've covered several positions, including tight end, offensive line, safety, and running back.
Today, we're looking at at University of Michigan defensive end Taco Charlton, our second Michigan player in a row (behind Jabrill Peppers). 
Is defensive end a position of need? Yes and no. The Giants had two very productive defensive ends in 2016: Olivier Vernon, who lived up to his massive price tag, and Jason Pierre-Paul, who was recently resigned to a multi year extension. Additionally, young prospect Owa Odighizuwa has potential, despite struggling to stay on the field early on in his NFL career.
However, especially in todays pass-happy NFL, a team can never have enough pass rushers. The Giants won two Super Bowls off their strength of getting to the quarterback, and a new first round pick at defensive end could aid their already elite defensive unit.
Taco Charlton steadily improved throughout his collegiate career, culminating in a 9.5 sack, 13 tackle for loss season at Michigan in 2016, earning him First Team All-Big Ten honors.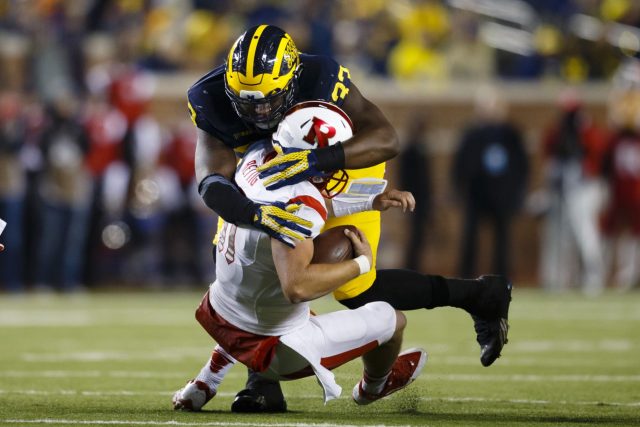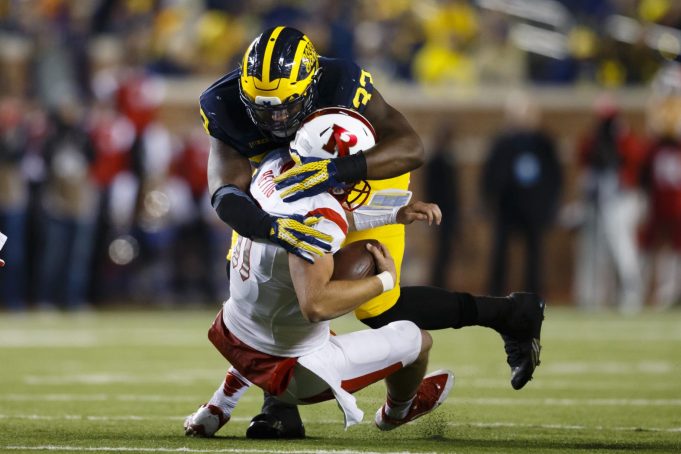 Strengths
An AFC Executive described Charlton as a "really, really talented player," according to NFL.com. "You won't always see it on every play so that is going to be a coach's job to get that out of him. Rushers with his size and athleticism are hard to find and they usually go very early in the draft."
Charlton has size, length, and athleticism going for him. He has immense pass rushing potential at the next level, and has all the physical tools a top prospect might need. Pierre-Paul is 28 years old, and might soon slip out of his prime years; Charlton has the potential to replace him as an edge rushing terror for the Giants.
He also played for an ex-NFL coach in Jim Harbaugh, on one of the biggest stages in the country– it's safe to say he's battle tested against the best players at the NCAA level. 
Weaknesses
Charlton has all the talent and physical gifts one may want, but his consistency and production has not been up to standard. He only earned a starting berth on Michigan's defensive line in his last season. While he has steadily improved since he joined Michigan, he only just took the leap to stardom, and was wildly inconsistent in college.
He also needs to work on a couple things technically: he needs to get stronger, and needs more work in the weight room; he struggles as a run defender at times, despite being a dynamic pass rusher; he doesn't show his nasty side enough, either.
Essentially, Charlton has to prove that he can play at an elite level for a sustained period of time. So far, he has not been able to do so.
Should the Giants Draft Charlton?
Charlton needs to do two things to really ascend as a player: he needs to hit the weight room, and he needs to absorb coaching advice in order to become a more consistent and refined professional. However, his weaknesses are fixable, and his physical gifts are unteachable. If presented with the opportunity to take Charlton, who could be a game changing defensive end, the Giants should absolutely take it. Charlton is one of the few players who is an acceptable choice over a left tackle.
Verdict: Yes