The New York Giants could use a home-run hitting RB in their offense and Florida State's Dalvin Cook may be the right fit for them at No. 23.
Over the next week or so, we'll be previewing potential first round draft picks for the New York Giants, who select 23rd overall in the first round of the 2017 NFL Draft.
So far, we've covered two offensive tackles (Ryan Ramcyzk and Cam Robinson), a tight end (David Njoku) and a running back (Christian McCaffrey). Today, we're looking at another running back: Florida State's Dalvin Cook. 
Cook had a very productive college career, surpassing the 1,000 yard plateau in each of his three seasons with the team. Over the last two seasons, Cook earned first team All-ACC, rushed for 19 touchdowns, and broke 1,600 yards in each.
A 2016 first-team All-American, Cook does come with a fair share of baggage. However, he does have unmissable talent. Let's take a look at his strengths and weaknesses.
Strengths
Every indication suggests that Cook could be a beast at the next level. Cook's got next level speed and shiftiness, with the ability to burst in and out of cuts with relative ease. He's a menace in the open field, able to hide behind lead blockers before exploding into the open field.
He can change direction at a minutes notice. He has terrific vision and has great control of his feet. As elusive as they come. Cook is as skilled a back as their is in this draft class in the open field.
One of the biggest strengths is his big game pedigree. He ran for 145 against Michigan in the Orange Bowl. He ran for 153 against Florida, 169 against Clemson, 225 against Syracuse, and 267 against South Florida. He also gassed Clemson's title winning defense for four touchdowns. That's a video game performance, especially against the team that went on to win the chip.
Weaknesses
First, the off the field stuff: Cook has had several run ins with the law, in 2009, 2010, and 2015. In each circumstance, either the charges were dropped or he was found not guilty, but it is still troubling nonetheless. He also has had issues with injuries, as he tore parts of his labrum in 2014 and 2016, as well as issues with his hamstring and his shoulders.
On the field, his biggest issues have come with fumbles– per CBS Sports, Cook has fumbled seven times over the past two seasons. Additionally, he has limited physicality. Cook struggles to make the tough, inside runs that define most downhill running backs, and he often times gets swallowed by hoards of bigger defenders. He might struggle to pick up first downs on 3rd and 1/2. Additionally, he might struggle to pass block on third downs.
The biggest drawback, in the end, is a quote provided by NFL.com. From an NFL executive:
"Fumbles and arrests are a bad combination. He's got a lot of ability but he's got on the field problems with ball security and multiple arrests off of it. You have to decide if he will be responsible with more money and more time on his hands. If you have any doubts, just wait around for another running back because there will be plenty this year."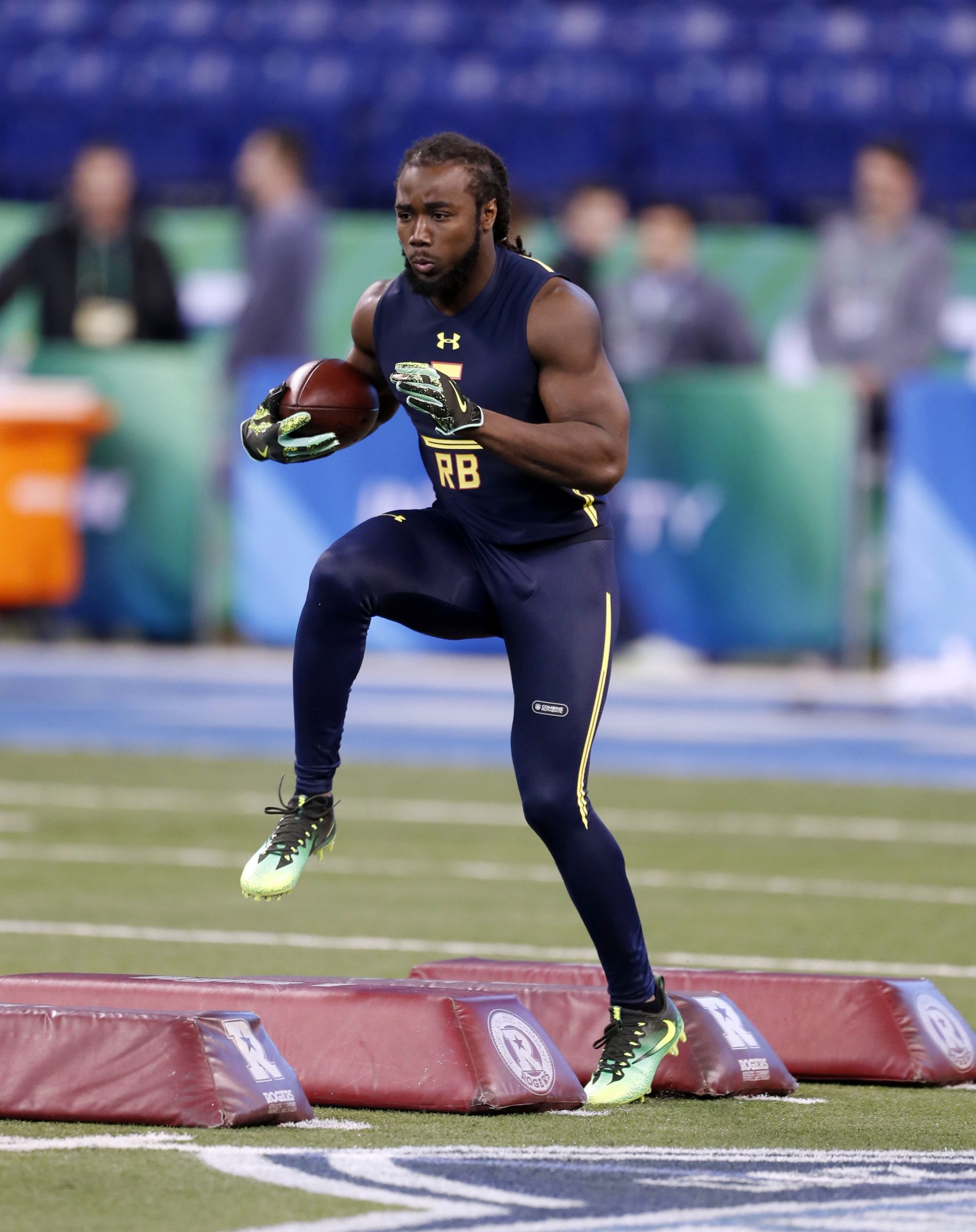 Should the Giants Draft Cook?
One can make the argument for Cook over McCaffrey and vice versa, but at least McCaffrey has the ingangibles and the better off the field track record. Cook obviously has upside, and could be a strong contender for best running back in the class, but it's hard to look past (A) his injuries, (B) his off the field issues, and (C) his fumbles.
Cook could be a terrific player, and would certainly be a flashy first rounder, but he has way to many detractors to be selected, especially considering running back is not a primary position of need.
Verdict: No, Risk Outweighs Reward