The New York Giants could use a dynamic player on offense and no player in this year's NFL Draft has more playmaking ability than Stanford's all-purpose RB Christian McCaffrey. 
O
n every day leading up to the 2017 NFL Draft, we'll be covering a different player that could be the New York Giants' first-round pick. So far, we've covered two left tackles,
Cam Robinson
and Ryan Ramzyck, and tight end
David Njoku
.
Today, we're covering one of the more decorated players in this year's draft class: Stanford running back Christian McCaffrey.
Consensus All-American. Heisman Trophy Finalist. Pac-12 Player of the Year. McCaffrey has racked up all those accolades and has broken a few records along the way, including a NCAA record 3,864 all-purpose yards, garnering him the Paul Hornung Award, awarded to the nation's most versatile player.
It's no secret that the Giants running game has slacked in recent memory. Ever since the "Earth, Wind, and Fire" days of Brandon Jacobs, Ahmad Bradshaw, and Derrick Ward, the Giants have lagged towards the bottom of the league rushing leaderboards.
While Paul Perkins showed flashes of being a competent RB1 last season, he does not have the college pedigree or the first round grade that McCaffrey possesses.
Is McCaffrey worth a first round selection if he's on the board at No. 23? Let's find out.
Strengths
He isn't your prototypical big, strong running back, but McCaffrey's collegiate production is undeniable. His vision, instincts and anticipation are terrific, which more than compensates for his minus size (5'1", 202 pounds). He's always moving as well, making him a nightmare to tackle. He is able to keep his balance well and doesn't try to be too fancy on short runs.
When McCaffrey does get separation, however, his ability to change direction and his lateral quickness make him a terror in the open field. He has terrific hands. He is quick off breaks. He has enough moves and jukes to make defenders miss all over the field, and he is able to switch gears and speeds on a dime.
To put it curtly, the dude is an intelligent, crafty player. He is able to play to his strengths and minimize his weaknesses. His versatility is also a huge plus: he is an effective runner, receiver, and kick/punt returner. Essentially, all you have to do is stick McCaffrey on the field and let him eat up chunks of yardage.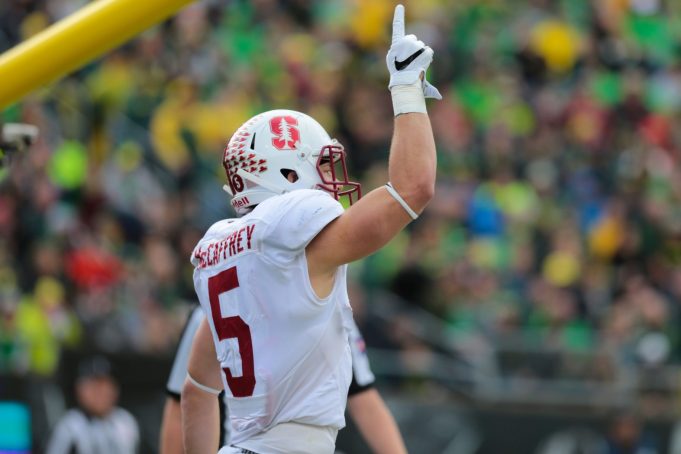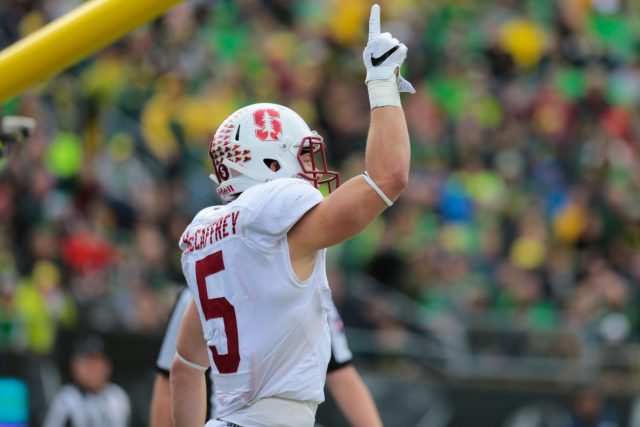 Weaknesses
The biggest knock on McCaffrey is his physical tools. He isn't big, he isn't particularly strong and he doesn't have devastating quickness.
At the next level, he won't be a three-down workhorse back. He'll struggle to break tackles. He might struggle with bursting into the secondary. He will likely struggle with blocking during pass protection.
Additionally, he is coming off two straight 300 plus touch seasons, per NFL.com. That's a lot of touches for a guy that doesn't have the most durable body. As a result, he may have already cut into his NFL lifespan a significant amount due to his heavy usage rate in college.
McCaffrey's a technically sound player with great intangibles and "it" factor, but you can't correct his physical weaknesses.
Should the Giants draft McCaffrey?
It wouldn't be the worst idea. The Giants could create a nice complementary platoon at running back with Paul Perkins and McCaffrey. He's a proven winner, an incredibly productive player, and his versatility is a huge upside. At the end of the day, running back probably isn't a top three need for this team, and therefore, drafting McCaffrey could wind up being a luxury pick.
If all the good left tackles, tight ends, and linebackers are off the board, why not go for the best player available? Mock drafts have McCaffrey ranging from a top ten pick to a fringe first rounder. Regardless of where he lands, he should be, at the worst, a productive punt returner who can be a situational pass-catching back.
At the best, he can be a game-changing offensive weapon that defenses will have many problems dealing with.
In a "Best Player Available" Scenario, Yes