Despite a fantastic turn-around from January through April, Andrew Ladd had a disappointing year. But, there's cause for optimism.
Age: 31
Height/Weight: 6′ 3″, 200 lbs
Scouting Report: Large-framed veteran winger who compliments skilled forwards.
Stats: 78 GP, 23 G, 8 A, 31 PTS, -14 +/-, 45 PIM
It was a rough first-year for the veteran forward Andrew Ladd.
Fresh off a $38.5 million contract, Andrew Ladd had been coming to the Islanders after posting a (then) career low of 45 points in a season. Unfortunately for the Islanders, he set new career-lows with 31 points this past year. Disappointing, to say the least.
Ladd's inconsistencies bore a heavy burden on the Islanders offense as he was brought in to replace 64 of the Islanders' missing 135 points from last season (Kyle Okposo's totals of the Okposo – Frans Nielsen departures). He was only one of several under-performing forwards, but being the big-name Free Agency acquisition his struggles were far heavier on the team overall.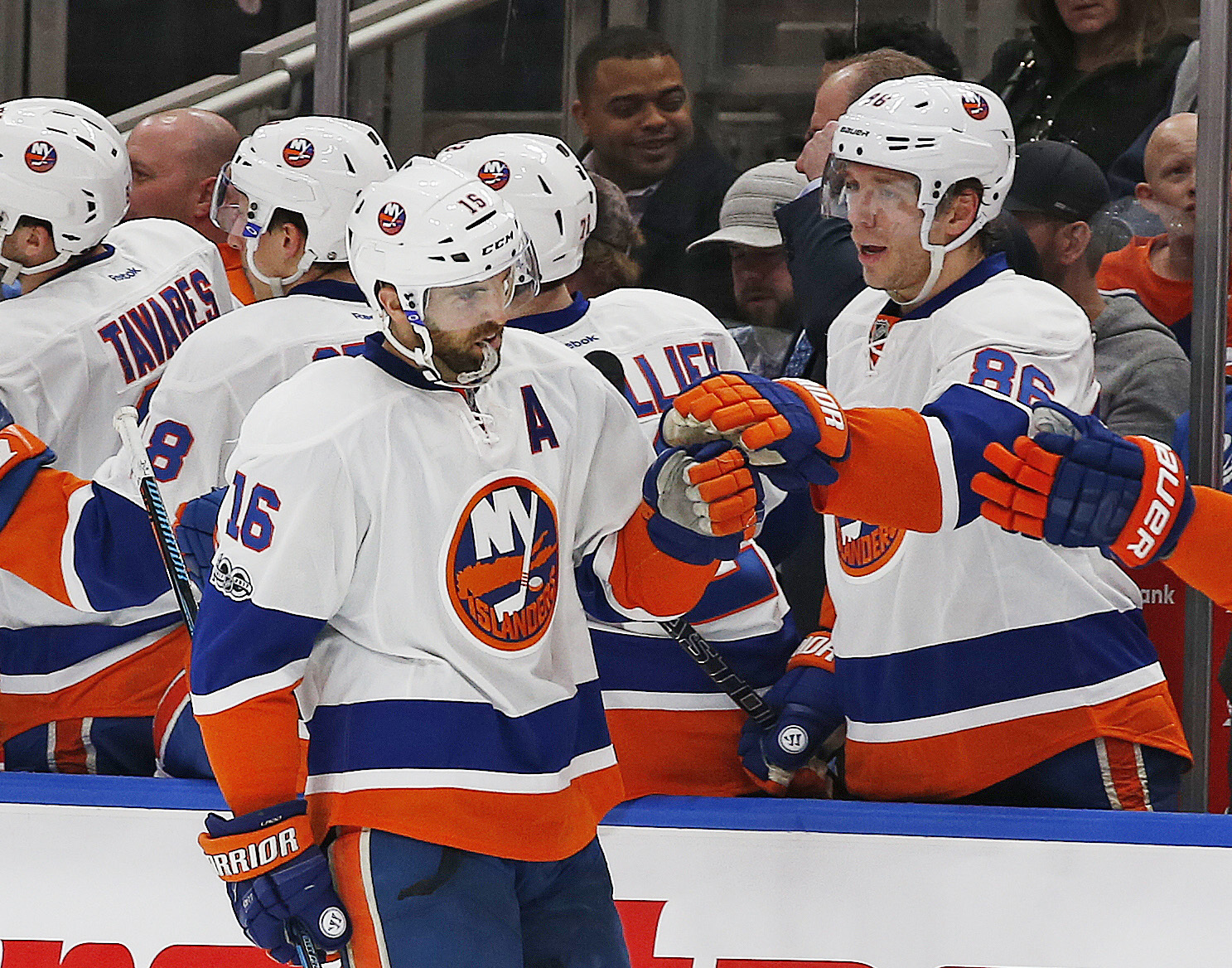 However, the reason for optimism with Ladd is that he admitted during locker-clean-out day at the Barclays Center that he was playing through a nagging injury during the first few months of the season. Plus, from January onward it seemed Ladd was a different player entirely. After only scoring one goal in the first 13 games of the season, Ladd finished the year a 20-goal scorer (23 tallies).
This was a feat many thought unlikely given how poor of a start the grizzled leader had.
The Unexpected
Ladd also fell under criticism from some fans due to being named Alternate captain right from the beginning of the season. With his low production in the first-half of the year, that was understandable. But one aspect of the signing that the Islanders have not yet seen was his post-season leadership that will surely come in handy once the Islanders re-tool and gun for a playoff seed next year.
One major disappointing factor (at least initially) was the lack of chemistry with superstar forward John Tavares.
Fortunately for Ladd, the re-emergence of Anders Lee, coupled with the career-season had by Josh Bailey softened this blow. Just before the first game of the season the Islanders first line was projected to be Ladd – Tavares – P.A. Parenteau, and by January the combination turned out to be Lee – Tavares – Bailey.
Ladd's emergence helped add much-needed depth scoring down the stretch, and he complemented centers like Alan Quine, Anthony Beauvillier and Brock Nelson.
Islanders fans should hold full judgement on the veteran forward until halfway through next season. If Ladd is able to start the year healthy, there is no reason why he cannot produce at a 50-point level once more.