New York Jets Gang Green Daily dives into the passing of a legend. Plus, we explain what a true tight end is.

We learned of the passing of Dan Rooney this week and while it isn't shocking when considering his age, it's still sent shockwaves throughout the NFL landscape. Current New York Jets Owner Woody Johnson issued a statement on the passing of Rooney via ESPN.com:
"On behalf of the New York Jets, I'd like to extend my condolences on the passing of Dan Rooney. Dan is one of the game's pioneers and a torchbearer for all of the best qualities that our sport has to offer. Even with his tremendous influence, he always conducted himself with a humility, honesty, and selflessness that is rare. Dan will always be one of professional football's great treasures."
The name Rooney and football are synonymous. The title is also synonymous with championships and a winning culture. The Pittsburgh Steelers have had three head coaches since 1969, while the New York Jets have had three different head coaches this decade.
Yikes.
He will be sorely missed and one of the most stable franchises in the league will have to try and perform without him.
In other news, we've been doing a lot of speculating in terms of where the New York Jets could go with their sixth overall draft choice. Rich Cimini has said perhaps the Jets could go for a tight end. Before we evaluate his analysis, I have one question …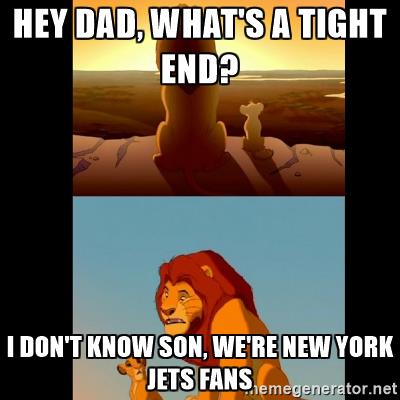 I mean seriously, do we even know what one is?
Over the last two years, I could've sworn the Jets have been playing with 10 guys on offense or less. Perhaps the 2017 NFL Draft can fix that?
While many have claimed O.J. Howard's a can't miss prospect, there are a few concerns. He's compiled modest numbers in his career. In four seasons, Howard compiled 114 receptions, 1,726 yards and seven touchdowns, per ESPN.
Those hardly warrant being drafted at all, but it's more than just the numbers. According to Pro Football Focus, throughout his career, he was one of, if not the best blocking tight end in college football.
So, in theory, you're getting a complete player, something the Jets are sorely lacking. Did Alabama under-utilize him or did the Crimson Tide know something we don't?
I think the sixth overall pick would be a little rich for a tight end, regardless of talent level. I'd opt to trade down, accumulate some additional picks, and still get O.J. if he's indeed your guy. Although I understand that's a dangerous game to play, you want to maximize value, but still get your guy.
The NFL Draft is a fickle thing.
Other News and Notes:
Outside Jets Links:
Brian Costello of the New York Post points out that the Jets now have three current players suspended.
Costello also explains how trading Sheldon Richardson will be quite difficult.