Despite their victory, New York City FC's inability to create goal scoring chances expressed itself once again and is now becoming a concern.
N
ew York City FC claimed their second win of the season with a win over the San Jose Earthquakes. The boys in blue fell behind early on, but were quickly leveled after Jack Harrison's goal and eventually took the lead through Tommy Macnamara after a lovely set of passes in the second half.
You gotta be kidding, @Guaje7Villa. #NYCFC #NYCvSJ pic.twitter.com/OsKpnhTwZ2

— Major League Soccer (@MLS) April 1, 2017
Another Look: @Harrison_Jack11 levels the score at Yankee Stadium pic.twitter.com/fezXsE5xS0

— New York City FC (@NYCFC) April 1, 2017
Despite their lack of dominance, the victory was still comfortable. They presented the Quakes few chances after the opening goal and limited their opponent's use of the ball once Macnamara put them ahead. They allowed San Jose virtually no chances to equalize.
New York have actually been quite strong defensively. Their defensive organization has made it difficult for their opponents to break them down, and besides when they have conceded, have rarely looked in danger of doing so. They have yet to concede more than one goal a game, which for now is not so bad a start to the season.
Even still, stronger performances at the back are essential to NYC's run at the MLS Cup.
They endured a humiliating defeat when Toronto won 5-0 at Yankee Stadium and sealed a 7-0 aggregate playoff win. Dreadful defending had resulted in 7-0 and 4-1 losses in two local rivals New York Red Bulls earlier that season. The improvement in the Yankee Stadium-based club is, therefore, a positive sign that they mount a serious challenge for silverware this season.
The issue lies at the other end. NYCFC have enjoyed a significant degree of control during their matches this season, but have lacked productivity in the final third on multiple occasions this season. Though much of the season remains, their inability to convert possession into goal scoring chances has already cost Patrick Viera's men points this season.
Their lack of productivity interfered in the opening day defeat to Orlando. NYC had 68 percent of possession, but created few chances as they fell 1-0. Other than one great save to deny Jack Harrison the equalizer, Orlando's keeper had little to do.
Their difficulty in the attacking third seemed to be of little concern after New York swept aside D.C. United the next weekend, but was once again appeared in the fixture with Montreal. They missed multiple chances in the first half and, though they did take the lead before half time, dropped two points after Montreal scored in the second half. Had NYC taken their chances, they would have likely earned a second straight victory.
Fortunately, their struggles in the attacking third did not prevent a victory on Saturday, but the consistency of this struggle is a concern. Other than their two goals, the boys in blue were unable to overcome San Jose's defense. Their instant response to the Earthquakes' goal was impressive, however.
An ugly win is not always something to look down upon. The fact that New York earned a victory despite an unconvincing performance is impressive and is generally an important component to a successful season. Teams will not always play well, but to win regardless is vital in these instances, and can especially come in handy once the playoffs arrive, should New York earn a place.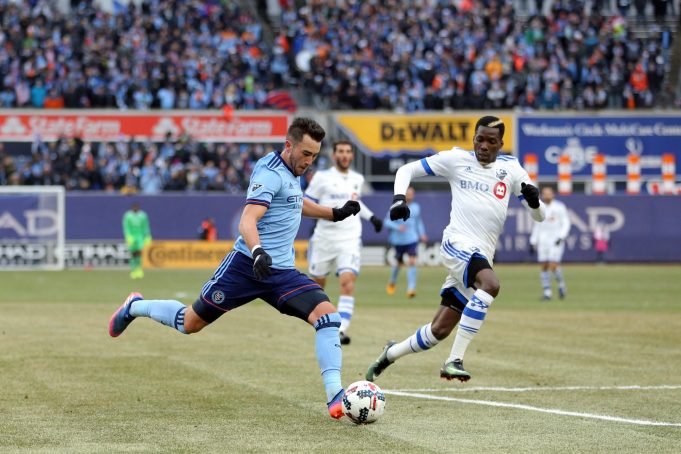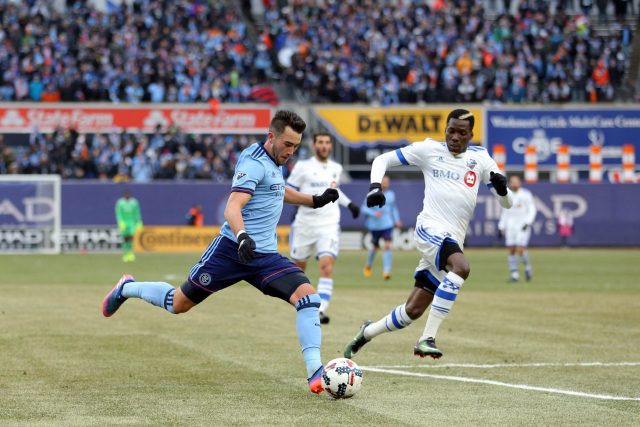 Nonetheless, their failure to find a way past their opponent's defense must not continue if NYC are to enjoy success this season. Once again, they held over 60 percent possession, but besides only two clear chances, both of which ended up as goals, they had little to show for it.
Patrick Viera should target either additional creative players or a strong holding midfielder. Creative players would be a great measure to combat NYC's poor attacking displays, while a defensive midfielder would allow Andrea Pirlo to venture further forward.
For the moment, New York's defense is enough to undo their struggles going forward. A defensive-minded approach can certainly contribute to a successful season, and as long as their back four can handle pressure and attacks, NYCFC might not require excellent performances in the attack.
However, the ability to create and convert chances is a significant component to a strong campaign. NYC have had little problem holding onto the ball and getting it forward, and could go quite far this season should they manage to add an end product to their dominance.