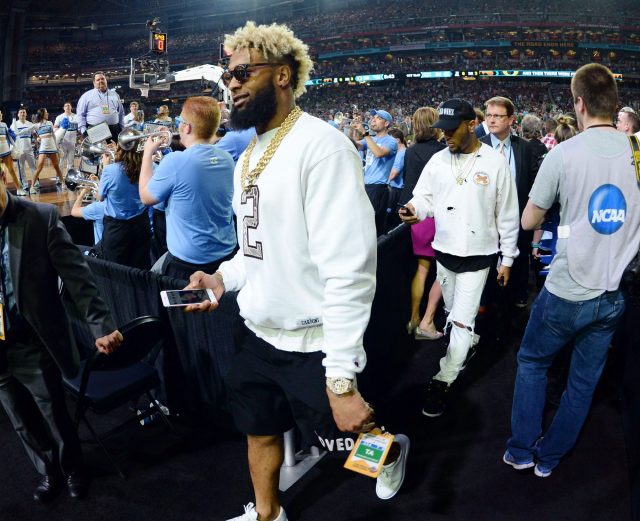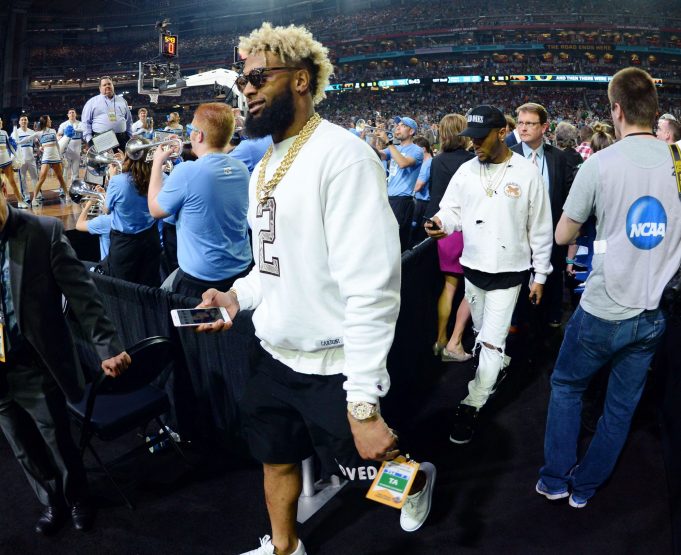 If you are at the NCAA basketball championship game or watching on TV, then there's a good chance you'll see New York Giants receiver Odell Beckham Jr.
For the second year in a row, the North Carolina Tar Heels have made it to the championship game and New York Giants wide receiver Odell Beckham Jr. will be rooting them on from the game.
Beckham was at the Tar Heels game against Oregon on Saturday. Before the game, he hung out in the tunnel where he showed off some dance moves and even shook hands with Tar Heels coach Roy Williams, according to Jordan Raanan of ESPN .
Odell Beckham Jr. cheering on North Carolina players before the #FinalFour game pic.twitter.com/5wFJlAouuN

— Alysha Tsuji (@AlyshaTsuji) April 2, 2017
The Giants receiver grew up in Baton Rouge, Louisiana and played football at LSU. So why is he a Tar Heels fan?
"I always said if I ever was to play basketball or pursue basketball, the only way is if I had an offer from UNC to play basketball,"  he told Andrew Joseph of USA Today's For The Win. I went to Roy Williams' camp when I was younger. I still remember walking in there and everything like that. I've just always been a UNC fan."
He went on to say, "The past five, six years we haven't been as good, but last year we made it all the way and lost. I was at the house watching it with my little bro, Ben, and he was a Villanova fan. It was upsetting. I'm real happy to be here and see them."
In the past, the receiver has shown that he has talent when it comes to playing basketball. He may not be that great at basketball, but at least he's good at dunking the ball.
Beckham's favorite North Carolina players after Michael Jordan are current Tar Heels Joel Berry and Kennedy Meeks. Last year North Carolina lost the championship game to Villanova, but maybe they will win tonight with Beckham in the house.