From the Brink to Brooklyn, the New York Cosmos are gearing up for Saturday night's home opener against Miami at Coney Island's MCU Park.
F
ollowing the 2016 season and the eighth Soccer Bowl title, it appeared as if the
New York Cosmos
were on the verge of ceasing operations for the second time in franchise history and that the future of the modern day North American Soccer League was in serious peril as well. That's when a savior emerged in the form of Mediacom Communications Corporation Founder, Chairman, and CEO Rocco B. Commisso who entered into negotiations to save the storied club.
On Jan. 10, Commisso, who was a star soccer player at Columbia and who the university's soccer stadium is named after, purchased a majority stake in the Cosmos but there was tons of work to do. Most of the players and staff had been let go by the prior ownership group so the team was facing an expedited offseason to put the organization back together again.
The Cosmos also needed a new home because returning to Hofstra University on Long Island was not an option.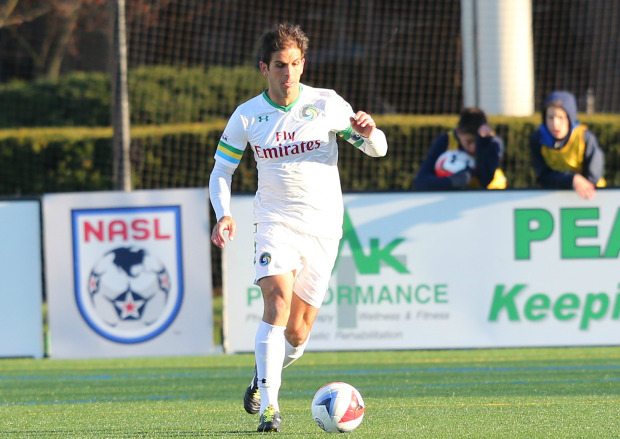 Commisso's wish was to return the team to New York City and that's exactly what he did when the team announced it was moving to MCU Park in Brooklyn. This Saturday at 7 p.m. ET, the two-time defending NASL champions will face Miami FC at the new home office for Cosmos Country.
"We're looking forward to it," Captain and defender Carlos Mendes told Elite Sports NY during a phone conversation on Thursday night. "It was obviously a pre-season of a lot of changes and everybody working towards the season and we're just excited to get it underway. We're playing in a new home and it should be a great atmosphere."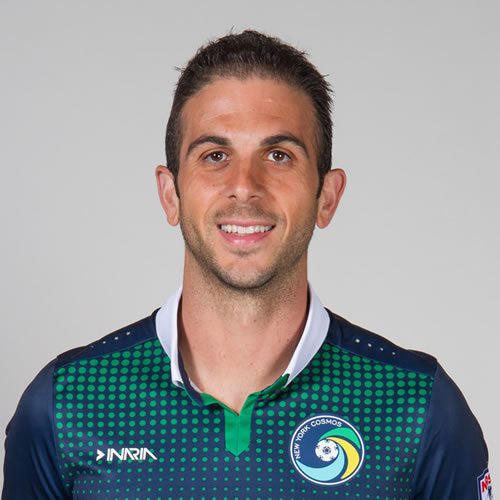 Mendes was one of a number of players that Sporting Director and Head Coach Giovanni Savarese was able to bring back from last year's team along with goalkeeper Jimmy Maurer, midfielder Danny Szetela, and defenders Ayoze and Ryan Richter who scored the game-winning goal in the penalty kick shootout back in the NASL Championship Final back in November.
Sprinkle in some new faces like Amauri, Eugene Sarikov, Kalif Alhassan and Javi Marquez along with young players like David Ochieng and Eric Calvillo and the Cosmos have come up with a solid mix of talent and they look for the three-peat.
"It's a credit to our new ownership and to coach Gio and everyone who did an excellent job bringing in a core of the group and that's so important," said Mendes. "It's a team that definitely has the talent to be successful and now hopefully it's just putting everything together and continuing to work towards the goal."
The Cosmos have always been synonymous with winning and they are the most recognizable brand in American soccer all over the world. They won their first NASL title in 1972 and then they sent Pele out in style with a Soccer Bowl title in 1977. With world-renowned players like Giorgio Chinaglia, Franz Beckenbauer, and Carlos Alberto, more championships followed in 1978, 1980 and 1982.
After a 29-year hiatus, the Cosmos returned to the pitch in 2013 and promptly won championship number six followed by two more in 2015 and 2016. After surviving this past offseasons financial woes, the Cosmos went from champions to almost folding to putting the band back together again.
"It was a roller coaster," said Mendes who may or may not have intentionally delivered a pun regarding the Cyclone which is visible from the Cosmos new home. Things weren't looking good for a while so to be back with the club and to have a new home, we're all excited about the opportunity."
The Cosmos, who played Puerto Rico FC to a 0-0 draw in the season opener this past Saturday, are planning a special evening for their home opener. International recording star Farruko will perform before the game and during halftime, NYPD officer Daniel Rodriguez will sing the national anthem, and the team is hoping for a raucous crowd to fill MCU Park's 7,000 seats.
It should be quite an atmosphere.
"A great one," said Mendes. "We're looking forward to playing in front of a full stadium. I think there's been a lot of buzz. I think people really seem excited and I think the team will feed off of that."
While MCU Park is the Cosmos new home, the champs are no stranger to playing there. In 2015, the Cosmos played two games at the home of the Brooklyn Cyclones, a 1-0 regular season win over Ottawa as well as a 2-1 victory over Ft. Lauderdale in the NASL Championship semifinal. For those two games, the soccer lines were added to the baseball field and there were some problems.
Complaints were made about the different colors on the turf with the infield and outfield as well as the Brooklyn Cyclones turf. But the Cosmos purchased the temporary field that Rayo OKC used last year at their home stadium so the optics and the conditions should be ideal this season.
"I definitely think it's going to look good," said Mendes. "It will look more like a soccer pitch. I think it will be even a little bit bigger so we can use that to our advantage. I think that this surface, compared to the turf at Hofstra, will be a little bit better for our game."
Speaking of Hofstra, the Cosmos were practically unbeatable at their former home.
Over four seasons, they notched 35 wins, just four losses and 12 draws in 51 regular season matches at Shuart Stadium. The Cosmos also won both playoff matches at Hofstra including the 2015 NASL Championship Final. There were also U.S. Open Cup wins over the New York Red Bulls and NYCFC so MCU Park has some pretty big shoes to fill.
"We need to be prepared and make MCU Park a very difficult place to play and use it to our advantage," said Mendes. "In this league, that's key. You have to be good at home. Hofstra was good to us. We were good there and we'll have to continue that if we want to be successful."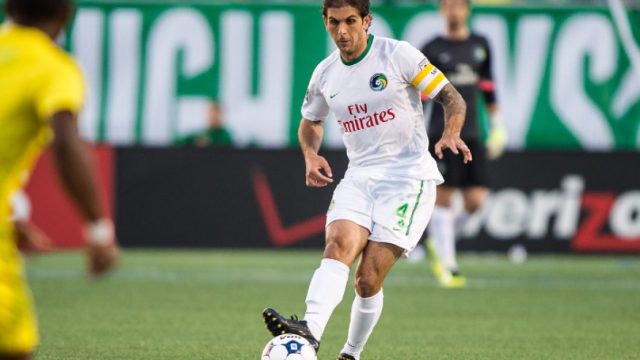 In a short amount of time, the Cosmos were able to compile a talented roster of players, hire people to work in the front office, find a new home, and reach local television deals with MSG as well as with WPIX Channel 11 which will carry Saturday's home opener. They've already sold more season tickets than they did last year at Hofstra and there is a buzz about this team that hasn't been felt since their reboot in 2013.
All of this would not be possible without Commisso playing the role of savior.
"It's great because he's just so passionate and he loves the game," said Mendes. "We're very lucky to have a new owner who is familiar with the game and has a passion for the game and wants to help the sport succeed in this country. I'm grateful and happy to have the opportunity to play for him and I think he's going to move the club in the right direction."
It should be an electric atmosphere for Saturday night's home opener in Brooklyn because of everything that has happened since last season.
From the depths of despair that the team and its fans felt in December to actually seeing the Cosmos take the field in 2017 is something straight out of Hollywood. The 2006 documentary "Once in a Lifetime" told the story of the original Cosmos and many referred to their 2013 return as "Twice in a Lifetime."
And now, you have "Thrice in a Lifetime".