John Santamaria of Elite Sports NY sits down with the voice of the New York Islanders, MSG Network's Brendan Burke.
T
he 2016-17
New York Islanders
season featured a major change for the television broadcast on MSG+. For the past 21 years, Howie Rose has held the play-by-play role on television, but decided to step down from that role at the end of last season. This past August, MSG Networks hired Brendan Burke to replace Rose alongside analyst
Butch Goring
and reporter Shannon Hogan on the Islanders broadcast team.
With the Isles battling down the stretch, Brendan Burke participated in a Q&A with Elite Sports NY to discuss his first season covering the Islanders and coming home to the metropolitan area.
John Santamaria: What did it mean to you to follow in a position formerly held by two icons in New York broadcasting, Howie Rose and prior to him, Jiggs McDonald?
Brendan Burke: First off, this is a lifelong dream to become an NHL broadcaster, especially for the Islanders. It is hard to describe following in the footsteps of both Howie and Jiggs, as they are both icons in their craft for broadcasting in the NHL and in New York. They are both great lifelines for support and two incredible influences on me in my current role.
JS: Compared to your last hockey position in the AHL for the Utica Comets, what was the most challenging adjustment coming into this season with the Islanders and MSG Plus?
BB: The biggest was going from doing full-time radio to full-time television. Prior to this season, I have mostly done the radio side for broadcasting hockey. I have done football on television for FOX's coverage of college football but other than that, mostly radio.
I have also been the solo broadcaster in the past doing everything required from play-by-play, color, reporting and hosting the pregame and postgame shows. When I arrived at MSG, I joined a team with talented staff and was able to focus on my craft at getting better as a play-by-play voice.
JS: What was opening night at Madison Square Garden like for you?
BB: One of the first things I did when I got the job … I looked at the schedule and saw that opening night was against the Rangers. I took the subway to the game from my apartment in Brooklyn and took it all in that night looking at Rangers voice Sam Rosen, who I grew up watching. The rivalry of Rangers-Islanders, and being in Madison Square Garden … it made the whole night go by in a blur. It was amazing.
JS: How special was it for you to land an NHL play-by-play position in your home region?
BB: I never considered it because of the New York market and to jump into it right away and I was fortunate this happened. I never considered it and it's incredible to be home. My dad works in New York City. I have family and friends in New Jersey. I feel at home now having lived away from family and friends for so long but had my dream job for so many years and it just makes it so much better to do it at home.
JS: What has your dad (Don Burke, New York Post writer) meant to you in your career?
BB: Everything! I was exposed young and fell in love with sports, which my dad encouraged from a young age. There are many ways to be a broadcaster. I was fortunate enough to have met people thanks to him and he sent clips of me to people and was always very personal, professional, emotional from day one of wanting to be in this business.
JS: Your favorite moment in the booth this season?
BB: This is a tough one because despite the play of the team I have enjoyed everything good and bad that has happened this season.
If one thing stands out it is the first game our crew did in the preseason at Barclays Center. It was my first ever trip to the arena and the way the team welcomed me is what I will remember the most. Cal Clutterbuck was the number one star of the game and he welcomed me in his postgame interview with our reporter Shannon Hogan, which was a cool moment being welcomed by the team.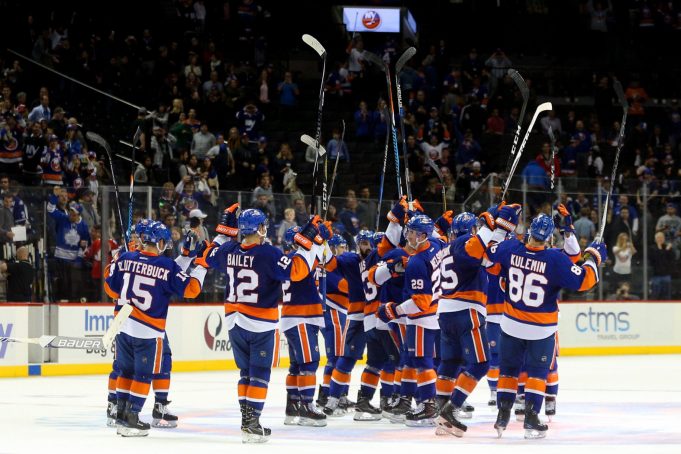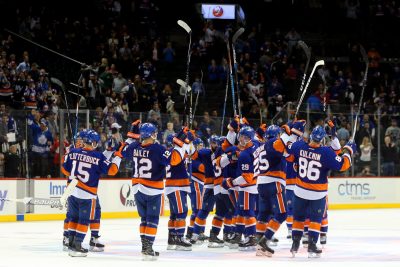 JS: The nine-game road trip was a major challenge for the team, but with the birth of your son prior to the trip, how hard was that for you being away for that long of a period?
BB: This was emotionally hard. On Feb. 20, we were home at 4 p.m. ET and then I was on my way to Detroit for the game against the Red Wings. This job has very few issues and while this was tough being away from home it is one I will accept. My wife handled it like a pro and being back around more now gives it more of a normal feel around the house for him, his wife, daughter and the baby to settle down normally.
JS: Tell us about what it has been like to work with analyst Butch Goring and reporter Shannon Hogan.
BB: Shannon Hogan is what you see all the time on camera with her calming influence and friendliness. She was great at showing me the ropes with the team from day one and was one of the first people who called me when I got the job. Shannon was very helpful in helping find me and apartment and adjusting to Brooklyn it has been great to have her with us.
Butch Goring is very easy to work with. His experience as a player, coach, general manager and analyst makes him so knowledgeable about the league and the Islanders. His great information and experience make it easy for me to play off Butch during a game. Someone like him, who experienced and played for the cup winning teams in the 1980s, is a great asset to have because I was not alive for those cups and can't share the insight he has.
JS: Which venue and city has provided the best experience for you to visit on the road?
BB: From a broadcast perspective, the Bell Centre in Montreal and Rogers Place in Vancouver have been great views to work a game. The Xcel Energy Center in Minnesota is a great building for that city and its fans.
Our home broadcast setup at Barclays Center has a view that cannot be matched and it is one of the best views to get a clear look at both teams jerseys and numbers which you cannot say all the time.
JS: During a game earlier this year, you mentioned how you use to visit with Rangers voice Sam Rosen when they made road trips to your former home. How did his presence and the time spent with him help prepare you for your current job with the Islanders?
BB: I first met Sam through Kenny Albert when we were all in California for Fox at the annual college football meetings prior to the new season. He told me … feel free to visit me with the Rangers anytime.
When the Rangers were in Buffalo, I made the three-hour drive from Utica to the arena and I got to shadow him in the booth and he talked about his work. Having watched Sam work, he is so good and he doesn't do much different but he has more experience. I didn't even look at the ice during this game as I just focused on Sam and what he was doing. The cool moment was it was six months later I got to do my first game in Buffalo with the Islanders and recalled that experience from six months prior.
JS: What are you looking forward to the most going forward with this role?
BB: It has been an incredible time for me this season. One thing Howie Rose told me was that he regrets not being able to work with the current ownership group of Scott Malkin and Jon Ledecky. He feels this team is in good hands and I can't wait to see what transpires and hope to see it all through, add to the young talent along with what is already here and to be part of great success.
We thank Brendan and MSG Networks for taking the time to participate in the Q&A with us. Be sure to listen to him along with Butch Goring and Shannon Hogan for every New York Islanders game on MSG+.