The New York Rangers defenseman are finally healthy just in time to make their cases of why they should play in the Stanley Cup Playoffs.
T
he
New York Rangers
, like most other NHL teams, have been battling injuries the entire season. This past weekend, the Rangers cleared both
Kevin Klein
and
Dan Girardi
to play in games, making the roster number of nine defensemen who have proven they can compete at the NHL level.
Having a healthy defensive corps has a two-fold benefit. Firstly, an abundance of reliable D-men adds competition and will likely bring the best out of every player. Secondly, during the long Stanley Cup playoffs, players are abused both mentally and physically leading to increased risk of injury. Having a seventh and even eighth defenseman that can replace an injured journeyman is a necessity.
Let's break down the New York Rangers Defenseman by locks, turnstiles, and spectators:
The Locks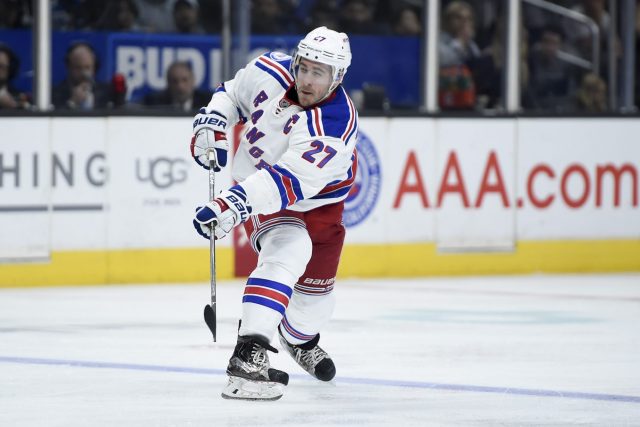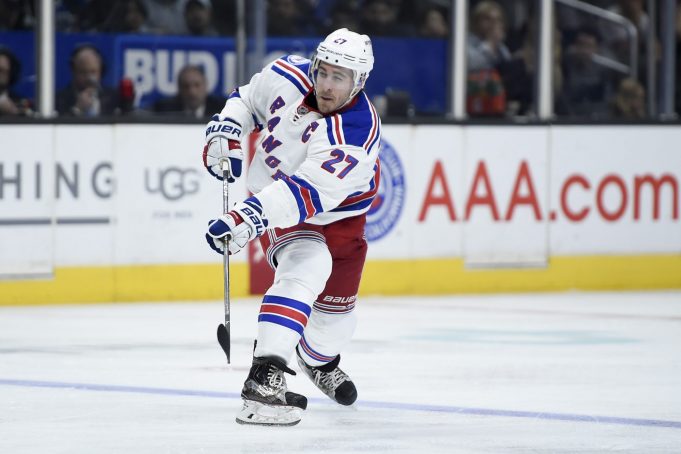 The Captain is the epitome of a shutdown defenseman. As the number one guy on the top pairing Mac faces the opposing team's top players every shift. If you see a superstar on the ice for an opposing team bet your ass that McDonagh will be staring him down from the blueline. The importance of his play shows through his average time on ice per game at just over 24 minutes. His defensive dominance against the league's top players through in his +20 rating this season. Don't be fooled by his impressive defensive numbers. Mac can also bring it on offense compiling six goals and 34 assists in 74 games. If there was only one thing AV makes certain come the playoffs, it's that Mac will be heading the defense.
Let's be honest. When Nick Holden was acquired from the Colorado Avalanche last offseason for a 2017 fourth round pick, nobody was expecting much. Jeff Gorton fooled us all.
Holden, aside from McDonagh, has been the Rangers most consistent defenseman. He rarely makes mistakes and typically finds himself with good defensive positioning in front of the netminder. Regardless of his defensive pair, Holden has been able to eat up valuable minutes averaging just over 20 minutes per game. With a +14 rating, Holden has also been able to keep the opposing team off the scoresheet. Holden has also excelled offensively matching his career high in goals at ten while surpassing his career high in both assists at 22 and points at 32. Look for Holden to be an essential piece to the Rangers making a run this postseason.
Brady Skjei's rookie campaign has been nothing short of amazing. The Rangers organization has found their next number one defenseman after Mac is out of the picture. The impact Skjei could have on the team was felt the moment he stepped onto the ice during last year's embarrassing five-game playoff loss to the Pittsburgh Penguins. His high hockey IQ and ability to move the puck quickly have allowed him to excel in an Alain Vigneault high octane offense. Skjei is second among all rookie defenseman in assist with 30 and fourth among all NHL defenseman in even strength assists with 25. Oh, and by the way, the three defensemen above him in even strength assists are Erik Karlsson, Brett Burns, and Duncan Keith. Not bad company, eh? Brady Skjei is a staple on the Rangers blueline and will be for many years to come.
This year's trade deadline was centered around Kevin Shattenkirk. The Rangers were unwilling to give up a top talent to acquire the highly coveted rental, yielding to the Washington Capital who won the prize. The next best rental was Detroit Red Wings defenseman, Brendan Smith. His size and physicality made him a natural fit with the Charmin soft New York Rangers. Smith isn't known for his offense but instead, adds an element that the Blueshirts have been missing for years. The crease clearing defenseman who isn't afraid to throw the body and play the man. Smith has been a great addition and has fit seamlessly into the defensive core. Even more importantly, he will likely be extended this coming summer at a good value.
The Turnstiles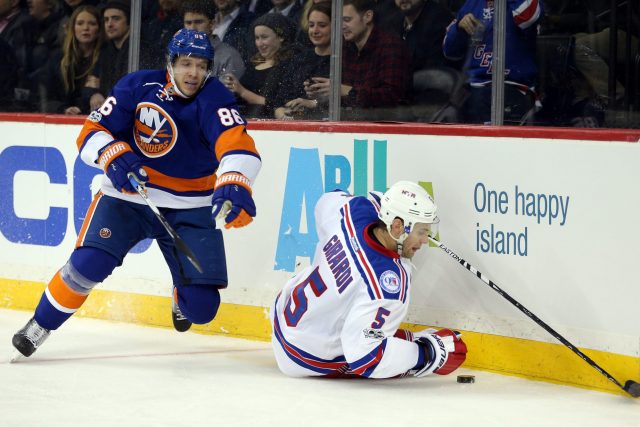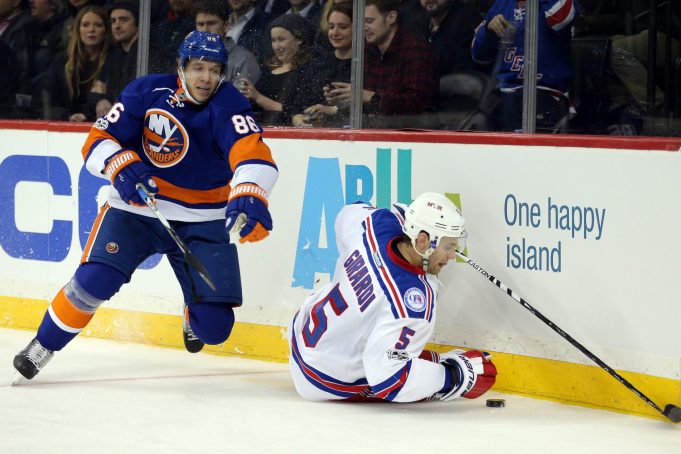 Marc Staal has been the source of Rangers-fan ridicule for several seasons. His performance has diminished in the recent years and injuries have plagued him. Staal, at the age of 30, has lost the jump in his step and is often a few clicks behind the opposition. His defensive positioning is often poor and his offense is nothing to write home about. The origin of the Staal hatred likely stems from his obnoxious contract. His six-year, $32.4 million deal still has 4 years remaining after this season. That term and cap hit will continue to deplete the Rangers both at the bank and on the ice.
Dan Girardi is in a very similar situation as Marc Staal. Rangers fans despise his play on the ice and the money he steals from the organization on a yearly basis. Girardi has three years remaining on his 6-year, $5.5 million a year deal. At the brittle age of 32, Girardi has been a workhorse for the New York Rangers. Blocking shots, throwing the body, and defending the crease has been his bread and butter for the last several years. The problem is the undrafted Rangers defenseman is no longer able to throw the body and defend the man against a youthful, speedy, and talented NHL forward. Girardi proved as he returned from an injury Saturday, that with rest he can still contribute to the defense. With Rest! According to the infamous Larry Brooks of the New York Post, Girardi will be the "odd man out"
Oh, how the mighty have fallen. Kevin Klein, who's coming off a fantastic campaign in 2015-2016 has been a major disappointment this season. His offensive numbers have dropped and his defensive prowess has dwindled. Klein had been noticeable all last season with his large hits and ability to score important, timely goals. This season he has been a non-factor who has made more mistakes than quality plays. Klein has played in 54 games with three goals and 11 assists. He returned to the lineup from injury Sunday against Anaheim and was effective on the blueline not making any major mistakes. Could it be the sign of good things to come for Kleiner?
The Spectators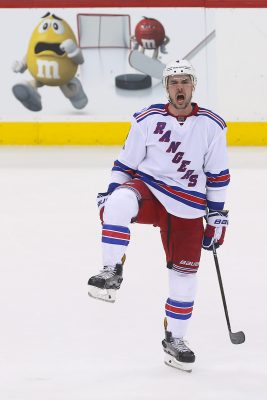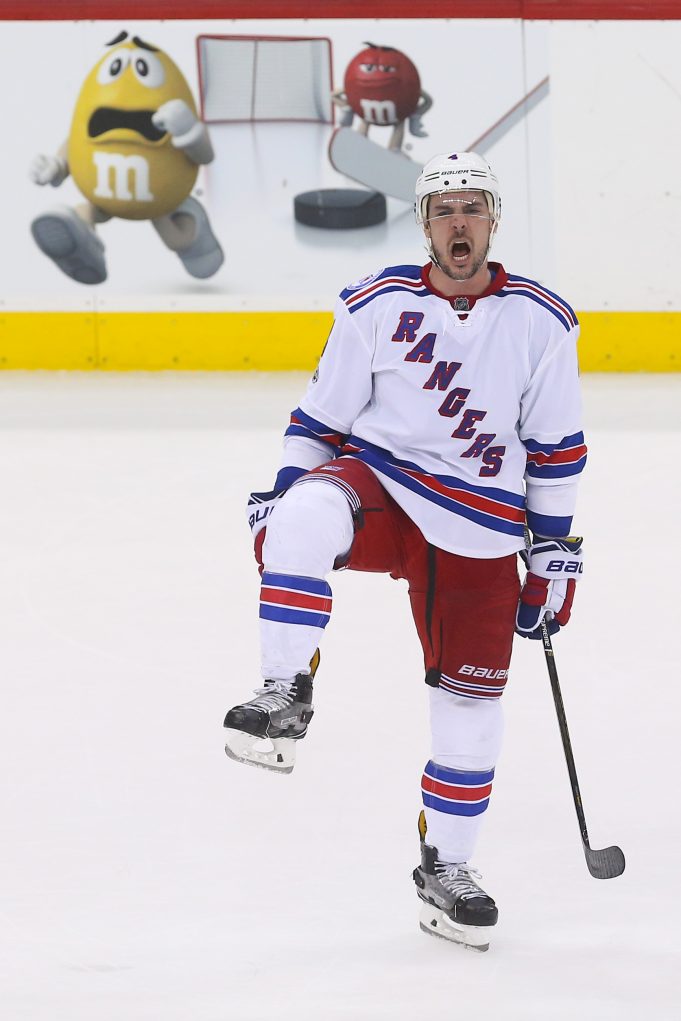 Adam Clendening has the capability to spark an offense and add firepower to a powerplay unit. Unfortunately, his defensive hockey sense and positioning are lacking, despite being a defenseman. A true offensive defenseman is a rare talent and can add a special dynamic and threat to opposing teams. Clendening has been able to produce two goals and nine assists in the 29 games he has played. While those numbers won't blow you away keep in mind he often only played a few games at a time, never really getting into a grove. Don't expect Clendening to be a major player come the playoffs, barring any major collapses or injuries.
In his extremely limited role this season, Kampfer was impressive. His game is not flashy by any means, but yet effective. He plays a defense first style with a hint of physicality. Rarely was Kampfer out of position or making crucial mistakes. He is a safe seventh defenseman who won't make you pay on the ice. You will not see Kampfer in the playoffs but AV should consider keeping him around as a cheap backup option next season.
The Real Question for AV
The real question for the New York Rangers is which "turnstile" defenseman is going to take their game to the next level for the playoffs. Based on this recent west coast swing it looks like AV has decided that Marc Staal is a lock. The reason for that I can not explain. That being said, the Rangers have two defensemen, Klein and Girardi, battling for the sixth and final spot. Alain Vigneault decided to play Girardi on Saturday against the Los Angeles Kings, and then quickly went with Klein the next night against the Anaheim Ducks. Girardi looks to be back in the lineup Tuesday night against the San Jose Sharks.
Competition between these two guys is exactly what they need. The aging defensemen need to be pushed in order to elevate their games. Hopefully, a clear choice will present itself as the season winds down and the lights get a little brighter in the Stanley Cup Playoffs. Maybe, just maybe, it would be a good idea to have these two guys rotate on a continuous basis in order to keep their legs under them and their minds fresh. Not a bad idea right? I guess that's why AV gets paid the big bucks and we don't eh?
Follow the crew on Twitter, check out the ESNY RTR home page and never miss an episode on iTunes.