Now that the class of 2016 turns into sophomores, we examine how they'll fare with the New York Giants during the 2017 season.
T
he
New York Giants
2016 draft class was a mixed bag last season. Some players, such as
Eli Apple
and
Sterling Shepard
, were huge contributors to the Giants 11-5 season.
Paul Perkins, on the other hand, patiently waited until the end of the season to make his mark on the Giants running game. Others, like Darian Thompson and B.J. Goodson, have plenty of potential, but were sidelined for much of the season by injury.
Regardless, all six of the Giants rookies from 2016 made the roster and played some part in the 2016 season. All six figure to have at least a chance of making the 53 man roster in 2017.
Let's take a look at how the Giants most recent draft class could fare in their sophomore seasons.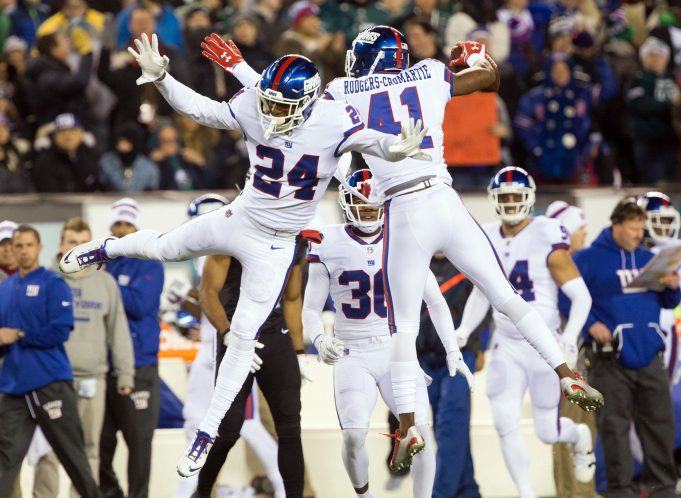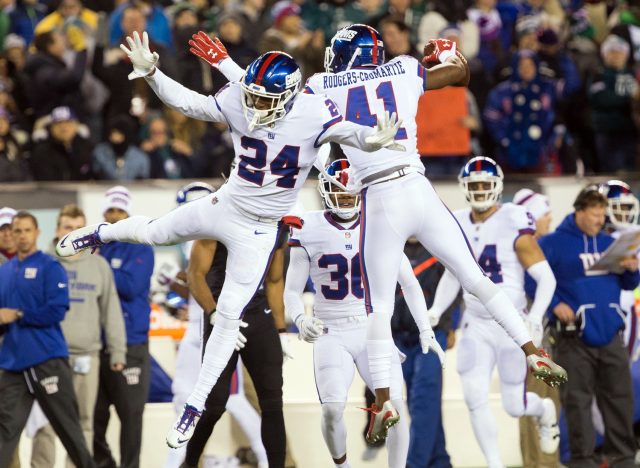 Eli Apple:
It's difficult to evaluate Eli Apple's rookie season. Based on the eye test, it was a success- Apple was a key cog in a Giants secondary that turned into a dominant unit in the second half of the season. Apple seemed to more than hold his own in a secondary with three All-Pro's (Landon Collins, Janoris Jenkins, and Dominique Rodgers-Cromartie).
Apple's rookie season culminated with selection to the NFL's All-Rookie Team.
However, Pro Football Focus was less impressed. Apple was ranked as the 84th best corner in the NFL, with a below average grade of 59.5. And while he showed improvement as the season progressed, he was far from a shutdown corner.
Regardless, Apple has a bright future in New York, and more reps will undoubtedly boost his confidence and ability. While some players experience the sophomore slump, Apple has the benefit of playing with some of the NFL's best defensive backs.
It wouldn't be surprising to see Apple take the jump from a below average PFF grade to an average or even above-average PFF grade in year two.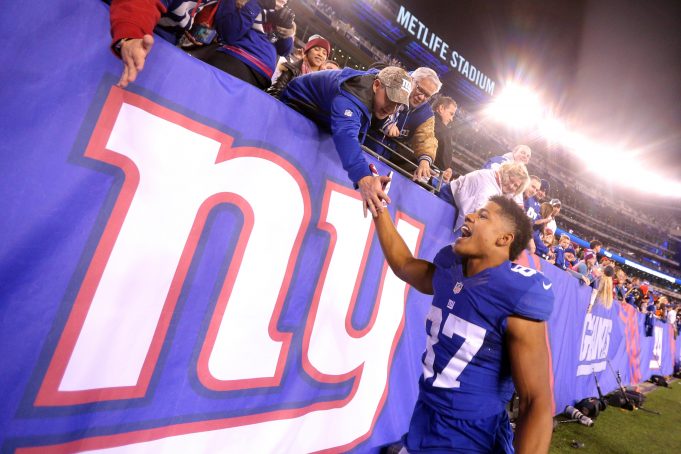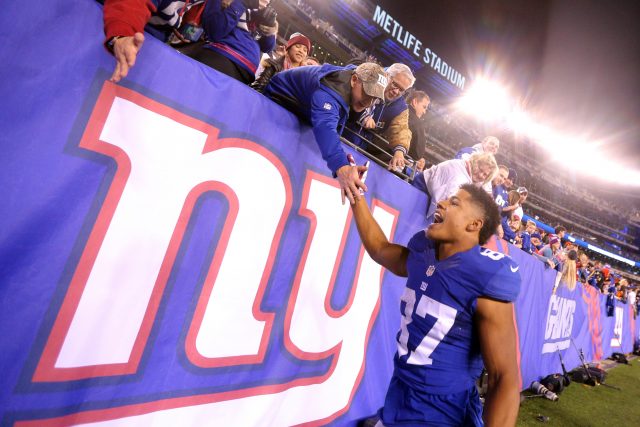 Sterling Shepard:
Sterling Shepard had a very impressive rookie season for the Giants, establishing himself as one of the brightest young receivers in the NFL.
The former Oklahoma Sooner reeled in 65 catches for 683 yards and 8 touchdowns. His PFF grade was 73.4, which was 58th among receivers– not a terrible mark for a rookie second rounder, who obviously was second fiddle to Odell Beckham Jr.
The addition of Brandon Marshall could be a huge benefit to Shepard, both on and off the field. The veteran receiver could mentor Shepard, and also will free up space, particularly in the red zone. Defenses will have to commit to Marshall's huge frame, and therefore, Shepard could see some single coverage inside the 25-yard line.
Shepard obviously has room to improve. His 65 catches came on 105 targets, with a catch percentage of 61.9 percent. That number needs to be improved upon — Shepard's drop in the end zone of the playoff game in Green Bay was one of the defining moments of the Giants short-lived postseason.
However, Shepard looks primed to be a key cog in the Giants offense for years to come.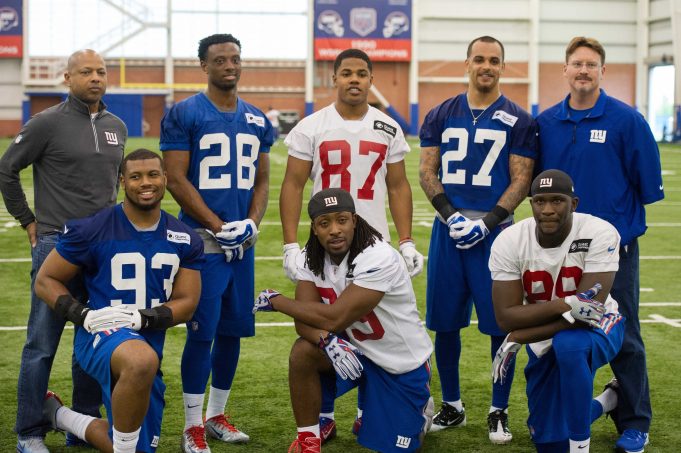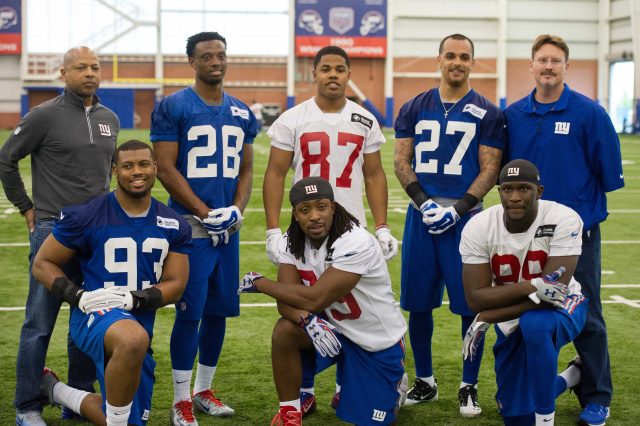 Darian Thompson:
The Giants third round pick last year only played twice in 2016 and was on the field for a grand total of 88 snaps. However, the Giants are incredibly optimistic about Thompson and feel that he can be a perfect free safety compliment to Landon Collins.
Because of Thompson's potential and Collins' monster 2016 campaign, don't expect the Giants to make a splash at safety in the draft or with the remaining free agents.
If Thompson can stay healthy, we could see a terrific tandem for Big Blue at safety in 2017, which would further boost their already terrific secondary.
BJ Goodson:
The former Clemson tiger played only 14 total snaps during his rookie season. He also came up with this:
YO BJ GOODSON JUST ENDED THIS MAN'S LIFE LOL pic.twitter.com/koVPwWWOiK

— Pat Shmurda (Ethan) (@EthanGSN) December 18, 2016
Goodson also led all linebackers in the bench press at the 2016 combine and has real promise at middle linebacker. Like Thompson, if he stays healthy, he should get his reps and eventually become a part of the defense, either as a starting middle linebacker or as a reserve if he fails to impress/ if the Giants draft someone at the position.
Either way, Goodson should have a pretty good shot at making the 53 man roster if he proves his worth during training camp and the preseason.
It's too early to tell how good he'll be in the NFL, however, especially because he was a fourth-round pick, and of how small his sample size is.
Paul Perkins:
It took Paul Perkins a while to break onto the scene in New York. The first 11 games of the season, the former UCLA Bruin was strictly a backup to Rashad Jennings, and only had a few touches (one of which, he took 67 yards against the Minnesota Vikings).
As a result, Perkins numbers: 456 rushing yards and 618 yards from scrimmage in 14 games played and a long rush of 22 yards, may seem a bit underwhelming.
However, Perkins really turned it up a notch down the stretch. Here is his game log from the last 5 games of the season:
Week 14 vs. Dallas: 15 carries, 45 yards
Week 15 vs. Detroit: 11 carries, 56 yards
Week 16 vs. Philadelphia: 15 carries, 68 yards
Week 17 vs. Washington: 21 carries, 102 yards
Overall, he finished with 4.1 yards per attempt, which isn't too shabby. His PFF grade was 67.8, 40th among active running backs. While that isn't great, a large part is due to his slow start, and despite his slow start, he still finished 9 points better than Rashad Jennings, who was released as a result of Perkins strong finish to the season.
While he may not be the next Ezekiel Elliot, Perkins figures to be the Giants starting running back moving forward and could see a large improvement in his sophomore season.
Jerrel Adams:
Despite playing 204 total snaps, Jerrell Adams PFF grade was pretty bad, at 51.9. He stands the biggest risk of not making the 53 man roster moving forward. Rhett Ellison was signed as a blocking tight end/fullback, and could very well force Adams out.
The Giants badly have the need for a pass-catching tight end, and a player like OJ Howard or David Njoku could be a great pick in the first round if they are still on the board at 23rd overall.
For now, it seems unlikely that Adams will take too big a leap in year two. He only caught one touchdown in 2016, which simply isn't good enough for a team that hasn't had a solid pass-catching tight end in 4 years.