With a rough stretch of four games in six nights upcoming, Henrik Lundqvist and the New York Rangers are getting healthy quickly.
The King is Back in His Castle
Henrik Lundqvist was back at practice for the first time on Monday and said, "I felt good."
Lundqvist has been out since March 7 with a lower-body injury. The Rangers have gone 2-2-1 against less than stellar competition in the King's absence.
Alain Vigneault spoke about his franchise goaltender in his daily press conference on Monday and said that the Rangers are following the same protocol that they set-up at the start of the King's rehab. He then added, "I expect him at some point on the California trip."
The Rangers are coming off a great road win in Minnesota on Saturday night. They will play the New Jersey Devils and New York Islanders back-to-back tomorrow and Wednesday before heading out to California where they will begin a three-game west coast trip.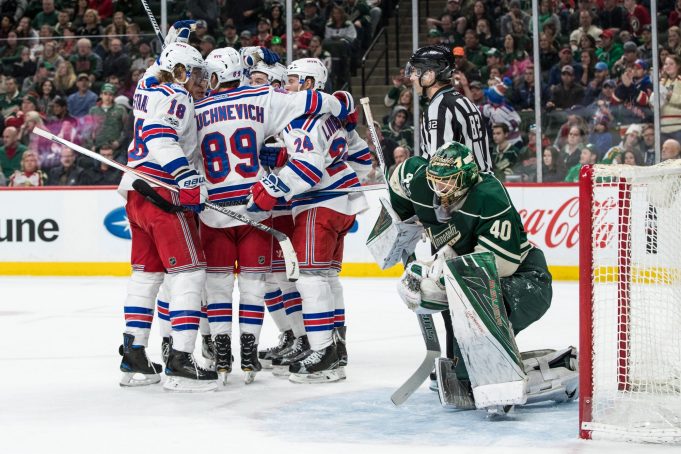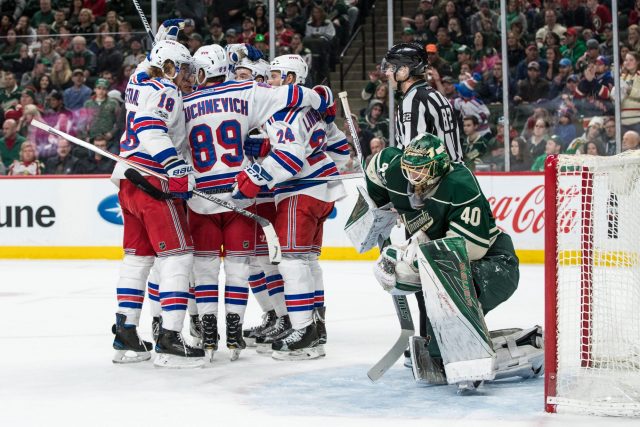 The first game of the trip is Saturday night in Los Angeles versus the Kings.
Lundqvist claims that he feels great and is simply working on getting his speed and timing back since he's been away from the game for about two weeks already. He says that there is plenty of time left in the regular season to prepare for the playoffs.
D-E-F-E-N-S-E
The Rangers are also glad to have two other familiar faces back at practice working on their speed and timing as well. Top four defensemen Kevin Klein and Dan Girardi are back skating with the team after both have missed significant time with injury.
While Girardi missed 10 games with an ankle Kevin Klein has missed 13 and is itching to get back in a game. "Five or six really good skates in a row," he said before adding that he expects to be back, "sooner rather than later."  Klein also expects to be traveling with the team to California.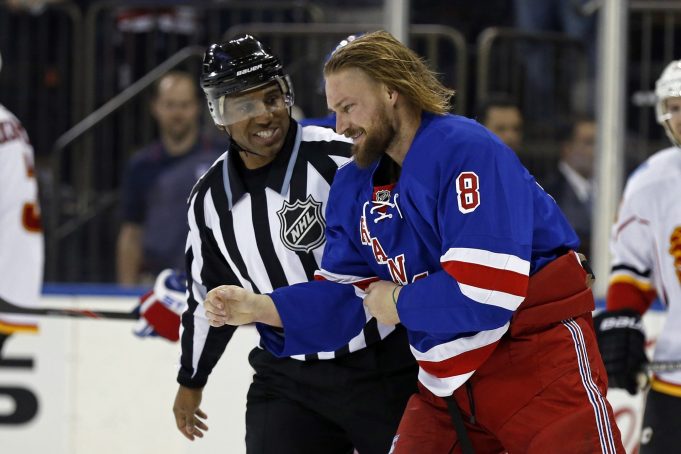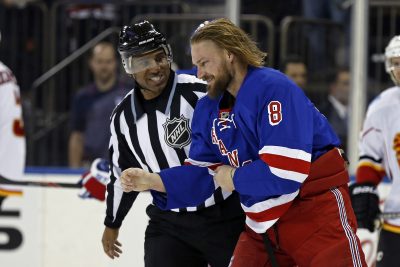 Though they've filled in admirably, the return of Klein and Girardi in addition to the trade that brought in Brendan Smith will likely mean the end of the season for Adam Clendening and Steven Kampfer. The pair has averaged nearly 28 combined minutes per game in their time with the Rangers and has a +3 total plus minus.
Notes:
The Rangers finish up their season series with the Devils on Tuesday night in Newark looking for a season series sweep. The Blueshirts have won all three match-ups with their neighbors so far this season and they've done it in three different ways. On December 11 they won in regulation 5-0. December 18 they prevailed in a 3-2 shootout victory and on February 25, Mika Zibanejad scored the winner in overtime.
As if Rangers-Islanders needed more juice: Wednesday night, the Rangers face the Islanders in what is shaping up as a near playoff game for the Isles. The Brooklyn Boys currently sit in ninth place in the conference, out of a playoff spot, with 11 games left to play. They trail the Maple Leafs by a single point but have played one more game the Leafs.
The Rangers conclude their season series with all three California teams starting on Saturday. They won all three games against the Kings, Ducks and Sharks at the Garden earlier this season